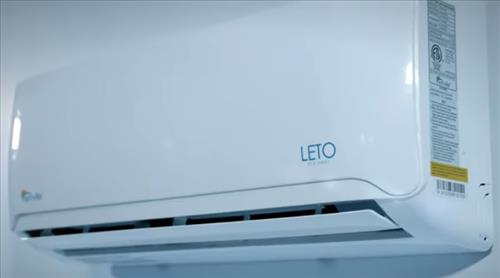 Mini split heat pumps are one of the best ways to heat and cool a space, and when combined in a kit, they make for the perfect do-it-yourself option.
Mini split systems are smaller than traditional home HVAC units and work well in many scenarios, from heating and cooling a home addition to a garage.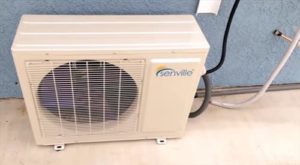 They have become very popular with the do-it-yourself crowd as a kit can be installed by a homeowner, saving on cost.
There are many mini split units available that can be ordered and installed by a do-it-yourself handy type of person.
Which DIY Mini Split Units Heat and Cool?
Mini split Heat Pump units can heat during the winter and cool in the summer.
Notice the words Heat Pump.
Any unit that is a heat pump has a reversing valve that can change from heating to cooling.
The process of how the unit works is the same, only pumping away heat or cold air depending on the mode the unit is set on.
When looking for a mini split that can heat or cool, be sure it is listed as a Heat Pump unit.
A frequently asked question is "Can I install a mini split heat pump myself?"
The answer is yes; many home DIY-type people have installed a mini split. Of course, if you have any doubt, call a professional HVAC company.

How Hard is a DIY Mini Split to Install?
Installing a unit is not hard if you have some basic prior experience with electrical wiring and basic construction skills.
Installing a Do-It-Yourself mini split requires drilling holes in walls, running copper lines, electrical, and using HVAC tools.
Previous experience with basic construction skills using saws and drills will be needed, along with electrical knowledge.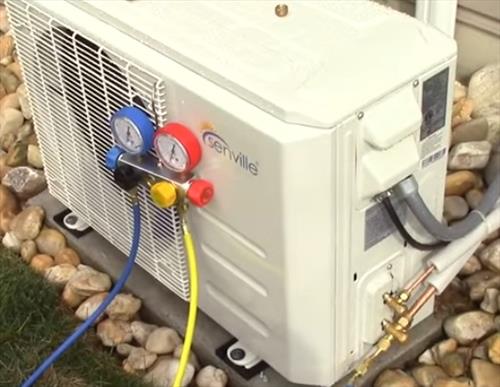 There are many YouTube videos showing the steps for an install (see bottom of this post) along with online written articles.
A unit will have to be wired into its own breaker and disconnect along with the refrigeration lines run.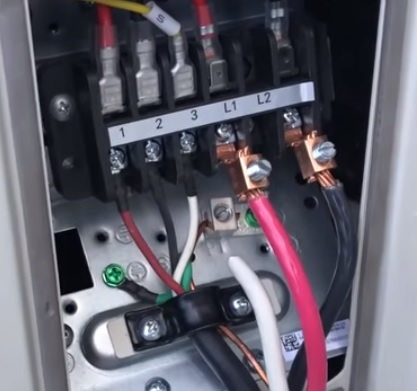 Refrigeration lines called a line-set carries refrigerant from the inside evaporator unit outside to the condenser. The condenser and evaporator work together but separately in a mini split system.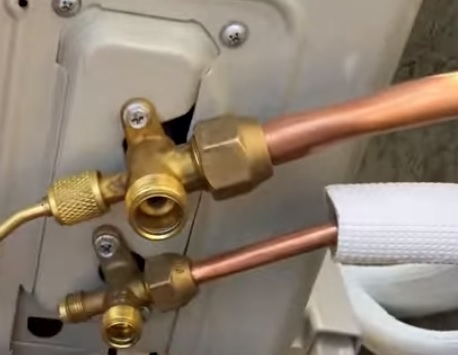 Also, before installing a DIY mini split, be sure to watch some of the install videos and other online resources to see if doing an install yourself is right for you.
What is the Best DIY Mini Split Heat Pump for 2023?
Opinions will vary as to what is the best Mini Split with many DIY kits available.
I have installed many of these units and have written post along with YouTube videos of installing them.
Below are my picks of the best units, along with links for how they were installed.
As always, be sure to read the reviews on Amazon, forums, here, or elsewhere to be sure a unit is a good fit for you.
*This post contains affiliate links.
Our Picks for Best DIY Mini Split Heat Pumps that Heat and Cool 2023
MRCOOL DIY Kit

Pros

Designed specifically for DIY Installs
Uses Quick Connect line set fittings (No need to vacuum down)
115-Volt and 230-Volt units
Easiest Mini Split System To Install

Cons

Cost more compared to most other units

The MRCOOL DIY Series of heat pump mini split units are marketed for the DIY individuals.

Everything comes with the kit (except the electrical wiring) including the line-set and pre-charged unit.

The MRCOOL mini split units do cost more compared to other popular DIY brands, such as Pioneer or Senville, but they are very popular and used by many.

One of the things that makes MRCOOL units different from other mini split kits is there is no need to vacuum down the lines.

MRCOOL line-sets are already in a vacuum, called quick-connects, and have a seal that is broken when bolted onto the outside condenser.

This makes them the easiest to install with no need to worry about vacuum pumps and gauges.

I installed a MRCOOL Mini Split on a garage which turned out very well and was much simpler compared to other kits.

The unit I installed used 120 volts and a 20 AMP breaker the same as most home outlets.

MRCOOL also has 230 volts units as well as different sizes from small to large to get the best size for the room they will be installed in.

Read Here For How How I Installed a MRCOOL Mini Split Unit


Pioneer DIY Mini Split Kit

Pros

Designed specifically for DIY
Usually cost less compared to other units
115-Volt and 230-Volt units

Cons

Need to vacuum down the system with an HVAC pump and gauges

Pioneer makes several good units from 9000 BTU to 36000 BTU along with both 120 volt and 220 volt systems.

They have become very popular since they send a whole kit which is perfect for Home DIYers.

A pad to set the unit on and electrical to the pole is not included and will need to be bought separately.

Installing a unit is not hard but does require some skill so be sure to call a professional if needed.

I have installed several of these units, and they all are still working very well. I made a video on how to install a Pioneer mini split, along with a post of how I install a Pioneer mini split here.

Like any DIY Mini Split kit, the refrigerant comes locked in the outside condensing unit that is released after installation.

The setup requires the inside unit be placed on a wall and the outside evaporator placed on a solid surface.

Laying a small concrete pad is an option or buying a pad is also an option for placing the outdoor unit.

Electrical will need to be run from a breaker. Adding a quick disconnect is also a good idea.


Pioneer mini splits are a popular option with DIY'ers since the units are low-cost and the kits come with everything needed (except wiring) to do an install.

So far Pioneer units have worked very well with each install I have done along with the ability to install it without the need for an HVAC company.

Read Here For How How I Installed the Unit


Senville

Pros

Usually cost less compared to other units
115-Volt and 230-Volt units

Cons

Need to vacuum down the system with an HVAC pump and gauges

Senville is another popular brand that has an entire mini split kit that comes with everything needed to install the system, except for electrical wiring.

It comes in different sizes ranging from 9000 BTU – 24,000 BTU.

I installed a 9000 BTU unit and made a video along with a post showing how I install a Senville unit which is here.

Mini splits come pre-charged with refrigerant that is released after the line set is vacuumed out.

Even though an HVAC company can be hired to install it this is also perfect for the home Do-it-Yourselfer.

Tools will be needed if you do it yourself such as a vacuum pump and HVAC gauges but these can be picked up cheap compared to the cost of hiring an HVAC tech.

A handy person combined with all the YouTube videos out there most likely can install a mini split in a day or two.

Read Here for the Tools Needed to do a DIY Mini Split Install.

Of course, someone can be hired to install the system and this may be the best option for anyone not handy.

If you do decide to install a mini split yourself the most difficult thing will possibly be the wiring.

The electrical is not difficult if you have done it before, such as wiring a dryer or ceiling fan.

Of course, the electrical can simply be outsourced to an electrician who will wire it in quickly if needed.

Read Here For How How I Installed a Senville Unit


Daikin

Pros

Good units that have been around many years
115-Volt and 230-Volt units

Cons

Need to vacuum down the system with an HVAC pump and gauges

Daikin is a top HVAC manufacturer that builds heat pump units that will cool in the summer and heat in the winter.

They have differently sized units from 9,000 BTU – 24,000 BTU and bigger along with good SEER Ratings.

I have installed many Daikin units over the years and once worked for an HVAC owner who only would install Daikin units.

They are very reliable with reasonably priced making them good heating and cooling packages.

Like most DIY mini split installs there some skills needed such as running the copper line-set and using a vacuum pump to pump down the system.

Daikin is a good manufacturer with a good warranty and works very well with good kits for the DIY individual.

Read Here for Daikin Mini Split Unit Review and Installation


Mitsubishi Hyper Heat

Pros

Very good units with high SEER rating

Cons

Not as DIY friendly as other mini split systems
Line set and communication lines often not included
Need to vacuum down the system with an HVAC pump and gauges

Mitsubishi is one of the top brands available with very good units which unfortunately also cost the most.

They also are not as DIY friendly as many other companies many of which have dedicated DIY kits.

With that said they are very good units with very good SEER ratings and warranties.

The Hyper Heat model is one such good unit that is specially designed for colder climates.

All mini split heat pumps work very well when cooling in the summer but can struggle in the winter with very cold temperatures.

If you live in a climate with mild winters such as the American Southwest most any heat pump will work very well in the winter.

If you live in a colder climate a Mitsubishi Hyper Heat can heat much better compared to other units.

It also has a 26 SEER rating which makes it one of the most efficient units available.

While great units they do cost more and are not very DIY friendly with it best for an HVAC tech to do an install.

They can be installed by a more advanced homeowner with previous HVAC skills but not so much for a first install.

For example, most units will not include a copper line-set while most all dedicated DIY kits will.

Read Here for Mitsubishi Hyper Heat Unit Review and Installation

Innovair

Cons

Need to vacuum down the system an with HVAC pump and gauges

This unit from Innovair is a highly efficient energy star unit with a high SEER rating.

While most all mini split units have good SEER rating most are 19-23 SEER.

This makes the Innovair one of the better units with very low power usage.

Innovair also makes many other mini split units with a lower SEER rating so be sure to check the SEER on a listing.

The package comes in a kit with the indoor wall unit, outside condenser, and copper line set.

Since the system is a heat pump it can cool in the summer and heat in the winter making it good to have all-year-around.

The one downside is it cost more compared to other units.
Best DIY Mini Split Heat Pump Comparison Chart
| Name | Line-Set Included | Voltages | Sizes | DIY Kit |
| --- | --- | --- | --- | --- |
| MRCOOL | Yes | 120V-220V | 9000– 24,000 BTU | Yes |
| Pioneer | Yes | 120V-220V | 9000-36000 BTU | Yes |
| Senville | Yes | 120V-220V | 9000– 24,000 BTU | Yes |
| Daikin | Yes | 120V-220V | 9000– 24,000 BTU | Yes |
| Mitsubishi | No | 220V | 9000– 36,000 BTU | No |
| Innovair | Yes | 220V | 9000 BTU | Yes |
How Big a DIY Mini Split (BTU) Should You Get?
The general Sizing of a mini split can be done by the square feet of the space to be heated and cooled.
There are mini split BTU sizing charts that will give the rough size of a unit to get, based on square feet of the space to be cooled and heated.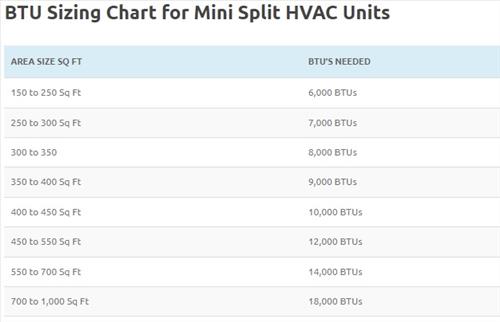 For example, a 450-550 sq ft is rated for a 12000 BTU unit.
While the square feet of a room to be cooled can give a general idea of how big a unit is to get, other factors should also be considered.
Other factors mainly include extreme weather conditions and how well insulated the space is.
For example, if the summers in your area are not extreme and rarely go above 90 degrees Fahrenheit, the sizing chart will likely work for you.
If you have extreme summers that go above 100 Fahrenheit and more, you may want to get a slightly bigger unit.
How well insulated a home is also is a big factor as a well-insulated home will, even with extreme summers, will likely be fine using a sizing chart.
Sizing a unit with a sizing chart is a rough guide since other factors can affect the outcome.
If in doubt, use a mini split sizing chart to get as close to the correct size unit for the space you want to cool and heat.
Summary
Installing a ductless mini split with a DIY kit is a good way to save on cost and have a working heat pump in your house.
Of course, care will have to be taken as there are potential dangers when installing a unit.
The main danger is electrical, which most know can be dangerous if handled or installed incorrectly.
This will depend on your prior experience or possible friends or family that work in a trade.
If you have experience with electrical along with drilling holes and other construction skills, installing a DIY unit may be for you.
If you have limited construction experience calling an HVAC company for an installation is likely the better option.
There are many YouTube videos and online posts showing the steps involved in an installation to see if a DIY kit is right for you.
If in doubt, installing a window heat pump unit is more straight to the point and easier to install.
Heat pump units are both air conditioners and can reverse into heaters when needed.
Ductless mini split AC units that only cool are also available if the heat will never be used.
An installation kit will come with everything needed, including the indoor and outdoor condenser units.
For those who do not want to vacuum down a unit buying a quick connect unit already comes with the line set in a vacuum.
They use quick connections with a seal that is broken after it is bolted together.
The installation costs for a DIY person will be much less compared to a professional installer.
Of course, the cost to install will vary from location to location.
There are also single-zone, dual-zone, and tri-zone ductless mini split air conditioner heat pump split systems that can be installed.
Single zone packages come with only one inside unit while dual-zone has two and tri-zone has three.
They use one outside condenser and can run multiple inside units if needed.
The split air units will have variable speed and have very low noise levels.
Window AC units are less desirable than mini splits since they are nosier and can block a window from use, but they are also popular since they don't require any skill to install.
The only real downside to mini split air units is they don't use ducts to transfer air around a home and only blow air from one location.
This means that they don't transfer heat or cold air well past walls or other obstructions. Setup strategically along with ceiling fans, they do work well, sometimes cooling more than one room and surrounding areas.
It comes down to how well it is placed and how well the air can travel. Often a home will have more than one mini split to cool an entire home.
Several DIY mini split units come with installation kits.
This includes the indoor unit, communication wires, outdoor pre-charged unit, and refrigerant lines.
Installing a DIY mini split system is a great way to save money. Once installed, ductless mini split AC units are highly energy efficient with an energy star rating that will save on monthly bills.