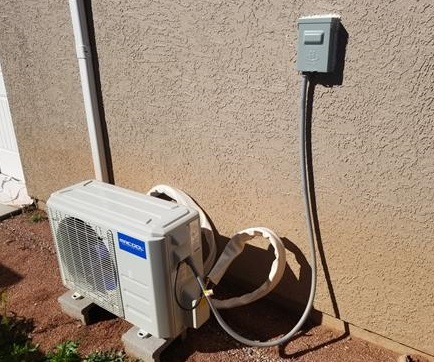 Page Table of Contents
Overview
Wiring Mini Split DC Control Lines
Wiring a Mini Split Electric AC
Items Needed for AC Electrical
Mini Split Wire Gauge
Wiring a Disconnect Box To Mini Split
Wiring from Breaker Panel to the Disconnect Box
Summary
Overview
Wiring up a Mini Split HVAC unit is not difficult but does require some basic electrical knowledge.
This post gives a basic overview of wiring up a mini split.
The instructions that come with any unit should always be followed.
There is two types of wiring that will need to be done.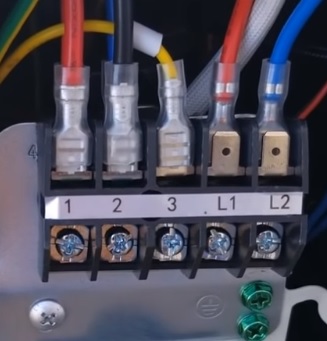 1… Electrical AC Power (Usually labeled L1, L2, and Ground)
2… DC Control Voltage (Usually labeled 1, 2 ,3)
The AC electrical voltage will be 110-120 or 220-230 Volts.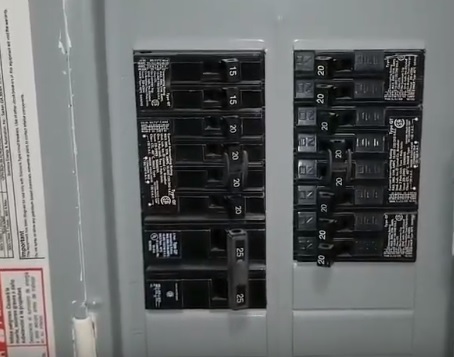 It will be supplied from an electrical panel which will hold all the breakers for a home.
The breaker will need the correct amps the mini split is rated for and will be displayed on the breaker.
For example, a breaker labeled 15 will be a 15 amp breaker or 20 will be 20 amp breaker.
Electrical AC wiring will need to be bought separately from DIY mini split kits and is not included.
The DC control wires go between the inside and outside units.
There is usually 3-5 DC control lines which are easy to wire up.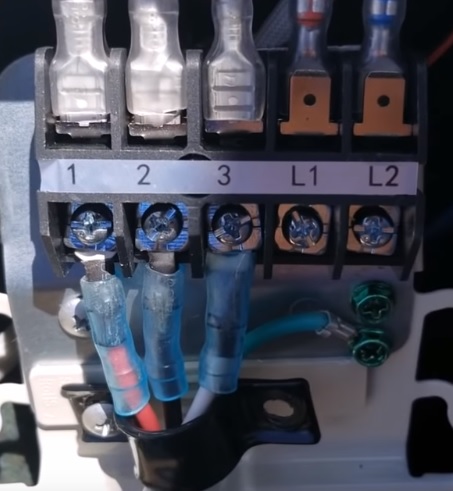 DC control lines are included in most any good DIY mini split install package.
Wiring Mini Split DC Control Lines
Run the Control Wires
Match the wires color to the labeled numbers
Most Mini Split units will have the inside and outside units marked with numbers 1, 2, 3, and ground which the wires color code will match.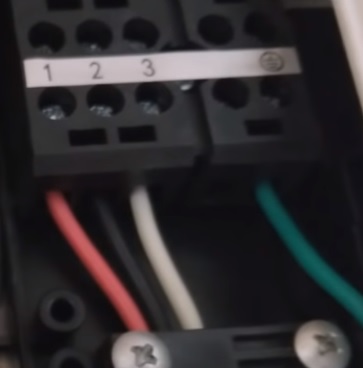 For example, if a red wire is connected to the inside number 1 it will be connected outside to the labeled 1.
Wiring the control lines is a straight forward and easy enough by simply matching wires colors to the labeled numbers.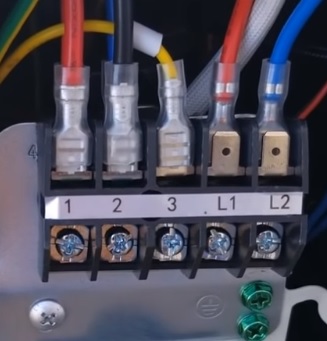 Most all DIY mini split kits will come with the DC control line wiring.
Wiring a Mini Split Electric AC
Know the Voltage (110-115/220-230)
Know the Amps
Use the Right Breaker Size
Use the Right Wire Gauge
Wiring the AC electrical needs to be thought out with each situation different.
Mini Split units come in all sizes which have different voltage and amps.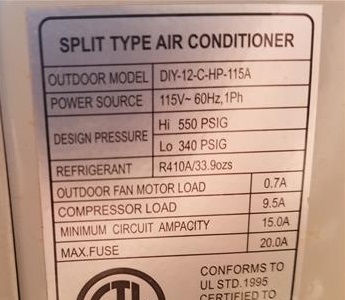 The voltage as well as amps will be in the instructions and on the unit itself.
Voltage will be the standard 110-115 or 220-230 volts most all homes use.
The amps it draws to run will also be rated.
The unit will need the rated breaker size to run the unit and trip off if there is a problem.
As most know this is what a breaker does it shuts off stopping the flow of power if there is a problem.
Items Needed for AC Electrical
Most all mini spits units will need a disconnect box placed close to the unit to turn on and off the power.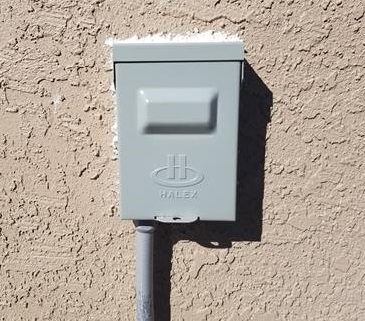 A disconnect box is simply a junction that like a switch turns on and off the power when needed.
Disconnect Box on Amazon
SIEMENS WN2060U Non-Fused AC Disconnect

Mini Split Wire Gauge
Wire gauge is how thick the wire is with different sizes for different voltages and amps.
| | | |
| --- | --- | --- |
| Gauge Size | Amps | Example Uses |
| 16 Gauge | 13 Amps | Extension cords |
| 14 Gauge | 15 Amps | Lamps / Lights |
| 12 Gauge | 20 Amps | Outlets / Some Mini Splits |
| 10 Gauge | 30 Amps | Clothes Dryers / Some Mini Splits |
| 8 Gauge | 60 Amps | Electric Stoves Furnaces |
The wire gauge needed will be in the instructions with common sizes for mini split units being 10-12 gauge.
While most units will be 10-12 gauge be sure to read the specifications to get the correct size wire.
Wiring a Disconnect Box To Mini Split
Disconnect Boxes are simple to wire up with power coming in and going out.
The box will have wiring coming from the breaker and going out to the mini split.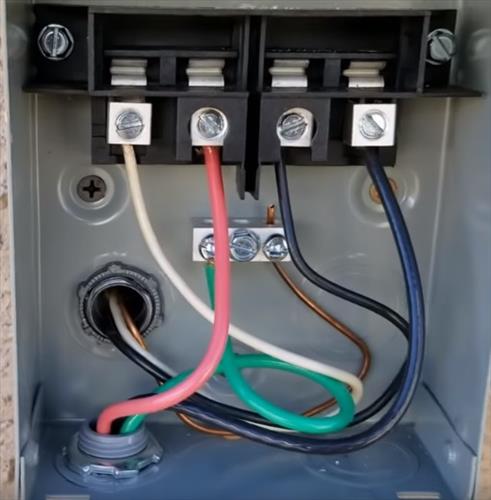 They have a pull out that turns the power off and on.
The wires are fed into the outside condensing unit and usually marked L1 and L2 along with green for ground.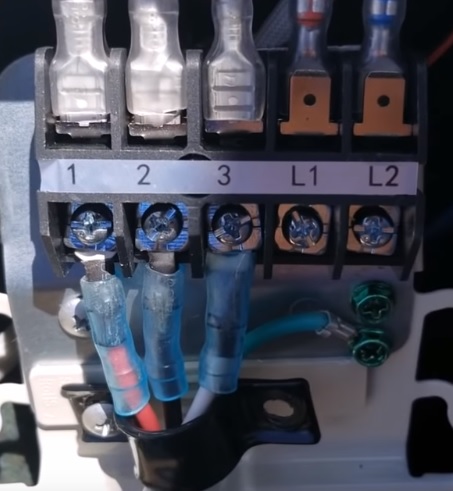 An electrical whip is commonly used to go from the disconnect box to the mini split.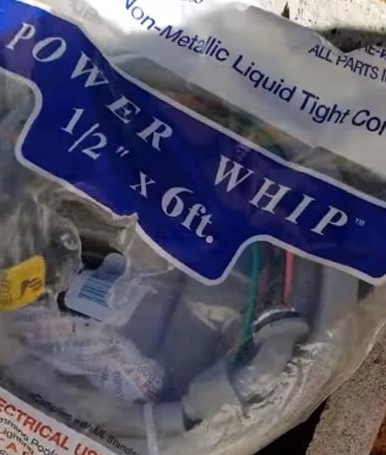 A whip is a prepackaged electrical line that is quick and easy to install.
Electrical wires will need to be run from the breaker to the disconnect box with an electrical whip making it quick and easy to run to the mini split unit.
Electrical Whip on Amazon
Sealproof Power Whip Assembly, 1/2-Inch x 6 Ft Nonmetallic Liquid Tight Flexible Electrical Conduit and 10 Gauge Wire Single Phase Preassembled A/C Hook-up Whip Kit, 1/2″
Wiring from Breaker Panel to the Disconnect Box
Running the electrical from a breaker panel to the disconnect box can be done many different ways.
The location of the panel and the outside mini split location is always different.
The first step is to know the location the Mini Split will sit at.
The next step is to find the electrical panel which holds the breakers.
Most HVAC companies will install a breaker with the correct amps and run a new line to the Disconnect.
The right wire gauge and length will need to be bought.
For example, a 20 foot run will need enough wire to go the entire distance.
Conduit for the wire will also be needed with three main types, Liquid Tight, Steel Conduit, and PVC.
Each type works well and is often a personal preference on which to use.
When I install unit I almost always use liquid tight which is very flexible and easy to use.
The main goal of Conduit is to protect the wire from the elements.
Most of the time the Conduit is run along a wall but can be buried or run though the walls of some homes.
Whichever conduit is used most all are sized 1/2-Inch.
Liquid Tight Conduit on Amazon
Sealproof 1/2-Inch Flexible Nonmetallic Liquid-Tight Electrical Conduit Type B, UL Listed, 1/2″ Dia, 25 Feet
Summary
Wiring up a mini split unit is not difficult if you have some wiring experience such as hooking up a ceiling fan or electric water heater.
If in doubt be sure to call a professional.
Each wiring scenario from the breaker to the disconnect will be different.
Sometimes a home existing wiring can be tapped into and used depending on the scenario.
The wiring from the disconnect to the outside condensing unit is almost always the same.
This post is meant to give the basics of wiring up a mini split.
With the many mini split air conditioner heat pump available there is likely to be variations.
Be sure to always follow the instructions that come with your unit.