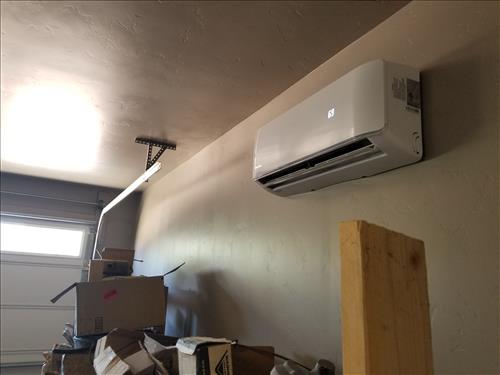 Mini split heat pump units are a great way to heat and cool a garage since they are small and low-cost to operate.
They can also be installed by a handy Do-It-Yourself type of person, which can save money.
An HVAC company can also install a unit, but the cost will be much more compared to a DIY job.
DIY mini-split installation kits have become very popular since they can be installed by a homeowner and are highly efficient.
They have high SEER ratings that make them ideal for heating and cooling a space such as a garage.
I installed an MR Cool Mini Split in my garage, which works very nicely. (Video is at the bottom of the page.)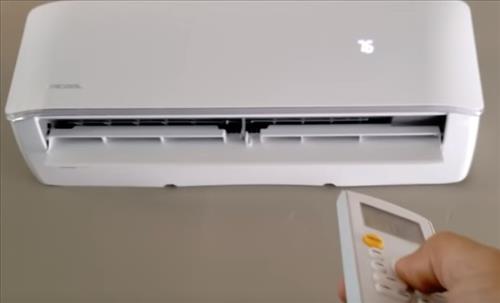 I have also installed several other types of units on home additions and even as whole-house systems.
Below are my picks for the best Mini Split DIY kits to heat or cool a garage.
I also wrote posts and made videos of installing the units to show the steps involved if you install a unit yourself.
Before buying any unit, be sure to read the reviews on Amazon, forums, here, or elsewhere to be sure a unit is a good fit for you.
*This post contains affiliate links.
My Picks for The Best Mini Split for a Garage
MRCOOL DIY Series

The MRCOOL DIY Series of Heat pump mini split units are the easiest kits to install.

The line-set comes already in a vacuum that the seal is broken when bolted up.

This means there is no need for a vacuum pump or gauges by simply bolting the line set to the outside condenser.

I installed a Mr. Cool in my garage, and it has been working very well during the summer and winter, both heating and cooling.

The one downside to Mr. Cool units is they do cost more but may be worth it for anyone looking for the quickest and easiest unit to install.

Read Here for How I installed a Mr Cool Mini Split Kit


Pioneer

Pioneer units are very popular for Do-It-yourself homeowners who want to install a unit themselves.

Some basic tools will be needed, such as a vacuum pump and HVAC gauges.

There are many low-cost budget tools that can be bought and used.

Of course, an HVAC tech can also be paid to do the installation.

Pioneer builds several units from 9000 BTU to 36000 BTU along with both 120 volt and 220 volt systems.

The average garage size is roughly 20×20 feet and is a total of 400 SQ Ft which a 9,000 – 12,000 BTU unit would heat and cool nicely.

Of course, how hot the temperature gets will be a factor when choosing how big a unit to get.

I installed several Pioneer units at different locations and have not had any problems.

While units such as Daikin or Mitsubishi have a better-built quality, they also cost more.

If you are looking for a good budget unit to install, the Pioneer units work very well when installed correctly and are good for the DIY type of person.

Read Here for How I Installed a Pioneer Mini Split Kit


Senville

Senville is another popular brand that comes with everything needed for an installation and is great for a garage.

The kits have different size units to fit any size garage.

Senville is similar to Pioneer units, as they are low-cost budget units that a Do-it-yourself type person can install.

I have installed many Senville units and, like many mini-split heat pumps, work great heating and cooling.

The build quality of Senville units does seem to be better compared to Pioneer, and they have units with higher SEER ratings.

Installing a Senville is the same as installing a Pioneer or many other mini split units.

Read Here for How I Installed a Senville Mini Split Kit

Daikin

Daikin is another good A/C manufacturer that has many DIY kits.

Like the Pioneer and Senville kits, a vacuum pump and gauges will be needed during an installation.

As an HVAC tech, I have installed many Daikin units.

An HVAC company I once worked for had an owner that would only install Daikin mini split units.

They are well built and are good heat pumps that will have no problem heating and cooling a garage.
What Size Mini Split Does a Garage Need?
Mini split unit are sized by the BTU (British Thermal Unit) and matched to the square feet of the garage.
The square feet of a garage is calculated and matched to the BTU size.
For example, a 15 X 20 foot garage would be a total of 300 Sq Ft and would use an 8,000 – 9,000 BTU unit.
To get the square feet of a garage, measure the width by the length and multiply the two numbers.
One common question is, How big a mini split does a 2-car garage need?
The average car garage is 18ft X 20ft = 360 Sq Ft., which would be rated for a 9,000 BTU unit.
Be sure to consider the climate as a hotter climate may need a bigger unit. Also, how well insulated the garage is should also be a consideration.
See Here for an HVAC Mini split Sizing Chart.

Do All Mini Split Units Heat and Cool?
No, not all mini-split units heat and cool.
All units will cool, but only heat pump units also heat in the winter.
They do work less efficiently at very low temperatures, 10-15 degrees.
A heat pump works the reverse of a standard A/C system when it needs to heat. This requires it to dissipate the cold air pulled from a space outside. When the temperature drops too low, a heat pump can start to have problems working.
In very cold weather, the outside condenser can freeze solid. When this happens, a heat pump will go into air conditioning mode for 5-10 minutes to melt the condenser ice.
Heat pumps can be fitted with heat strips that, like a large space heater, have elements to keep sending out heat if this happens.
Getting heat strips installed will depend on how cold it gets where you live.
For example, in the southwest, heat strips are rarely used since the temperatures almost never drop below 10-15 degrees.

How to Install a Mini Split in a Garage
A mini split unit can be installed by an HVAC company, or a Do-It-Yourself person can install it themselves.
The units are not difficult to install, depending on your prior skills. Here are the basics of installing a unit.
A 2-3 inch hole is cut through the wall to run the line set and thermostat wire.

The inside air handler unit is mounted on the wall.

The outside condensing unit is placed on a flat level surface.

The line-set is connected from the outside condenser unit to the inside unit.

Electrical is run to the unit from an electrical box.

After everything is hooked up, a vacuum pump is used to create a vacuum in the line set. Gauges will be used to make sure it holds a vacuum.
Once the line set holds a vacuum, the refrigerant is released by turning the release valve.
Summary
Mini split heat pumps are ideal for a garage or any open space that needs heating and cooling.
For a Do-It-Yourself type of person, installing one shouldn't take more than a day. There is plenty of information online on how to install one. Check out the video at the bottom of the page, one of many YouTube videos on how to install a mini split.
Hiring a local HVAC company is always a good idea if you are not comfortable installing a unit.
Have you installed mini split in your garage? Let us know your thoughts below.