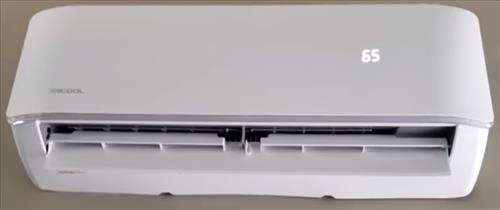 Mini Split HVAC systems are great for heating and cooling and are very versatile able to be fitted into most any space.
Besides picking the right mini split manufacturer how big a unit is needed also needs to be considered.
This is easy to do by calculating the square feet of the space to be maintained.
How to Get a Rooms Square Feet
To get the square feet of a room, measure the length by the width and multiply the two together.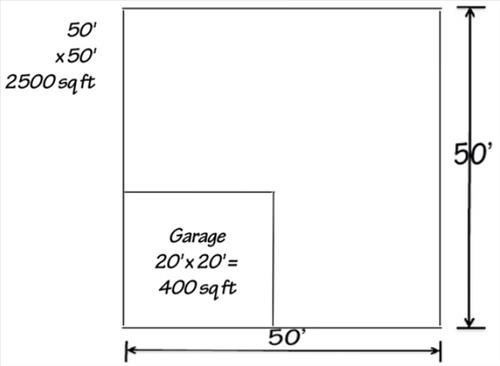 For example, a room that is 20 feet long by 20 feet wide would be 20 X 20 = 400 Square Feet.
If there are more rooms such as closets simply do the same and add them to the total.
BTU Sizing Chart for Mini Split HVAC Units
| Area Size Sq Ft | BTU's Needed |
| --- | --- |
| 150 to 250 Sq Ft | 6,000 BTUs |
| 250 to 300 Sq Ft | 7,000 BTUs |
| 300 to 350 | 8,000 BTUs |
| 350 to 400 Sq Ft | 9,000 BTUs |
| 400 to 450 Sq Ft | 10,000 BTUs |
| 450 to 550 Sq Ft | 12,000 BTUs |
| 550 to 700 Sq Ft | 14,000 BTUs |
| 700 to 1,000 Sq Ft | 18,000 BTUs |
| 1,000 to 1,200 Sq Ft | 21,000 BTUs |
| 1,200 to 1,400 Sq Ft | 23,000 BTUs |
| 1,500 Sq Ft | 24,000 BTUs |
Take Into Account Insulation and Climate
How well a home is insulated as well as the climate should also be considered.
For example, a poorly insulated home will need a bigger unit than a well-insulated home.
This can also include space where doors are constantly open and shut.
For example, a small business may have customers coming and going with a door consonantly opening and shutting.
In this example, a slightly bigger unit may be a better option.
Climate should also be considered mainly in locations where extreme cold weather happens.
Most any mini split will have no problems cooling space in air conditioner mode but may have problems heating in extremely cold climates.
Heat pump mini split units that both heat and cool reverse the air conditioning mode to heat during the winter.
This means they pull heat from the surrounding air, which becomes more difficult for mini split heating as the temperature drops.
Most modern units will have no problems down to 10-20 degrees Fahrenheit but will start to struggle if the temperature gets much colder.
If the outside temperature becomes too cold, the outside condensing coils will freeze up with ice.
When this happens, a Heat Pump unit will go into what is called defrost mode.
Defrost mode is basically turning the air conditioning on to melt the ice off the outside coils.
Once the ice is melted off, defrost mode will turn off, and the unit will start heating again.
Often when it becomes very cold, heat pumps will cycle between heating and cooling.
For example, if you live in Alaska or a climate with very cold winters, you will have no problems cooling in the summer, but the heating will stop once the temperature drops too much.
If you live in the American southwest, such as Nevada, Arizona, or Texas, it will have no problems heating or cooling with heat pumps ideal for climates such as the American Southwest.
What Happens if a Mini Split is Oversized?
Some people think bigger is better, but this does not apply to mini split units.
The biggest draw on power is when an HVAC unit first starts, and then the power draw drops.
If an oversized unit is fitted into a place, it will run for a shorter time and shut off.
A mini split unit is most efficient when it is running and not constantly turning off and on.
Many units are also variable units which means they keep running but can drop the BTU cooling power as they are running.
Oversize a mini split by roughly 3000 BTU may not have much of an impact, but if it is sized much higher, the impact will start to show on an electric bill.
What Happens if a Mini Split is Undersized?
If a mini split unit is undersized to a room, it will run constantly and never shut down.
It will also not cool the room well and will need more capacity to properly cool or heat the area.
Under sizing a mini split can be just as bad as oversizing a system since the unit will never shut down and run up operating costs.
BTU and Ton Sizing Measurement
Many HVAC systems are also sized in Tons, with many homes having 2-3 ton units.
For example, How many BTUs are equal to 1-Ton?
12000 BTUs are equal to 1-Ton, which is rated to cool or heat 450 to 550 Sq Ft.
BTUs can be converted to Tons and is another measurement of sizing an HVAC systems capacity.
Summary
A mini split sizing chart can give a rough estimate for how big a unit is to get, but other factors also need to be considered.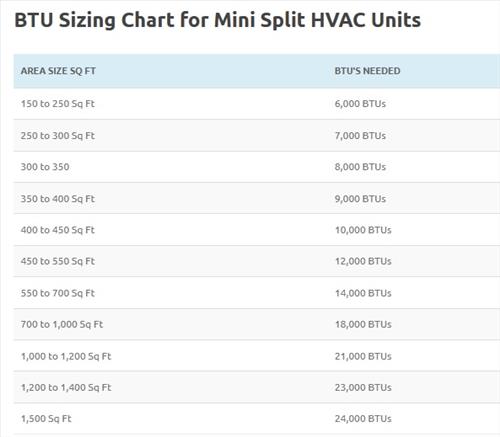 Other factors include insulating a home and how extreme the weather is.
If a home is very well insulated, the size can be less compared to a less well-insulated home.
If the climate is very hot, a slightly bigger unit may be better for very extreme days.
Without all the information, a ductless mini split sizing guide can only give a general idea of which size is best.
A knowledgeable local HVAC installer would be the best to get information on sizing, but even for tech with years of experience, it can be difficult to correctly size a stem to a home in some scenarios.
For example, I once worked for an HVAC company that installed many mini split units. We installed three units on a home with everything correctly sized.
One side of the house had a glass wall that, during the summer, heated up too much for the units to maintain the temperature, so bigger units had to be installed.
This is only an example but shows how other factors need to be considered when choosing a mini split's heating and cooling capacity.