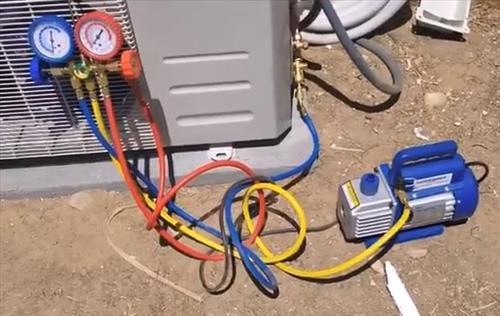 Doing a DIY Mini Split install is a great way to save money for the DIY handy person.

Even though you can save on labor-cost installing a mini split unit yourself some tools will need to be bought.

The good news is for small mini split jobs expensive HVAC equipment is not required with many budget tools working well.

After installing many Mini Split systems below is the budget tools I use.

At the bottom of the page I have made videos showing how to install a mini split along with the tools I use.

DIY Mini Split Install Tool List
Manifold Gauge Set
Vacuum Pump
R410a Adapter for Mini Split Systems
Flare Tool
Cordless Drill
Hole Saw
Allen Wrench
Torque Wrench
Manifold Gauge Set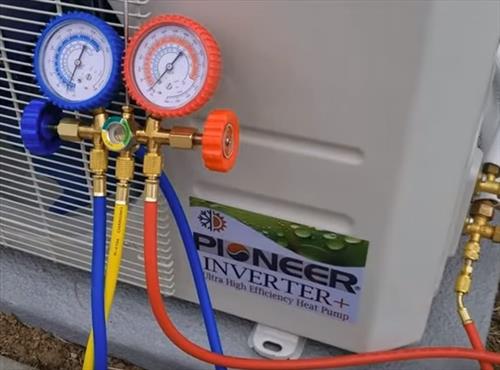 A HVAC manifold gauge set will be needed to help pump down the unit into a vacuum.

Gauges are easy to hook up and use with many available both high-end and budget.

A low-cost set is all that is needed for doing basic repairs and installs.

One budget set I have used and works well is the ZENY A/C Manifold Gauge Set.

It is not high-end but is a good for the part time HVAC tech or DIY Mini Split installs.

ZENY Manifold Gauge on Amazon
ZENY Diagnostic A/C Manifold Gauge Set R22 R134a R410a Refrigeration Kit Brass Auto Serivice Kit 4FT w/Case, 1/4″ SAE Fittings



Vacuum Pump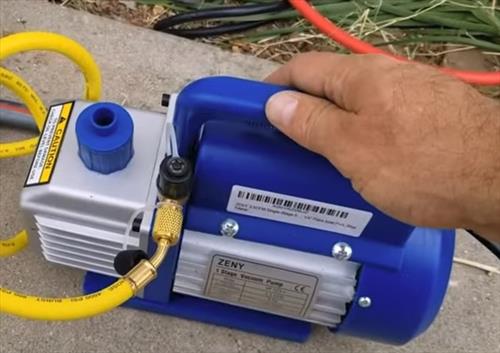 A HVAC Vacuum Pump will also be needed which there is also many units available.

If you are only going to use it occasional or for a few Mini Split installs nothing expensive is needed.

I again bought a low-cost Zeny unit which has been working well several installs later.

The Zeny Gauges and Vacuum Pump come separate or in a package deal which is cheaper.

Read More Here on Amazon
ZENY 3,5CFM Single-Stage 5 Pa Rotary Vane Economy Vacuum Pump 3 CFM 1/4HP Air Conditioner Refrigerant HVAC Air tool R410a 1/4″ Flare Inlet Port, Blue



R410a Adapter for Mini Split Systems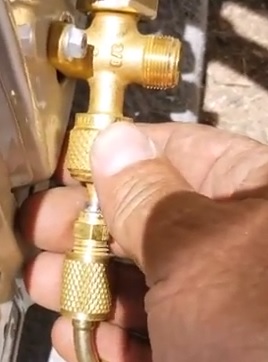 Most Mini Split systems will need a 5/16″ Female Coupler to 1/4″ Male Flare to connect the manifold gauges to the unit.

Check your gauge set as sometimes they are included with top-end gauges.

The adapter is a low-cost item but will be needed to hook up to the low pressure side and pump the unit into a vacuum.

Here is a set on Amazon
R410A Adapter | 5/16″ Female Quick Couplers x 1/4″ Male Flare for Outdoor Units Mini Split & HVAC & Central Air Conditioner System(Pack of 2) (145°)


Flare Tool
The copper line-set that runs between the inside and outside units usually have a preset length of 16 feet.

Be sure to check the unit that is bought for how long the line-set is but 16 feet is very common.

Most all DIY kits will have the ends already flared so a flare tool is not needed unless the line-set is cut.

If the distance between the the inside and outside unit is short it is a good idea to also shorten the line-set.

Keep in mind this is not necessary for the mini split to work with many people simply leaving the extra length rolled up in a loop.

While it can be left rolled up for a professional install it should be shortened which requires cutting the line and flaring the ends.

If you are novice installer I would not cut the line-set if it is too long and leave the excess rolled up in a loop.

While many will argue it needs to be cut I have seen 10-15 year old installs done this way still working good.

Cordless Drill
A cordless drill will make the job much easier for the various screws and holes that need to be done.

The wall plate for the inside unit will need to be screwed into place and solid on studs.

Also a 3 inch hole will need to be drilled through the wall for the line-set and control wires.

There are many low-cost cordless drills which I would recommend getting a 18 volt drill.

A lower voltage drill will likely also work but has much less power.

I also use my cordless on may other projects so a 18 volt drill it is simply a personal preference.

I bought a budget Ryobi unit seom years ago and after a lot of projects it is still going strong.

The one downside with any cordless is not usually the drill but the batteries which go bad before the drill.

Ryobi Cordless Drill on Amazon
Ryobi P208 One+ 18V Lithium Ion Drill/Driver with 1/2 Inch Keyless Chuck (Batteries Not Included, Power Tool Only)


3 Inch Hole Saw
A hole will need to be drilled though a wall for the line-set and control wires to go between the inside and outside condensers.

The hole is usually 3 inches be sure to check the mini split bought for the right size needed.

Hole saws are low-cost items.

3-Inch Hole Saw on Amazon
LENOX Tools Bi-Metal Speed Slot Arbored Hole Saw with T3 Technology, 3″


Allen Wrench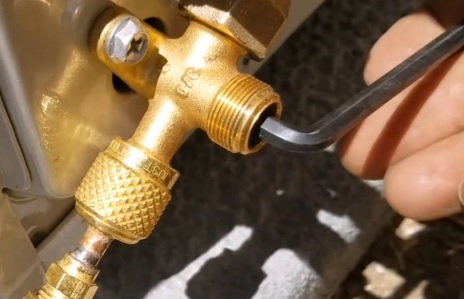 An Allen wrench will be needed to open up the refrigerant lines and let it into the system.

The size can vary depending on the manufacture so it would be best to buy a whole set.

A set is a cheap low-cost item.

Allen Wrench Set on Amazon
HORUSDY Allen Wrench Set, 32-Pieces Hex Key Set Long Arm Ball End, Inch/Metric and Mini Screwdriver Set – Best Unique Tool Gift for Men


Torque Wrench
YELLOW JACKET 60652 Eight Head Torque Wrench Kit

When it comes to tightening the line-set like many bolts they need to be properly tightened.
If over-tightened they can be striped out under-tightened and they can leak.
A torque wrench can solve this problem as they can be set to the manufacture specified foot pounds.
If you have experience they are not necessary with most HVAC techs not using them.
They can be a good idea for anyone new to HVAC and wanting to get the line set tightened up correctly.
Basic Tools
Some basic everyday tools will be needed such as screw drivers and pliers.

The line-set bolts will need to be tightened together which require wenches.

Wire-cutters are also needed for splicing the electric.

These basic tools should be in most any tool box.

Summary
The above is the tools that will be needed to do a mini split install.

Of course check with the DIY Kit to see if any special tools are required.

Most DIY people will have many of the tools above and will only need to buy one or two more.

Installing a mini split is not that difficult especially with the right tools for the job.