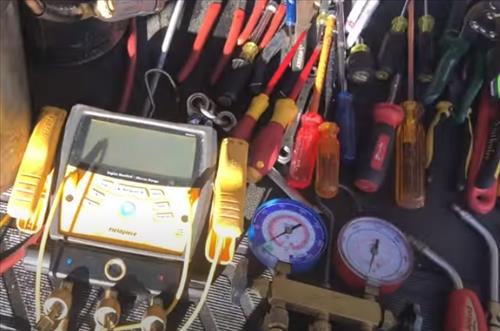 Below is the main tool list that an HVAC service technician will use to troubleshoot and fix heating and cooling problems.
To see the basic HVAC tool list check out my basic HVAC tool list post here.
Below I am listing the advanced HVAC service equipment, which, unfortunately, is also the most expensive.
An HVAC service technician will need the tools listed below to troubleshoot problems with air conditioners, heat pumps, furnaces, and more.
Keep in mind some HVAC companies may supply some of these more advanced tools.
HVAC Tool List Advanced Service Technician Tools
HVAC Refrigeration Gauges


A set of gauges will be needed to read the pressures in an HVAC unit. Many technicians will carry around two sets of gauges, and are worried about oil cross-contamination. Some HVAC technicians will carry an extra set to put on old units they don't want to use their good gauges on.

The old analog gauges are being replaced by digital gauges.

Old school technicians most likely will never upgrade to the new digital gauges, but there are benefits to them. Like with any of these tools, it comes down to personal preference and what you feel comfortable with to get the job done.

Starting out in HVAC residential than you can get by with a manifold gauge set that can read R22 and R410a.

Vacuum Pump


Many companies will have a vacuum pump that you can use but there are some that don't. Vacuum pumps are rated by the CFM (Cubic Feet a minute) and stages.

Stage 1 pumps work but take longer and are a bit nosier.

Stage 2 pumps can pull a vacuum down quicker and to a lower micron.

How fast a pump can pull down a unit also depends on the CFM which is how fast it can move air. A 3-5 CFM 2-Stage Vacuum pumps are the most common.

Refrigerant Scale


Refrigerant scales are used to show how much refrigerant a system has taken. A refrigerant tank is set on top of the scale and it shows by weight how much refrigerant has been used. This is important so that you can charge the customer correctly and know the exact amount going into a system.

Welding and Brazing Torch


Using solder and brazing coppers lines is part of an HVAC technician job.

The copper line sets have to be able to hold a vacuum when putting them together, so getting good at this is key. Most techs use Oxy-Acetylene torches to do this work.

There are a few techs that will use propane to solder up lines, but this is rare; most will use Oxy-Acetylene.

HVAC Flaring Tool


Some copper line sets will not get soldered but screwed together mainly with Mini-Splits. A flaring tool will be needed to flare the ends and connect them.

HVAC Multi-meter


A good HVAC multimeter will be needed to get accurate readings.

There are many brands Fluke, Fieldpiece, Klien to name a few.

I use a Fieldpiece HS36 mainly because I love the Amp Clamp but there are many good ones out there.

Recovery Machine


Most companies will have a recovery machine ready for you to use but it is something to keep in mind.