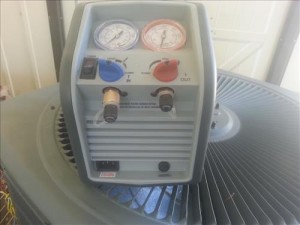 Buying a new recovery machine can be quite an investment that needs to last for years.
Before leaping in and buying a unit looking through your options and reading reviews is the best buying method to find a good unit.
What fits one scenario might not fit another. If you're a one-man operation, your requirements can be much different than a large shop with dozens of employees.
What is the Best HVAC Refrigerant Recovery Machine?
The best refrigerant recovery machine will vary from one technician to another and will depend on who you ask.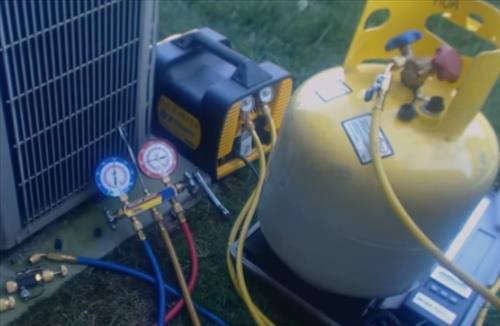 Since there are many factors to take into account, from cost to recovery times, reading reviews in the forums or on Amazon will help you make a better-informed decision on a unit that will fit your setup.
There are many good units available, with our picks below for the best refrigerant recovery machines.
As always, be sure to read the reviews on Amazon, forums, or elsewhere to be sure a unit is a good fit for you.
*This post contains affiliate links.
Our Picks for Best HVAC Refrigerant Recovery Machines
Robinair RG3

Robinair (RG3 Portable Refrigerant Recovery Machine – 115V, 60Hz, for Both Liquid and Vapor Refrigerant, White

The Robinair RG3 is a good unit that I bought and have used for a while now.

The unit is oil-less that has a high-pressure safety switch that shuts it down if the pressure goes above 550 PSI, and of course, it will work with any refrigerant R-22, R410a, R-12, R134a and so on.

Using it on a 3-ton R-22 residential unit will evacuate the system in about 30 minutes. Of course, this will change depending on the temperature and refrigerant type that is in the system.

Overall a good unit for the money and does not disappoint.


Robinair RG6

Robinair RG6 Portable Refrigerant Recovery Machine – 115V AC, 60 Hz

The R6 is the big brother of the R3 with quicker pull-down times. It is also a good unit and worth a look for those running a large shop or many jobs.


Appion G5TWIN

Appion G5TWIN Twin Cylinder Recovery Unit

The Appion G5TWIN is a twin-cylinder unit that is small, lightweight, and fast.

I recently helped use one with R-22, R-410A, and NU-22 units; it pumped them all down without any problems.

The Appion G5 is a solid recovery unit that gets the job done.


Inficon G1

Inficon Vortex Dual, Refrigerant Recovery Machine, 714-202-G1

The Inficon G1 is another good unit that gets the job done.

It uses a 1-HP dual piston compressor that works nicely.

Inficon is a good company that has a good warranty on their equipment.

It also has a purge feature which is good to have when you want to use it with different kinds of refrigerants.


Yellow Jacket 95760

Yellow Jacket 95760 Refrigerant-Recovery-Machine-1-2-HP-115V-YELLOW-JACKET-95760

Yellow Jacket makes many good HVAC tools, including the 95760 recovery unit.

This model has been available for a while and used by many on the field.
Best HVAC Refrigerant Recovery Machines Comparison Table
| Name | Voltage | Cylinders | Type |
| --- | --- | --- | --- |
| Robinair RG3 | 115V | Twin | Lightweight Residential |
| Robinair RG6 | 115V | Twin | Heavy-duty Residential Commercial |
| INFICON | 120V | | Lightweight Residential |
| Appion G5TWIN | 115V | Twin | Heavy-duty Residential Commercial |
| Yellow Jacket | 115V | | Heavy-duty Residential Commercial |
What is a Refrigerant Recovery Machine?
A refrigerant recovery machine removes the refrigerant from an HVAC system without leaking into the environment for disposal or reclaiming.
In the early days of HVAC, repair refrigerant was vented into the atmosphere, which was found to cause problems to the ozone layer.
In the late 1980's, many nations came together for a summit and signed the Montreal Protocol, which set into law how refrigerants are handled.
One of the requirements is to recover the refrigerant from an HVAC system which is no longer allowed to be vented.
All refrigerants must now be recovered for reclaiming or proper disposal or imposed huge fines.
A recovery machine must be used to recover refrigerants, which pumps out the refrigerant into a storage tank.

Things to Consider When Buying a Refrigerant Recovery Machine
Cost

Recovery machines are not cheap and are a long-term investment that hopefully will last 10-15 years.

Units vary in prices from $400-$5,000 depending on name brands and the build.

Buying a unit online is much cheaper than buying a unit from a local supply house, at least in my case. Large cities may have more competition, driving prices down. Myself living in a smaller town, the local options are limited. For me, prices online were half that of the local HVAC supplier.

Not everyone will need an expensive recovery machine and can get by with a cheaper model. In comparison, a very busy HVAC shop will need to recover quickly and reliably with technicians moving on the next call.

Weight

Weight can become a factor when a recovery unit is being hauled around all day. A unit will have to be carried up ladders onto roofs, sometimes over fences, and all matter of obstacles.

This has become less of an issue in recent years as most units now weigh less than 20 pounds. Years ago, some recovery machines could weigh up to 50 pounds or more.

Twin Cylinder vs. Single Cylinder

Twin-cylinder units will recover quicker since they are more powerful than a single-cylinder unit. The price matches this, with twin-cylinder units costing more.

Oil-less VS Hermetic Compressors

This is not much of an issue in 2019 as most recovery machines are now oil-less as compared to hermetic compressors of the past. Oil-less units offer much better recovery rates, direct liquid recovery, elimination of oil maintenance, and the ability to handle multiple refrigerants.

Warranties

How long the warranty lasts is always a consideration. Name brand companies will no doubt have a reputation to keep and warranty their products for longer. Buying with a credit card can also add warranties which vary from one card to another. Buying from third-party sites such as Amazon also can add another level of protection as all big companies have their own protection plans.
Tips For Using a Recover Machine
Don't use your best manifold gauges when recovering. Having a set of dedicated hoses to make a recovery is ideal. Using a manifold set and hoses that also are used to charge a system can lead to cross-contamination. Plus, when the old refrigerant is recovered, the system might have had a burn-out or any number of contaminants in it. Everyone will have an opinion but ideally, using hoses that are only used for recovering is best.
Understand what Push/Pull is and a complete understanding of how it works.
Consider making or buying a Sub-cooler that can benefit recovery times in certain cases.
Remove Schroeder valves which can restrict the flow of refrigerant.
Remember, a recovery cylinder must have 20 percent more capacity than the unit that is being recovered.
Summary
Buying new HVAC equipment such as a portable refrigerant recovery machine is a big purchase that should be thought out.
Every user will have a different need and budget with no one size fits all.
Many units have additional features and better recovery speeds that also may fit a user.
Recovering refrigerants including R-410A, R-407C, R-134a, and even R22 must be done to comply with the EPA 608 requirements.
Portable refrigerant recovery units will recover almost any type of refrigerant on the market and store it in recovery tanks.
Do you have a favorite portable refrigerant recovery machine? Let us know your thoughts below.