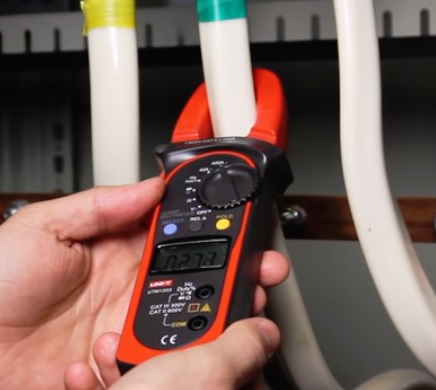 Having a multi-meter with an amp clamp when troubleshooting an HVAC system is ideal when needing quick amp load readings.
There are many good HVAC amp clamp multimeters available with our favorite picks below.
What is an Amp Clamp Multimeter?
An amp clamp can measure the current flowing to a device which is measured in amps.
A digital clamp meter can be very helpful when troubleshooting a unit since it will show if it is pulling the correct amount of amperage.
If an HVAC system is pulling too many amps, there is a problem with the system.
For example, testing a condensing fan or blower motor for over-amping can be done quickly by simply clamping one of the pole wires.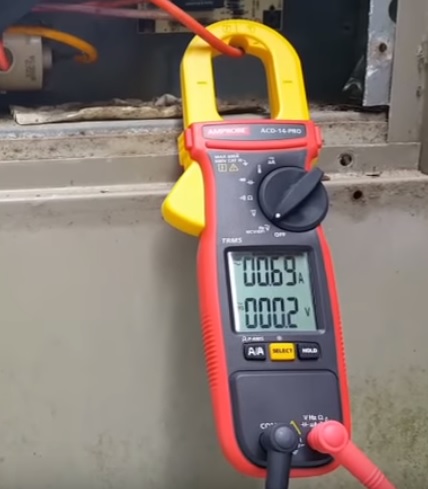 If the blower motor is over-amping, it is likely bad and will need to be replaced.
Without an amp clamp troubleshooting, a bad condensing fan motor would be much harder.
With the many brands available, below are our picks for the best HVAC amp clamp multimeters.
As always, be sure to read the reviews on Amazon, forums, or elsewhere to be sure a unit is a good fit for you.
*This post contains affiliate links.
Our Picks for Best HVAC Multi-Meters with Amp Clamp 2022
Etekcity MSR-C600

Available Here on eBay
If you need a low-cost amp clamp, the Etekcity MSR-C600 is a cheap budget solution.

It measures all voltages AC and DC as well as an amp clamp with a built-in display.

It is not a top-of-the-line multimeter but is good as a backup meter for an HVAC tech or for a DIY homeowner.

The package comes with a small carry bag to help keep it protected when stored away.


Fluke 325

Available Here on eBay
Fluke is a well-known manufacturer with many good multimeters.

The Fluke 323 is a good unit that has a clamp to quickly and easily measure amps.

It is also a True-RMS which means it is very accurate with readings.

The Fluke 325 is a good unit that gets the job done


Fieldpiece HS36

The Fieldpiece HS36 is an older Amp clamp meter that has been around a while.

It has an attachable accessory head that allows for an Amp clamp to be easily attached.

I have used one for many years, and it may be the familiarity, but it is my go-to unit.

There are many more meters available with the Fieldpiece HS36 a dependable unit that has always worked for me.


Klein Tools CL900

Available Here on eBay
The Klein Tools is a popular brand name with many amp clamp meters, including the CL900.

It has many nice features, such as an analog bar graph and a backlight display.

It is also a TRMS meter, which is good for accuracy.


UEi Test Instruments DL369

The UEi DL369 is a dual display meter with an attachable amp clamp.

The clamp can be removed for easy storage, and other attachments can be used, such as a K-Type temperature probe.

It has been available for some time and is a good unit for the price.

Best HVAC Multimeters with Amp Clamp Comparison Table


| Name | Amp Clamp | True RMS | Build |
| --- | --- | --- | --- |
| Etekcity MSR-C600 | Yes | Yes | Budget |
| Fluke 323 | Yes | Yes | High-End |
| Fieldpiece HS36 | Yes | Yes | High-End |
| Klein CL900 | Yes | Yes | Mid-Range |
| UEi DL389 | Yes | Yes | Mid-Range |
How to Use an Amp Clamp Multimeter
Using an amp clamp is easy to do, but care has to be taken since high voltages are being measured.
To use the meter, place the clamp around one lead wire of the system you are trying to measure the amps on.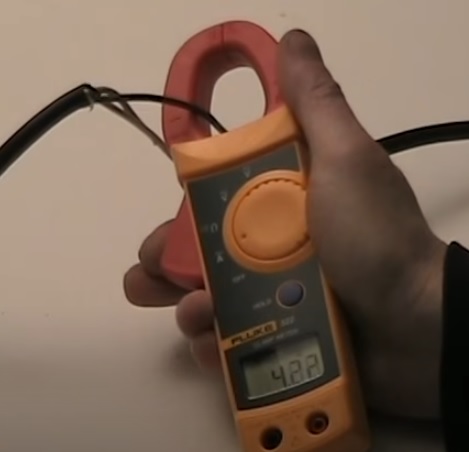 Only one lead wire can be used with the clamp, or the measurement will not be correct.
If both leads are clamped, the amp measurement will be wrong.
Basically, only clamp one leg of the main voltage wires and not both to get a reading.
Of course, a device such as a motor will also need to work on getting a reading.
Be sure to be careful working with the wires since they will be live and place ho to clamp one of the wires safely.

Summary
Many techs will have personal favorite meters for HVAC, with no single unit being the best.
There are many types of multi-function clamp meters, all with different features such as reading AC voltage, diode testing, RMS sensing, TRMS, low battery indicator, auto-ranging, measures temperatures, backlit screen, and much more.
Fluke units are usually considered the top brand name, but many other units work just as well.
HVAC service technicians are often divided when it comes to AC clamp meters for HVAC.
Reading through the reviews on sites such as Amazon or forums is always a good idea to see if it is the right fit for you.
Personally, I use a Fieldpiece HS36 that has an attachable Amp clamp and has worked great for many years.
Finding a good HVAC meter that helps you get the job done quickly and reliably is always the goal.
Do you have a good amp clamp multimeter? Let us know in the comments below.