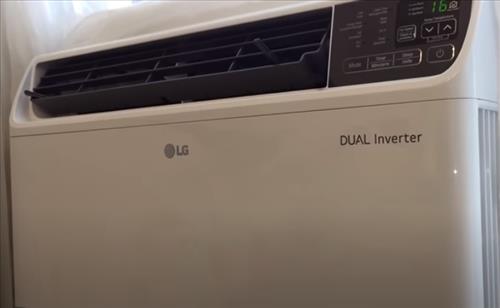 2022 has become a great year for anyone looking for a quiet window air conditioner with many new designs making them quieter and more efficient than ever before.
One type is new units are built in a Saddle or U-shaped design that allows the noisy compressor to sit on the other side of the window.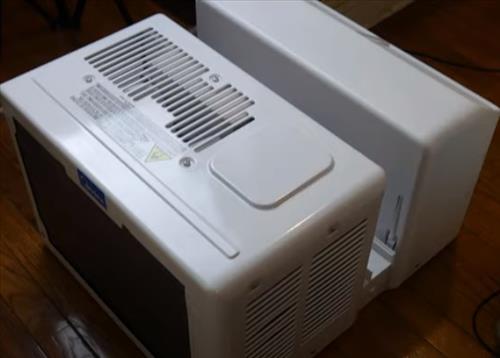 Most standard window A/C units are square packages with the noisy compressor packed inside.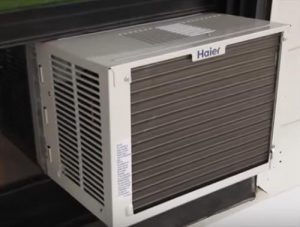 This makes standard units noisier mainly since the noisy components, the compressor and fan, are located directly inside the packaged unit.
In the past, these components have been wrapped in sound suppressant blankets to help quiet a unit down which does help greatly.
Many new units now place the noisy components outside the window, which greatly improves sound quality and lowers the noise level.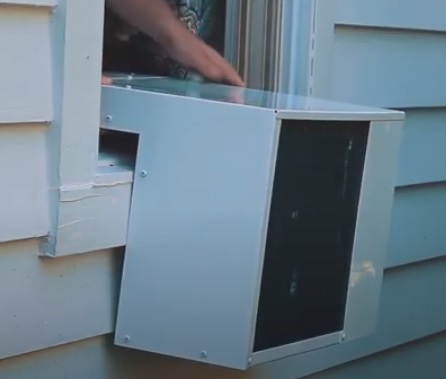 While the older style units still work great, they will make more noise.
Below are the best window A/C units we have found that make the least amount of noise.
If you have found a quiet window-mounted air conditioner or noisy unit not to buy, let us know in the comment below.
As always, be sure to read reviews on Amazon, forums, here, or elsewhere to be sure a unit is the right pick for you.
*This post contains affiliate links.
Our Picks for Best Quietest Window Mounted Air Conditioners 2022
Soleus Air Exclusive

The Soleus Air is a new unit with a different kind of build.

It is a saddle window air conditioning, meaning it fits into the window like a saddle and doesn't block the window like a standard A/C unit would.

This hump type of design also allows the noisy compressor to be placed outside more compared to other units.

This makes it one of the top quietest window A/C units available.

The Soleus Air is a new unit for 2022 that has a unique new build that makes it easier to install and quiet to operate.

Midea U Inverter

The Midea U Inverter window air conditioner is another new unit with a U shape design.

This allows the noisy compressor side to be outside the window blocking out noise making the unit operate more quietly.

It also has Inverter technology that lets it operate more efficiently compared to standard A/C units.


LG Dual Inverter Smart Window Air Conditioner

Available Here on Sylvane
The LG Dual Inverter window air conditioners are very nice efficient units that have a very low energy usage.

They come in different sized packages from 14,000-22,000 BTU and different voltages with 110-Volt and 220-Volt units.

LG Dual Inverter units are set up to operate very quietly at 44 decibels.

This makes them one of the quietest units available and also one of the most efficient.

Unfortunately, they are also the most expensive, which may be a problem for anyone on a budget.

The LG Dual Inverter series of window air conditioners are very nice units that not only save money on energy cost but also run quietly.


Haier Serenity Series

Haier is known for making quiet heating and cooling window air conditioning packages.

This unit is a 6000 BTU, 115 Volts, and uses what is called Cross-Flow technology to keep the fan noise level down.

The Haier company also wraps the compressor in a noise suppressant blanket that quiets it down.

The compressor on any HVAC unit often makes the most noise and can be heard kicking on and off as it cycles. Having this component wrapped goes a long way in making a unit run quieter.

The cross-flow fan technology also makes the fan run smother and makes less noise than conventional fans.

The blower wheel is built in a long tumbler design with small fins to blow out air. This is much quieter compared to a standard fan design.

A window unit will always make some noise, but this may be the quietest unit available currently.


Emerson Quiet Kool

Emerson has a window A/C unit called the Quiet Kool, which comes in different sizes, 6,000-15,000 BTUs.

The package is square with the controls on the top, let with many nice features built-in.

It is built for easy installation, LED display, three fan speeds, timer, remote control, Eco mode, and more.

Emerson is a well-known company with good warranties, including 1-year parts and labor, 2-years parts, and 5-years on the compressor.

The Emerson Quiet Kool comes in five different sizes including 6,000, 8,000, 10,000, 12,000 and 15,000 BTU.

Be sure to match a unit to the space needing to be cooled. For example, 6,000 BTU is rated to cool a room from 150 to 250 square feet.


Frigidaire Inverter Quiet Temp

The Frigidaire Inverter Quiet Temp is a new unit that has a rated 42dBA sound level.

It is also a smart unit that can connect to a home network with WiFi.

The cooling capacity is 10,000 BTU which makes it a large unit able to cool up to 450 square feet.

The Frigidaire Quiet Temp is a new smart air conditioner for 2022 that is built to run quietly.

LG LW8016ER

LG makes many good window A/C units, including the 8,000 BTU LW8016ER.

While it may not be the quietest on our list when mounted correctly, it operates much quieter when compared to many other units.

One of the things that make it have less noise is it has a rotary compressor which is quieter and more economical to operate.

It is a 115 Volt unit that is rated to cool 340 square feet of space.

When it comes to price, along with a well-built unit that is much quieter when compared to many other models, the LG LW8016ER is worth a look.


Friedrich CP10G10B

Friedrich Chill also makes many good units, including the model CP06G10B.

It comes with a nice remote control that makes it easy to change the setting from a distance.

The unit has three cooling speeds, three fan speeds, auto-cool, energy saver mode, and a programmable 24-hour on/off timer.

The 6,000 BTU unit is rated to cool a space roughly 250 square feet depending on how hot it is and how well insulated the room is.

When set to high cooling, it does make noise and works best at lower settings for a quieter unit.

While not the quietest when comparing price vs. overall build, it may be a good option for a budget-minded person looking for a good unit.


Keystone

The Keystone Window Air Conditioner unit is a 5000 BTU, 115 Volt unit. It has a three-speed fan which can be turned to low for the quietest setting.

It has a rated indoor noise Level of High at 55 dBA, Medium at 52 dBA, and Low at 49 dBA.

One of the reasons it is quieter is it is a smaller unit able to cool a space up to 150 square feet.

The small size and package give it a lower cost but also less cooling power that may be needed in a large room.

While this A/C unit may not be the quietest on the list, it is a popular window A/C package that makes less noise than many others.
Best Quiet Window Mounted Air Conditioners Comparison Table
| Name | Noise Level | BTU | Cooling Capacity |
| --- | --- | --- | --- |
| Soleus Air Exclusive | 42 dB | 6000-8000 | 250-340 Sq. Ft |
| Midea U Inverter | 42 dB | 8000-12000 | 340-550 Sq. Ft |
| LG Dual Inverter | 44 dB | 14,000-22,000 | 450-1,200 Sq. Ft |
| Haier Serenity Series | 43.4 dB | 6,000 | 250 Sq. Ft |
| Emerson EARC6RE1 Quiet Kool | 55 dB | 6,000 | 250 Sq. Ft |
| Frigidaire Quiet Temp | 42 dB | 10,000 | 450 Sq. Ft |
| LG LW8016ER | 52 dB | 8,000 | 340 Sq. Ft |
| Friedrich CP10G10B | 54 dB | 10,000 | 450 Sq. Ft |
What is the Quietest Window Air Conditioner on the Market?
Most would agree that the Haier Serenity Series is currently the quietest window air conditioner on the Market.
While there is always a debate as to the best of anything, the Haier Serenity Series has many added features to help it run quietly.
The main feature is the wrap around the compressor with a noise suppressant blanket.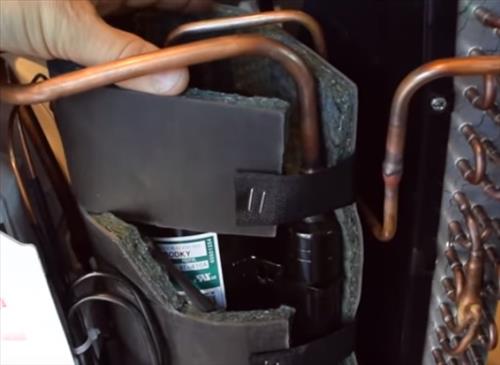 This helps to greatly reduce the noise level since the compressor turning on and off is the loudest part of an air conditioner.
Of course, there are many other good units, so be sure to read reviews on any A/C system before buying.
What Size Window Air Conditioner Will You Need?
Air conditioners are rated by BTU (British Thermal Units) for how much cooling power they have.
The BTU a unit outputs can be matched with the square feet of a room.
A chart can then be looked at to see what sized unit would work best for you.
To get the square feet of a room, measure the length by the width and multiply it.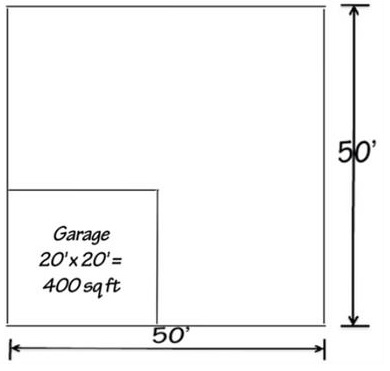 For example, a room 20 feet long by 20 feet wide would be 400 square feet.
Once the square feet of a space is known it can be matched to an HVAC sizing chart.
BTU Sizing Chart for AC Units
| Area Size Sq Ft | BTU's Needed |
| --- | --- |
| 150 to 250 Sq Ft | 6,000 BTUs |
| 250 to 300 Sq Ft | 7,000 BTUs |
| 300 to 350 | 8,000 BTUs |
| 350 to 400 Sq Ft | 9,000 BTUs |
| 400 to 450 Sq Ft | 10,000 BTUs |
| 450 to 550 Sq Ft | 12,000 BTUs |
| 550 to 700 Sq Ft | 14,000 BTUs |
| 700 to 1,000 Sq Ft | 18,000 BTUs |
| 1,000 to 1,200 Sq Ft | 21,000 BTUs |
| 1,200 to 1,400 Sq Ft | 23,000 BTUs |
| 1,500 Sq Ft | 24,000 BTUs |
Be sure to take into account how well a room is insulated as well as the climate.
Some climates are much hotter and may need a bigger unit to help keep a space cool.
Why Are Window Air Conditioners Noisy?
Window units come packed in a single case with all the working components built into them.
Since all the parts are built into a single case, including the noisy parts, some noise will always be heard.
Most standard home HVAC units are mounted outside on a roof or on the side of a home with air fed in through duct work.
This helps isolate the noise outside and keep the inside of a home much quieter.
There are also split system-type HVAC units that separate the loud parts outside and keep the quiet components inside.
How To Find the Quietest Window Air Conditioner Unit
The quietest unit can be found by measuring the Decibels or dB noise levels it makes.
Decibel is a measurement that is widely used to rate how loud something is.
For example, the average conversation is usually around 45-50 dB, while a train horn is around 150 dB which is very high on the noise level scale.
Most window A/C packages make levels between 40-60 dB, with the lower numbers much quieter.
When looking for a quiet unit, finding a unit that makes less than 50 decibels would be best.
How Long will a Window Air Conditioner Last?
Window air conditioners usually last between 5-10 years, depending on usage.
How long a unit last will depend on how much it is used as well as the climate.
A very hot climate such as the American southwest will make the unit work much harder compared to a unit in more moderate weather.
Also, build quality and installation can be a big factor for how a unit wears over time.
Installing a unit that is in place with brackets and levels will not wear out components as fast as a badly installed unit.
Most window air conditioners will be ready to be replaced after five years of moderate to heavy use.
Summary
Finding a quiet window-mounted air conditioner can be a challenge. Mainly since the noisy components, the compressor and fan, are located directly inside the packaged unit.
Since the compressor is located inside the unit and not outside, some noise will always be present.
With that said, some window air conditioners have less noisy compressors than others. A quiet window ac unit with low decibel levels is ideal for many reasons.
Window A/C units are not usually built to be the quietest since they are budget-oriented equipment meant to fill a gap in a cooling system.
How a unit is mounted can make a big difference in noise levels, with it needing to be level and on a sturdy platform.
If the package is not level, it will likely rattle more and cause more noise than it would otherwise.
How well a unit is installed can also make an impact on noise level along with other factors. Read here for some tips on how to help quiet down a noisy window air conditioning unit.
Doing basic maintenance on a unit can go a long way in helping it stay running the best it possibly can.
Getting the most efficient unit is also a good idea with energy star certified, and energy efficiency ratio labels.
Basic care can also improve the life span of a unit which normally is around five years.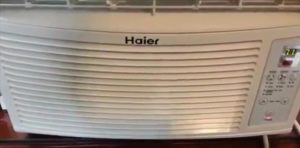 Things such as cleaning the air filter and keeping the outside air fins clean of debris can also make a unit run smoother.
Keep in mind to get a truly quiet unit, there other ways that are affordable such as mini split systems that separate the compressor outside and feed lines into a home that circulates refrigerant to a blower motor.
Split systems require more effort and skill to set up but are not as expensive as traditional central air conditioning systems used in homes.
I always recommend looking at a mini split system since they are very quiet, low-cost to operate, and built to last.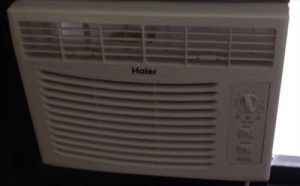 Mini-split systems are basically the same as a big home unit, only on a smaller scale.
They are very quiet and about as close to silent as an HVAC system can be.
They are also perfect for the DIY type of person, with many DIY kits available.
Of course, they require more skill to set up and require some basic construction skills such as using power tools and wiring.
When you are buying a quiet air conditioner window AC package, be sure to read online reviews to make sure it does have low decibels.
There are no completely silent window air conditioners available, but there are some that make the least amount of noise possible.
BTU capacity will also need to be considered to size the unit to the space that needs to be kept cool.
There are also ways to keep a window air conditioner quieter, such as making sure it is mounted correctly and bolted in place well.
Lowering the speed setting can also help to reduce the sound and keep a low noise.
Have you found an excellent quiet window mounted air Conditioner? Let us know your thoughts below.