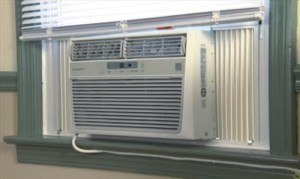 Window mounted Air conditioning units that heats and cools come in two styles.
Heat Pump Air Conditioner Combination
Supplemental Heat Air Conditioner Combination
A Heat Pump works by cycling refrigerant the same as any A/C unit does. When it becomes cold the process is reversed and it produces heat instead of cold air.
Supplemental heat is an A/C unit that has heat strips installed. Heat Strips work on the same principal as a space heater using elements that become hot in combination with a fan that blows out hot air.

Each of these types of systems have their positives and negatives.
Heat Pump vs Supplemental Heat
Heat Pumps are more efficient and use less electricity but cost more to buy than a unit with supplemental heat.
Supplemental heat units cost less to buy but use more electricity and cost more to operate.
Since units that use heating elements to heat a room like a space heater they are often installed simply to free up space with no other real benefit.
Each type of unit has its own benefit that needs to match the scenario.
There are many units available with those listed below some of our picks.
As always be sure to read the reviews on Amazon or elsewhere to be sure it is a good fit for your home.
*This post contains affiliate links.
Our Picks for Best Window A/C Units That Heat and Cool
Frigidaire FFRH0822R1

Frigidaire FFRH0822R1 8000 BTU 115-volt Compact Slide-Out Chasis Air Conditioner/Heat Pump with Remote Control

This heat pump unit from Frigidaire is a 115 Volt 8000 BTU package.

It can heat or cool a small room up-to 350 sq. ft.

Since it is a heat pump it is more cost effective to run than most supplemental heating units.


LG LW1216HR

LG 12,000 BTU 230V Window-Mounted AIR Conditioner with 11,200 BTU Heat Function

LG Electronics makes this 115 Volt window unit that heats and cools using supplemental heat.

It is rated to heat and cool a space up-to 320 sq. ft.

Since it uses supplemental heating when it is cold out the unit will work like a space heater mounted in a window.


Koldfront WAC12001W

Koldfront WAC12001W 12,000 BTU 208/230V Heat/Cool Window Air Conditioner

This unit from Koldfront uses 220 volts to operate which supplies more heating and cooling compared to many other units.

It is rated at 12,000 BTUs and for a room 450- 550 sq. ft. in size.

220 volts is no commonly ion every room and usually only used by a dryer or electric stove.
Summary
Buying a Window mounted air conditioning unit that heats and cools comes down to the type of heating you want the unit to do.
Electric heat works great but can be more costly in the long term.
Heat Pump units while more efficient can be more costly to buy upfront.
Installation will be the same with what ever type of unit is bought, first by making sure the wall outlet is the correct voltage type, and then the window dimensions are correct for the unit to fit.
For a more long term solution Heat Pump units called Mini Split units can be installed for better long term solutions. Mini Split units separate the condenser and compressor with a line that recycles the refrigerant away from a home.
This makes them much quieter and better built than a packaged window unit.
Since Mini Split units are also Heat Pumps they can heat or cool a space very well. Of course the cost of a mini split is much greater than a window unit and installation is much harder.