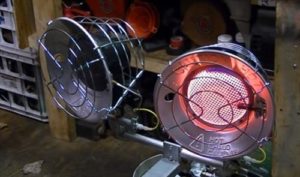 Garages are often the last place heat is added in a home, but it can become necessary to have a comfortable work area.
Often it depends on the climate for what is the best way to heat an open space such as a garage.
For example, what works in the American Southwest likely won't work as well in Alaska.
Also, the cost is always a factor, with many low-cost options along with more expensive units.
Below are our favorite picks for the best way to heat a garage.
5 Ideas for the Best Ways to Heat a Garage
Propane Heater Tank Heater


Propane tank heaters can be ideal in the right situation. They are low-cost, put out a lot of heat, and are cheap to operate.

The downside is it must have ventilation. This would be ideal when the garage door needs to be open; otherwise, it can become dangerous.

If you already have a propane tank, then having one is always good since it can be used in other scenarios, such as camping.

The units are very portable and store away easily.

Electric Heaters


Electric work-space heaters are also a good option.

They are mounted on a wall or ceiling and can put out a lot of heat. More than one can be bought, adding more heat when needed.

Heating a space with electric heaters is not the most efficient way to heat a space, but it does get the job done and is used by many to heat their garages.

Read Here for Our Top Electric Garage Heater Picks.

Mini Split

Mini Split Heat Pumps are possibly one the best options since they also cool in the summer.

Heat pumps are basically air conditioners that can be reversed to also put out heat. They are widely used in the Southwest United States since they are very efficient to run and both heat and cool.

The downside is they cost more and take some skill to set up. There are many DIY kits for a handy person, or an HVAC company can install a unit.

Read Here for Garage Mini Split Overview and Setup.

208/240V Forced Ceiling Mounting Heater

Heaters specifically designed for a garage can also be used and come in electric or gas packages.

They are usually hung from a ceiling and do a very good job of heating up an open space such as a garage.

Wood Stoves


Woods stoves are not widely used anymore but are a very good way to heat a space such as a garage.

This is mainly true if you live in a heavily wooded area with plenty of wood to burn.

If you live in a city, they likely have a ban on wood burning, but it may be worth looking into.

Burning wood is the original way to stay warm and works very well.
Summary
Adding heat to a garage can be done in multiple ways, from gas to electricity. Mini Split Heat pumps are also an option since they can also cool down a garage when the weather turns, and it becomes hot.
Of course, every scenario will be different, and what works for one likely won't work for another. How well a garage is insulated will also add to what type of heater is needed.