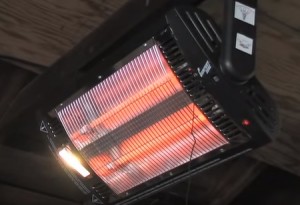 Keeping a garage warm, or at least warmer, is ideal when working during the winter. One of the problems with many garages is they lack a 220 volt outlet to run a heavy duty heater.
220 volts is ideal to get the high amps needed to run a commercial style electric heater.
With that said there are many 120 volt garage heaters that can help keep things inside a manageable comfort level.
As long as the garage doesn't have only a single breaker to run all its outlets more than one 120 volt heater can greatly improve things.
How well the garage is insulated and how cold it is will obliviously have an impact on the amount of 120 volt heaters needed.
The average 110/115 volt power outlet can handle between 15-20 Amps of power draw before it throws the breaker. Looking at your power box breaker will tell you the amps of each breaker.
A single breaker will power more than one outlet and lights so be sure to take into consideration other things running in a garage.
Some garages will be on a single breaker managing all the outlets and lights while others will have two or more.
Below are some of our favorite options for 120 Volt electric garage heaters with many more available.
As always be sure to read the reviews on Amazon, forums, or elsewhere to be sure a unit is a good fit for you.
*This post contains affiliate links
Our Picks for Best 120 Volt Eclectic Garage Heaters
Maxx Air HeTR

Maxx Air HeTR Outdoor Rated Wall Mount Infrared Heater with Remote, 1500 Watts

Ceiling-Mounted heaters are a popular option since they are mounted up out of the way.

The Maxx Air HeTR has a nice mounting bracket that can be hung from a ceiling or even mounted on a bench.

The On/Off switch is controlled by a remote control.

This type of garage heater is a permanent solution and not mean to be moved around.

It is a low-cost solution that works well in many garage work environments.

Optimus Electric Garage/Shop Ceiling Heater

Optimus Electric Garage/Shop Ceiling or Wall-Mount Utility Heater, HEOP9010

Optimus makes this nice ceiling heater that will need to be mounted.

It can also be mounted anywhere heat is needed such as a workbench or a wall.

It is rated to heat a space up-to 300 square feet with a Max 1200 Watts and 110 volts AC.

Lasko 675919

Lasko 675919 Stanley Pro-Ceramic Utility Heater, 12-Inch

Small mobile durable and tough this Lasko model is a good portable heater for a garage, construction, or any place one is needed.

It is a 120/110 Volt 1500 watt unit that has an adjustable thermostat.

Air Choice 1500W Electric Heater

Portable Space Heater – 2 In 1 Ceramic Heater, 1500W Electric Heater, Fan Heater, Fast Heating, Thermostat Adjustable, Overheat and Tip-Over Protection, Indoor Portable Heater (Black)

This unit from Air Choice is a 1500 watt 120 volt heater built into a nice package with a handle on the top.

It is is a 120 volt heater that can be pivoted about for the best air flow.

It has a stand along with a handle to move about easily placing it in the best possible location.

The unit also has many safety features built in such as tip-over protection, and overheat protection.


Buyplus Electric Garage Heater

Buyplus Electric Garage Heater – Greenhouse Fan Heater Portable Space Heater, Adjustable Thermostat, for Grow Tent, Office, Workplace, PTC Fast Heating, Overheat Protection, Metal Base

The Buyplus is an electric heater built to be portable and heat a space such as a garage.

It can put out 1500 watts of power and has three heat settings.

The unit is a circular design with flat legs as a stand and control on the top.

Propane Forced Air

Mr. Heater F271380 MH85QFAV Forced Air Propane Heater

Propane heaters are good alternative option to electric heaters when electric outlets are limited.

They do require a door to be open while using since they burn up the oxygen in the air.

They also need to be refilled every so often which may not be for everyone.

Craftsman Ceramic Heater

Craftsman 97285 1500 Watt Ceramic Barrel Heater

This Craftsman unit is portable and easily carried from one spot to another.

It has two settings for 750 watts or 1500 watts for 120/110 Volts AC power.

Other features include a safety tip-over switch and an adjustable thermostat.

Since it is portable it is handy in many scenarios.


Summary
Having a warm garage can go a long way in helping to stay motivated when it comes to projects.

No one likes to work in a cold garage in the winter. Thankfully with the many garage heaters sold there is no doubt one that will fit your scenario.

Mini split heat pump units are also good for heating a garage and can also cool in the summer.

They do cost more to buy and set up but wok very well and a very nice long term HVAC solution for a garage.

Do you have a favorite garage heater? Let us know in the comments below.