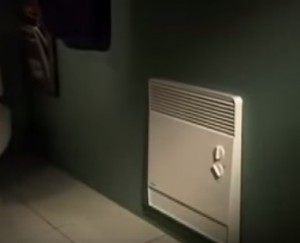 During the winter, many bathrooms are not as warm as they could be.
Often space heaters are used in a bathroom to heat a space but are not ideal bathroom heaters.
While space heaters will work in a pinch, they can get in the way and, depending on where they are placed, and may be a hazard.
One of the best heaters to warm up a bathroom and get rid of the space heaters is to use wall units that stay up out of the way.
Wall heater units are ideal since they are out of the way, low cost, and the preferred method for many.
There are many units available, with some of our favorite options below.
As always, be sure to read the reviews on Amazon, forums, here, or elsewhere to be sure a unit is a good fit for you.
*This post contains affiliate links.
Our Picks for Best Electric Bathroom Wall Heaters
Broan Wall Heater

EconoHome Wall Mount Space Heater Panel – with Thermostat and Heat Guard Cover – 400W Convection Heater – For 120 Sq Ft Room – 120V – Save Up to 50% of Electric Heating Cost – Overheat Protection

Flat-panel wall heaters are a great option to heat up any space while staying up out of the way.

Electric units are the easiest to set up since they only need to be hung on a wall and plugged in.

These types of units don't put out a lot of heat but a steady warmth that helps maintain the temperature in a room.

This steady heat source helps bring down electrical costs compared to electric space heaters used with heavy up and down spikes.

Broan Wall Heater

Broan-NuTone 9815WH Grille Heater with Built-In Adjustable Thermostat, 1500W, 120/240V, White

Electric space heaters that use elements can also be bought that fit into a wall.

A small section of the bathroom wall will need to be cut out, and the unit fit into place.

Since a hole needs to be cut in the wall and electrical run, this makes them more difficult to flat panel heaters to set up.

While more difficult to set up, they put out much more heat when needed and warm up a space quickly.

The Broan 174 is one such unit that puts out 750-1500 Watt and uses 120 Volt AC.

It has a built-in thermostat to regulate the temperature.

Cadet Energy Plus Wall Heater

Cadet Energy Plus Wall Heater Complete Unit With Built-in Digital Thermostat (Model: CEC163TW, Part: 65215), 120/240/208 Volt, 1000/1600/1500 Watt, White

The Cadet Energy Plus is a popular wall unit that has its own built-in thermostat.

Like most units, It will need a hole cut into the wall and electrical run for installation.

The unit is very quiet while operating, making it nice to have in some scenarios.

Cadet Manufacturing 79241

Cadet Manufacturing 79241 120-Volt Compact Electric Wall Heater, 1000-Watt, 8.33-Amp

This unit has a unique older style wall heater look.

There is no built-in thermostat but a simple on/off switch.

It works the same as a standard space heater with elements that get hot and put out heat.

Electric wall units have a huge advantage over space heaters as they are out of the way mess-free.
Installing an eclectic heating wall unit does take some skills, but most home DIY types can often install a unit.
Of course, if in doubt, be sure to call a professional.
How To Install an Electric Bathroom Wall Heater Overview
A Hole for the unit may need to be cut out of a wall.

Electric will need to be run to the unit often from the closest outlet. With a little pre-planning running power to the unit can make the installation a lot easier.

Connect the wiring and use screws to hold the unit in place.
Summary
Choosing the right style electric wall heating unit for your home goes a long way in how the end result will look.
Since every home is different, it will no doubt be a personal choice of what the design type is.
Wall heater units are installed by cutting a hole in the wall and running electrical to it. While it is not difficult to install a wall unit, always hire a professional when in doubt.
Flat-panel wall units are much simpler to install and simply hang on a wall without any cutting.
Each breaker in a home can only take a set load before a breaker trips and turns off the outlets it is supplying. Most breakers supply power to 3-5 outlets and lights per breaker.
This will need to be taken into account as not to overload a breaker making it shut off the power.