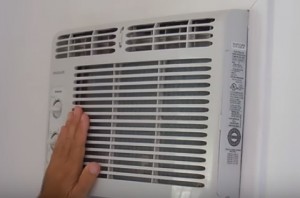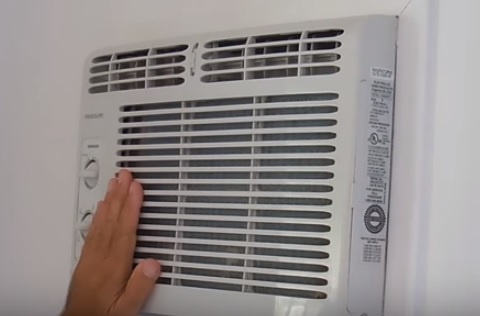 There are many reasons a window air conditioning unit is not blowing cold air, from a dirty filter to simply being worn out.
Below are the seven most common reasons why a unit stops blowing cold air into a room.
If you have a unit that is not working and the cause is not on the list, let us know in the comments below.
7 Reasons a Window Air Conditioner is Not Blowing Cold Air
Be Sure the Thermostat is Set Low Enough


Make sure the thermostat is set correctly for cooling. This may seem obvious, but it happens.

Check the thermostat on your unit and be sure the temperature is set low enough for it to kick on.

Dirty Air Filter


All air conditioner units need good airflow to work properly.

A dirty air filter can block airflow and cause a unit to stop working properly.

The air filter is usually located inside the front cover, and each unit has its own procedure to replace or clean it.

Read Here for How To Clean a Window Air Conditioner Filter

Clean the Outside Fins of any Debris


The outside fins are there to dissipate heat as the outside fan blows air through them, much like a radiator in a car.

If the fins become clogged, they can stop dissipating heat, and the unit will stop working.

A quick way to fix this is with the unit off, and use a hose to blow out anything that may be blocking the fins.

Be careful not to bend the fins as they are easily bendable and will restrict the airflow if bent.

Read Here for How to Clean a Window Air Conditioner

Clean the Inside Coil


The inside coil can become dirty, the same as the outside coil, and need to be cleaned.

The inside faceplate cover will likely have to be removed and will depend on the unit how this is done.

Don't use any chemicals to clean the inside coil as they will smell as they are blown into a room.

Use plain water and clean the dust or any build-up that has occurred.

Again be careful not to bend the small fins.

Read Here for How To Clean the Inside Coil on a Window A/C Unit

Check if the Outside Condenser Fan is Blowing Air


It is easy to tell if the inside fan is blowing, but there is also an outside fan that blows hot air away from a unit.

If the outside fan stops blowing, the unit will not work.

Some outside fans work only intermediately and shut off to save energy when not needed. Most Window A/C units use the same motor to turn the inside and outside blades, but they can be separate.

There is no need to open the unit up to see if it is turning, as you should be able to feel the air moving past the outside of the unit.

Be sure to check the outside fan when the unit is not working since it should be on and blowing hot air away.

Does the Compressor Turn On?


The compressor makes a clunk and noisy buzzing sound when it turns on.

It is basically a pump that cycles the refrigerant throughout a unit.

It is usually noticeable if a compressor has gone bad since the noise the unit makes will have changed.

Read Here for More on A/C Compressors

Low on Refrigerant


Window AC units can become low on refrigerant and need a charge to begin cooling again.

Usually, a unit low on refrigerant will be replaced, but they can have refrigerant added back into the system.

Some skills and basic tools will be needed to get a unit recharged.

Read Here for More on How To Recharge a Window Air Conditioner Unit
Summary
Once general maintenance and main components are checked, if a unit is still not working, it is likely time to replace it.
A professional can be called to fix it, but it is likely not worth the effort since the cost is usually more than replacing the entire unit with a new, more efficient model.
There are many affordable options even quiet units if a new unit is needed.
Have you had problems with a window air conditioner not blowing cold air? Let us know your thoughts below.