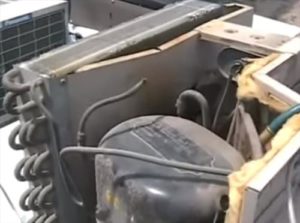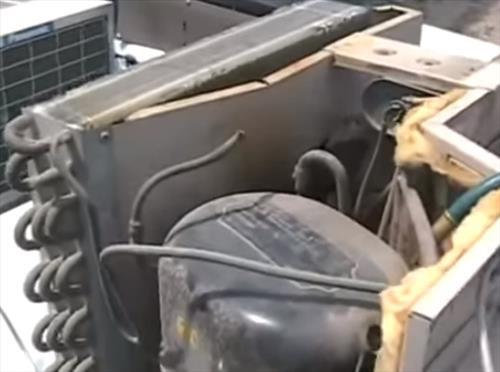 Recharging the refrigerant on a window air conditioner is not something done often, with most people buying a new unit when an old unit fails.
Windows air conditioners can however be recharged with refrigerant and be put back to work cooling a room or space.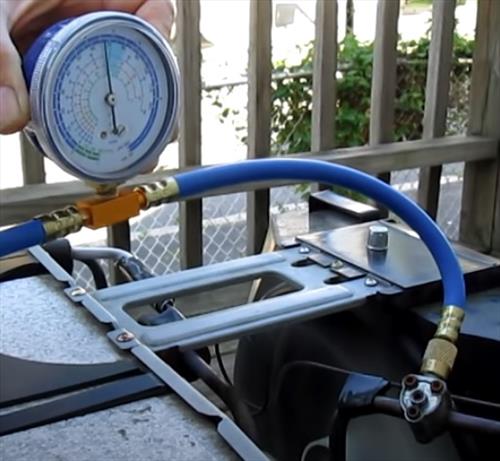 Recharging a unit is not difficult but if you have never worked with HVAC refrigerant be sure to study the basics.
There are two methods for recharging a window air conditioner, the low-cost backyard quick method used by many homeowners, or the HVAC tech method which is more involved but recommended.
The backyard low-cost method is the most used way to recharge a window A/C unit if it is low on refrigerant but not recommended.
The main difference between the two methods is an HVAC tech will find and fix the leak along with adding the correct refrigerant.
Below are the steps for both types of recharging methods.
Parts Needed
Bullet Valve (Schrader Valve)
Refrigerant Usually R410a
Recharge Hose or HVAC Gauges
Backyard Method To Recharge a Window Air Conditioner (Not Recommended)
Attach a Bullet Valve Schrader Valve to the low-pressure line.

Attach the refrigerant can to the hose.

Attach the recharge hose to the Schrader Valve.

Open the valve on the recharge hose which will add refrigerant to the system.
Adding a Bullet Valve Schrader Valve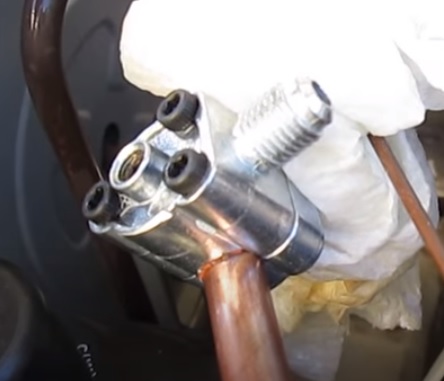 A bullet valve is a quick and easy way to add a recharging port to an A/C unit.
Window air conditioners do not usually have a service port which is easily fixed with a low-cost bullet valve.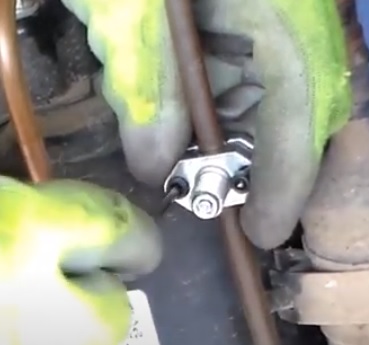 A bullet valve is simple to attach by using an Allen wrench to tighten the screws on it which has a piercing valve that goes into the line.
It is usually attached to the refrigerant low-pressure line.
A recharge hose or HVAC gauges will be needed also be needed.

Bullet Piercing Valve on Amazon
Supco BPV21 Bullet Piercing Valve



Read Here for Instructions on Installing a Service Port on a Window A/C unit.

Refrigerant Type



The type of refrigerant the system uses should be labeled on the unit.
Many old units will use R22 which is not manufactured anymore and newer units usually using R410a.
There are many online videos and forums of people using R134a refrigerant to recharge window A/C units.
When adding refrigerant they should never be mixed since the system was not designed for this.
Also, the oils used in HVAC systems can vary and damaged the compressor or other parts.
Many people online and YouTube claim to have good success using R134a refrigerant in R22 and R410a systems which I wouldn't recommend.
The reason they are using R134a is it is widely used in vehicle A/C systems with low-cost cans sold online and auto parts stores.
The refrigerant that was designed for the system should be added with no mixing of refrigerant.
Refrigerant Pressure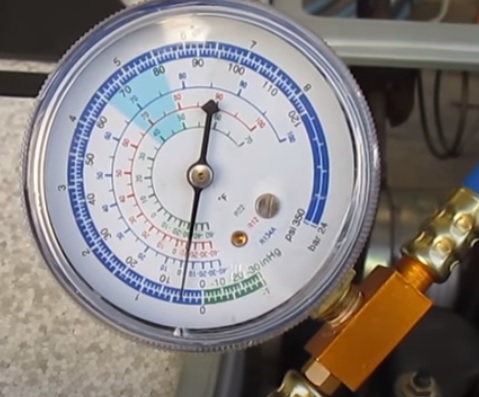 Each HVAC system will have different pressures which will change depending on the temperature.
This means each window A/C unit will need the correct pressure or it will not cool.
If a unit is low on refrigerant the pressure will be lower and the system will not work.
If a unit is overfilled the pressure will be too high and the system will not work.
For this reason, it is necessary to get the pressure correct when adding refrigerant as to not overfill the system.
I would not go above 35-40 PSI on the low pressure line before testing the unit and seeing if it starts cooling.
Starting at a lower pressure such as 30 PSI is best and testing the unit for cooling.
If the unit is not cooling slowly raise the pressure until it does start cooling.
HVAC gauges or a recharge hose with a pressure gauge and temperature pressure chart will be needed to get the correct pressure.
Recharge hose and Bullet Valve Kit on Amazon
Aupoko A/C R134A Refrigerant Charging Hose Kit, Recharge Hose with Gauge, R13A Can Tap and Quick Couple, R410A Straight Swivel Adapter, Piercing Tap Valve Kits, 2PC 1/4'' Adapters with Valve Core



How To Recharge a Window Air Conditioner Unit (Recommend Method)
Find and Fix Any Leak

The first step is to check for leaks. If a unit has a very slow leak over the course of a year or more it will only need a boost.

A fast leak will need to be fixed and repaired before refilling it.

There are a few methods for finding a leak from a visual inspection to filling a unit with Nitrogen and using soap to find the leak.

Leak detectors can also be bought which sniff out a refrigerant leak and will make a fast audible beep as it moves closer to it.

Read Here For More information on Refrigerant Leak Detectors.

It is common for leaks to occur at joints which often require soldering them together again.


Install a Service Port (Schrader Valve)

Small air conditioner units will not usually have a service port to hook up gauges.

Installing a service port is an easy task and requires soldering in a port or using a piercing valve kit.

A piercing valve is easy to install and the most common method to get a Schrader Valve on a unit.

Service ports are usually installed on the low pressure line to add refrigerant which is the larger diameter line.

Bullet Piercing Valve on Amazon
Supco BPV21 Bullet Piercing Valve


Read Here for Instructions on Installing a Service Port on a Window A/C unit.


Recharge the Unit

After any leak is fixed and a service port has been installed the unit is ready for refrigerant.

HVAC gauges and the correct refrigerant is needed.

Most units today will use R410a but be sure to read the service tag on the unit to be sure.


R410a can be bought at air conditioning supply stores or even online on eBay.
R410a Refrigerant on eBay

Hook up your gauges to the service port and the refrigerant tank.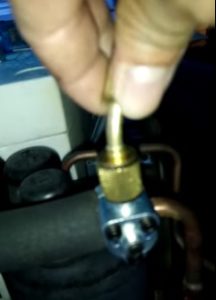 Be sure to know what the PSI should be at before starting. Do not overfill the unit.
Also be sure to watch your pressures on the gauges along with a temperature pressure chart to know what it should be.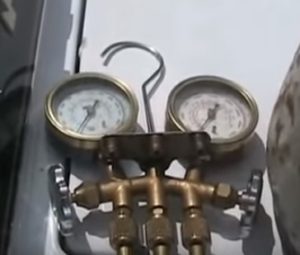 Summary
The above are the basic steps involved in recharging a window air conditioning unit.
Keep in mind there will always be design differences between manufactures.
Also be sure to always follow safety procedures as you would with any HVAC unit.