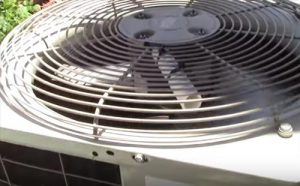 If you have an air conditioning unit and the outside condensing fan does not shut off, there are a few common things that cause the issue.
What is a Condensing Fan Motor?
The condensing fan motor is located on the outside air conditioning unit and blows hot air away from the HVAC system.
Refrigerant is cycled through the outside condenser and, much like a radiator, flows through tubes with fins on the outside.
A condensing fan pulls air into the unit, which then flows out past the fins and the tubes which is carrying the refrigerant.
Is a Condensing Fan Motor Supposed to Run Constantly?
A condenser fan motor should not run constantly and should cycle from on to off.
Normally a condenser fan motor should only be running when the compressor is running.
The compressor will cycle on and off to send cool air into a home, and the condensing fan should cycle on and off also.
3 Most Common Reasons Condensing Fan Motor Does Not Shut Off
Thermostat
Thermostat Wiring
Bad Circuit Board
Bad Contactor
While there are other things that can cause this problem, such as a bad circuit board or bad thermostat the Contactor is the most common component to go bad.
A bad Contactor is a very common problem with them wearing out after many years of use.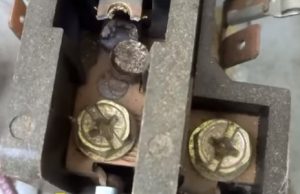 Be sure to shut off power to a unit before examining any components on an air conditioning unit.
The Contactor is what turns power to a unit on and off and is controlled by the thermostat.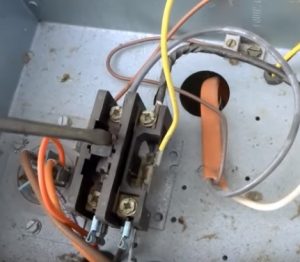 Low voltage from the thermostat creates a magnetic field that pulls the Contactor leads down, letting power flow into a unit.
A Contactor, when magnetized, pulls down the contact leads, letting power into a unit.
When the magnetic field stops, the leads are pushed up from a spring stopping power from going to the unit.
A bad Contactor leads will not pop back up, letting power flow into a unit and not allowing it to shut off.
Replacing a Contactor is not difficult, but it does have high voltage going to it and into the AC unit.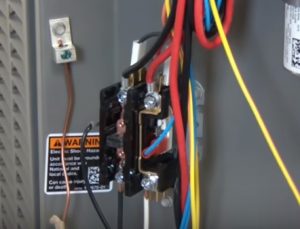 Unless you have electrical experience, call a professional if you think the Contactor is bad.
Thermostat wiring can also short out and cause a problem.
There are a few ways to troubleshoot this, including using a multi meter to see if two wires have shorted.
A trick many HVAC techs use is to disconnect the thermostat wires at the outside unit and see if the fan shuts off.
Disconnecting the thermostat wires can help to see if it has failed.
Troubleshooting the above components will no doubt depend on your skill level.
If you are an electrician and know how high and low voltage works together, you will likely have no problems fixing a unit.
Of course, always call a professional if in doubt as high voltage can not only harm you but potentially the unit when done wrong.