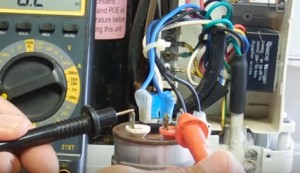 Replacing the capacitor in a window air conditioner is not a difficult task, but care must be taken, so no harm is done to yourself or to the unit.
While repairing window air conditioner units, such as recharging refrigerant and replacing capacitors, is rarely done like HVAC equipment, the units can be repaired.
If you have no experience in HVAC, electrical, or another equivalent background, it would be best to buy a new unit since high voltage is fed into the capacitor.
Most air conditioning systems use large capacitors to help the compressor start and the condensing fan motor turn on.
There can be differences with units, but most will use a capacitor to either help start a component or help it run evenly with no high or low spikes.
Most units will use a Dual Round capacitor, that is, two capacitors in one package. This is done to save on space as two separate capacitors would take up more room.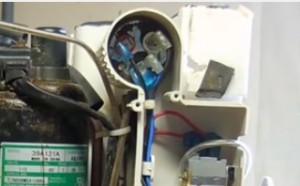 Symptoms of a bad capacitor include the compressor not starting or the condensing fan not coming on.
The capacitor needs to be tested using a multi-meter that is able to read micro-farads.
Before testing or working with the capacitor, be sure the unit is unplugged and discharge it, as it can still hold a charge that can give a shock even while not plugged in.
Discharging the capacitor is done by grounding a leg of a wire and touching each leg of the Cap for 3-5 seconds, making sure it is drained of any charge.
If you have no experience draining a capacitor, call a professional.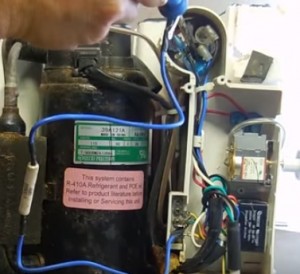 Once the unit has been unplugged and the capacitor no longer has a charge, it can be removed to see what micro-farads it is rated to use.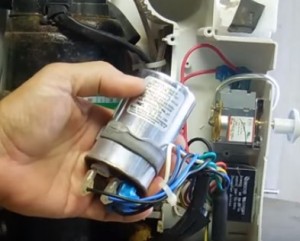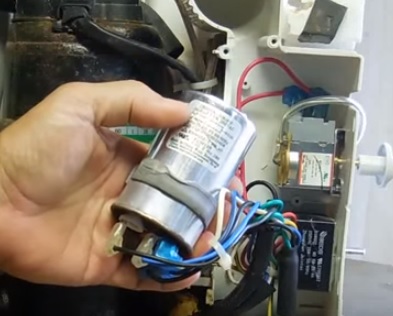 The Cap will give its value in Micro-Farads. Dual Rounds give two values such as 35uF and 5uF. The higher value will always be for the compressor, while the lower value will be for the fan.
Before testing it or replacing the CAP be sure to label the wires and take pictures, so the correct leads go back to the correct legs.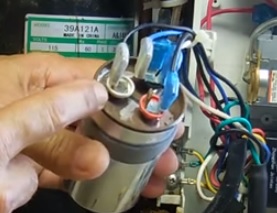 Most Dual Round Caps have an "H" for the compressor, "C" for the common, and "F" for the fan; again, these can vary from manufacturer.
A multimeter capable of reading the values of the capacitors must be used to get an accurate measurement. These types of meters are used by HVAC and electricians technicians.
Read here for more on HVAC capacitors testing and replacement.
Once a capacitor is found to be bad, it must be replaced. The values on the capacitor, including micro farads and voltage, must match the one being replaced.