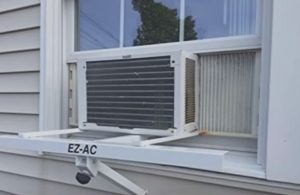 Installing a window A/C unit is not difficult but must be done right so as not to fall.
Here are some common methods theta a window air conditioner is supported.
How To Support a Window Air Conditioner
Window Backstop

Most units come with a bracket to hold it in place but there are many different sized windows and walls that brackets attach to.

The most common method is to use the window as support and along with a bar on the top hold it in place.

With this method the window itself holds it in place as a backstop.


Small holders with screws hold the window in place and from opening since if opened the unit wold fall out.


Wall Mounted Bracket

Another method is to use a wall bracket that the unit sits on.

The brackets come in all shapes and sizes to fit the window and the unit.

Example window A/C wall bracket on Amazon
TOP SHELF TSB-2438 Air Conditioner Bracket, No Drilling and No Tools Required, White

Brackets give good support to a window air conditioner since they are built specifically for that propose.

They work much like a table and a unit will be fully supported from falling.

If a bracket is bought be sure it matches your window style and A/C unit size.

DIY Brackets

Building your own do-it-yourself supports can also be done.


Angle bars with the pre-drilled holes are often used since they can be cut at the right length and screwed into place.

DIY bracket require more skill, tools, and the material which is not for everyone.
Summary
Supporting a window a/c unit is not hard but should be done properly so the unit stays in place.
A combination of a bracket and window bar is what usually gives the most safety.
Since there are many styles of windows there is no one-size fits all.
If in-doubt simple be sure to have a good bracket that the unit can sit on.
Be sure the bracket is installed right with good length screws and following the installation instructions that come with it.
Always side with caution when installing a unit especially if it is located in a walkway that someone might go under.