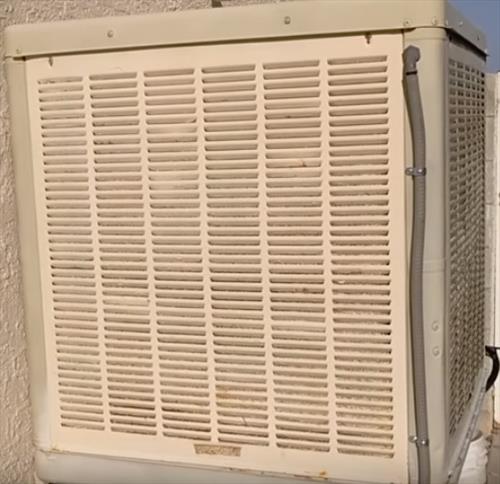 A video is at the bottom of the page for a visual walk through if needed.
Evaporative coolers need basic maintenance every year for them to work well and last many years.
Oiling the bearings on the rib cage fan is one of those things that should be done yearly.
Keeping them oiled up is an easy task that helps them last longer and avoid having to replace the bearings.
Replacing the bearings on a swamp cooler is a straight forward task but can be a real pain to do so. Which is why keeping them maintained is always a good idea.
Below is a quick overview, steps with pictures, and a video if needed.
Quick Overview for Oiling an Evaporative Cooler Bearings
Buy the correct Oil such as Zoom Sprout
Remove the side panels
Locate the oil Fill Holes
Drip oil into the Fill Holes

Steps to Oiling an Evaporative Cooler Bearings With Pictures
Swamp cooler bearing oil is needed which can be bought such as Zoom Sprout oil which is used by many HVAC technicians. It can be bought at Home Depot, True value, or any hardware store.


Example Zoom Sprout oil on Amazon.
Supco CE441 Zoom Spout Oiler White, 1.5 x 2.5 x 3.5 Inch


After getting the oil, remove the side panels on the swamp cooler.

There are two bearings in a swamp cooler on each side of the rib cage fan. The oil is dripped into small covered holes located on the top of each bearing housing. A small tab will cover the hole and simply needs to be lifted up on one side.
Zoom Spout oil bottles come with an extender to drip the oil into the oil holes.

Fill each oil hole to the top.
Summary
Simply fill each bearing hole up with oil and the cooler should be good for another year.
This simple task can help prevent the pain of having to replace the bearings later on and add to the life of a swamp cooler.