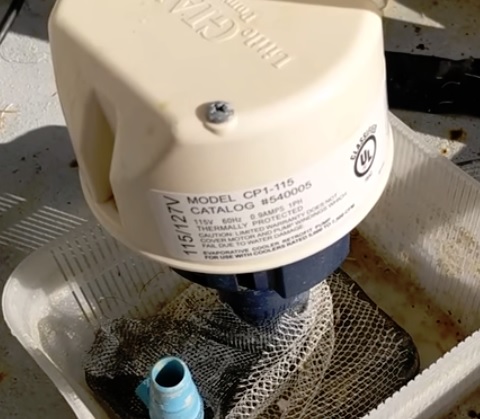 Replacing a water pump on a swamp cooler is an easy task that most any DIY (Do-It-Yourself) type of person can do easily.
The first thing to do is to buy a new swamp cooler water pump to replace the old one.
They can be bought at most any hardware store or even online on Amazon.
Example Swamp Cooler Pump On Amazon
Little giant 541005 CP2-115 1/50 Horsepower Evaporative Cooler Pump


When buying a new pump it is best to match up the Horsepower (HP) to the old one.
Even though most swamp cooler pumps are the same it is best to make sure the correct HP sized pump for your unit.
Most all water pumps for a evaporative cooler will be 110/115 Volts. There are some rare exceptions, so be sure the voltage matches your system also.
Swamp coolers will also have a build up of dirt and other debris that should be cleaned out. If it is not cleaned out it can clog up the new pump and possibly damage it.
Below are the quick steps for removing and installing a swamp cooler water pump as well as steps with pictures.
Videos are also at the bottom of the age if needed.
Steps to Replace a New Swamp Cooler Water Pump
Remove the side panels of the swamp cooler
Locate the water pump and unplug the AC voltage
Remove the water line to the pump
Remove the pump bolts
Install the new water pump
Bolt it in place
Plug in the water line to the new unit
Plug in the AC voltage to the new unit
Power on the unit and test it






Steps to Install a New Swamp Cooler Water Pump With Pictures
Take the side panels off the cooler and locate the water pump. The top two nuts will need to be removed. After removing the nuts unplug the pump and disconnect the water line.
Next bring out the new pump and hook up the water line to it making sure it is snug in place.
Next the new pump will need to have the top two nuts bolted into place.
Finally plug the pump into the outlet located inside the swamp cooler.

Test the unit to be sure water is being pumped to the top.
Summary
Replacing an evaporative cooler motor is an easy task but always hire a professional if needed.
Some units can located on a roof and be hard to get to and require climbing a ladder.
Be careful around sheet metal that swamp coolers are made from as it can be sharp if it is exposed.