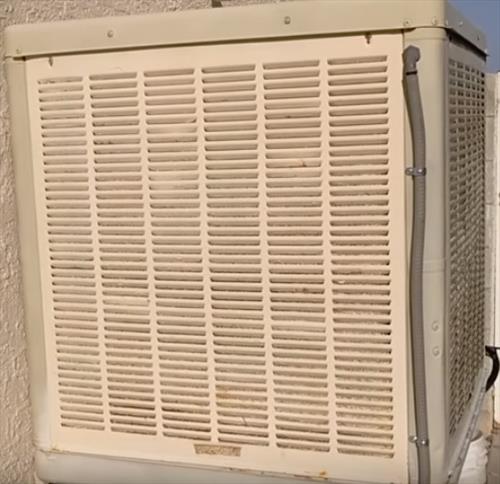 Evaporative coolers need basic maintenance every year for them to work well and last many years.
Oiling the bearings on the rib cage fan is one of those things that should be done yearly.
Keeping them oiled up is an easy task that helps them last longer and avoids having to replace the bearings.
Replacing the bearings on a swamp cooler is a straightforward task but can be a real pain to do so. This is why keeping them maintained is always a good idea.
Below is a quick overview, steps with pictures, and a video if needed.
What Kind of Oil Do You Use in a Swamp Cooler?
The most commonly used oil for swamp cooler bearings is Zoom Spout.
It is widely used and has a pull-out nozzle to fit into the tight space and opening.
Heavy grease is not used on the bearing but a light machine oil.
Example, Zoom Spout Cooler Oil on Amazon
Dial Manufacturing 5713 4-Ounce Zoom Spout Cooler Oil

How Often Should You Oil the Bearings in a Swamp Cooler?
Bearings in a swamp cooler should be oiled every 2-3 years.
Many homeowners will oil them every year as a preventative measure to help the cooler last longer.
While cooler bearings can be replaced it is much more involved than oiling them.
Overview for Oiling an Evaporative Cooler Bearings
Buy the correct oil, such as Zoom Spout
Remove the side panels
Locate the oil Fill Holes
Drip oil into the Fill Holes
Steps to Oiling an Evaporative Cooler Bearings
Turn Power off to the unit.
Swamp cooler bearing oil is needed, such as Zoom Spout oil which many HVAC technicians use. It can be bought at Home Depot, True Value, or online.
After getting the oil, remove the side panels on the swamp cooler.

There are two bearings in a swamp cooler on each side of the rib cage fan. The oil is dripped into small covered holes located on the top of each bearing housing. A small tab will cover the hole and simply needs to be lifted up on one side.
Zoom Spout oil bottles come with an extender to drip the oil into the oil holes.

Fill each oil hole to the top.
Do Swamp Coolers Need to Be Oiled?
Yes, swamp cooler fan cage bearings need to be oiled every few years.
The motor turns and spins the fan cage, which blows cool air into a home.
The cage spins two bearings located on both sides of the unit.
Both bearings should be oiled as part of preventive maintenance.
What Happens if Swamp Coolers Bearings are not Oiled?
If the bearings are not oiled, they will start to seize and become noisy.
Once the bearings seize, the fan cage will either not spin at all or make a very loud noise and racket.
If the bearings go bad, they will need to be replaced.
Summary
Oiling the bearings on a swamp cooler is not d ult and done by many hone DIY type of persons.
Often the most difficult part is the location of the swamp cooler.
For example, if the cooler is located on the roof, it will be more difficult than one located on a wall close to the ground.
The side panels will need to be removed to get access to the oil fill holes.
There are two oil fill holes that will be located on either side of the motor cage.
Simply fill each bearing hole up with oil, and the cooler should be good for another year.
This simple task can help prevent the pain of having to replace the bearings later on and add to the life of a swamp cooler.
Have you oiled the bearings on a swamp cooler? Let us know your thoughts below.