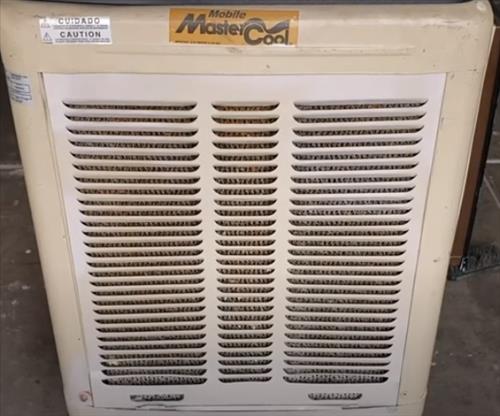 A leaking swamp cooler can be problematic and is a necessary fix for the cooler to operate properly and not waste water.
While an evaporative cooler can leak from many places, the bottom pan is a common problem.
The bottom of a swamp cooler holds the water, which after many years of use, can become corroded and start leaking.
When this happens, the cooler needs to be fixed or replaced.
There is a low-cost way to repair the bottom pan of leaks without having to buy a new unit.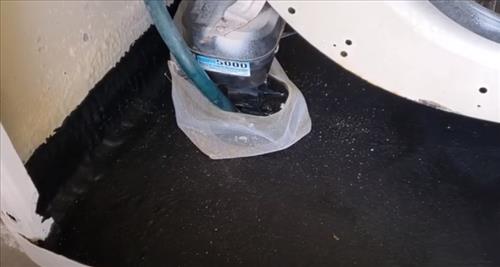 A sealant is spread around the bottom pan that coats it and seals it up, stopping any leaks.
The sealant works surprisingly well and is sometimes even used to prevent corroding.
Items Needed
Cooler Coating Sealant
Paint Brush
Cleaning agent such as White Vinegar
The sealant will be needed along with a brush to spread it around.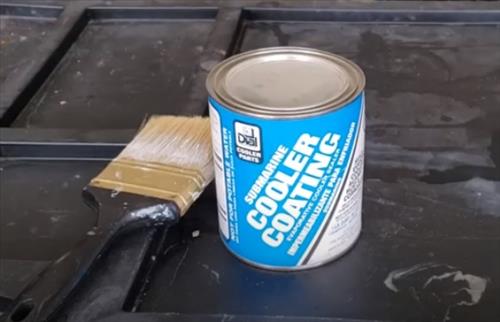 The bottom will need to be cleaned very well for the sealant to stick to the bottom.
White vinegar is commonly used to clean away debris and rust, sometimes left to sit overnight.
The sealant can be bought at hardware stores or online.
Cooler Coating Sealant on Amazon
Dial GAL Cooler Coating

How To Fix a Swamp Cooler Leaking Bottom with Sealant
Turn off the power to the cooler.
Remove all the side panels.

Remove the water pump.

Remove the float.

Remove the drain plug.

Use a cleaning agent such as white vinegar to clean the bottom of the cooler.

Clean the bottom as well as possible and let it dry.

Use the brush to coat the bottom of the cooler and the side up-to the waterline.

Once the sealant is dry, install the pump, drain plug, and water float back into place.

Attach the water lines and check for leaks.
Can the Bottom Pan on a Swamp Cooler Be Fixed?
Yes, a leaky bottom pan on an evaporative swamp cooler can be repaired with pan liner sealant.
While some coolers may be too far rusted, many can have the liner spread around the bottom, adding life to the unit.
The steps above show how the pan line is coated on the bottom of a unit to get it to seal again.
Summary
Repairing the bottom of a leaking swamp cooler is easy to do with the right sealant.
The bottom of the unit will need to be cleaned very well for the sealant to stick; otherwise, it may come off.
Using white vinegar or something similar, be sure the bottom is well cleaned.
After a coating is on the bottom, an old swamp cooler can have many more years of life.
Other parts such as the pads, motor, float, and pump can also be easily replaced.