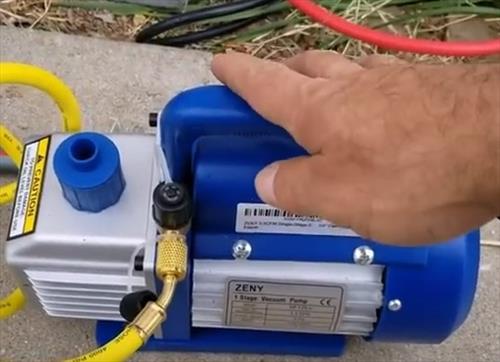 Vacuum pumps are a necessary part of HVAC to get a system into a vacuum and even test for leaks.
The most common use is to pump down a line-set and then let it sit to see if there are any leaks.
A/C system requires a vacuum to work correctly, which a suitable vacuum pump can do.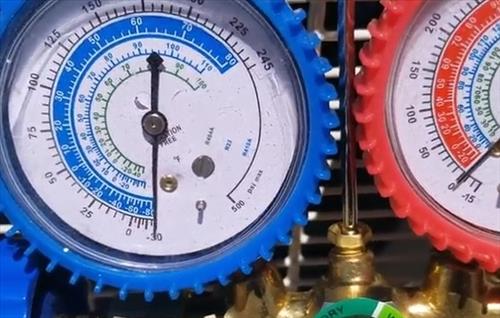 When set up with gauges, a system should stay in a negative pressure, or there is a leak that needs to be fixed.
While there are many good vacuum pumps, most are expensive units built for technicians who need a unit that will last a long time.
A do-it-yourself type of person or part-time HVAC tech will not need an expensive unit and can use a budget model and a much lower cost.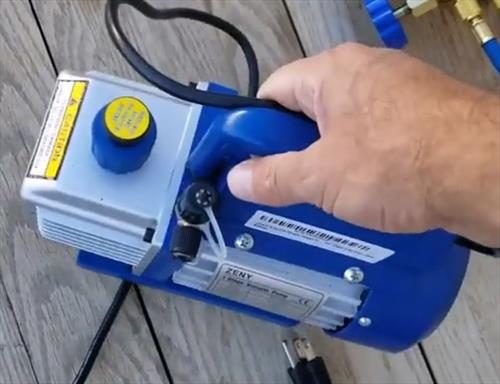 Here is a list of a few budget vacuum pumps that work well for occasional part-time jobs.
As always be sure to read the reviews on Amazon, forums, or elsewhere to be sure a unit is a good fit for you.
*This post contains affiliate links.
Our Picks for Best DIY Low Cost Small Job HVAC Vacuum Pumps
Zeny 3 CFM Single-Stage Economy Vacuum Pump

ZENY 3,5CFM Single-Stage 5 Pa Rotary Vane Economy Vacuum Pump 3 CFM 1/4HP Air Conditioner Refrigerant HVAC Air Tool R410a 1/4″ Flare Inlet Port, Blue

This unit from Zeny is a low-cost unit I have used many times, mainly in DIY Mini Split installs.

It works well and pumps an A/C unit down quickly, and so far, I have had no problems with it.

I have made some videos of it pumping down DIY Mini Split installs which it did with no problems. See bottom of the page.

It does come with some cheap oil which can be used but is a good idea to use better oil.

Overall it's a good unit and worth a look for those on a budget.


Kozyvacu TA350

Kozyvacu Single-Stage Rotary Vane Vacuum Pump for HVAC/Auto AC Refrigerant Recharging, EPoxy Resin or Wine Degassing, Laboratory, Medical or Milking (TA350)


The Kozyvacu TA350 is another low-cost pump that works well for the occasional job.

It is a 120 volt 1/4 HP unit that will pump down most residential air conditioners.

It also can be used for many other small jobs, such as vehicle A/C systems.

Like the Zeny unit, it will not hold up to the daily wear and tear of a full-time HVAC tech but is a good unit for the home DIYer.


NewPosition 3.0 CFM Single-Stage

New Position 3.0 CFM Single-Stage 5 Pa Rotary Vane Economy Vacuum Pump for HVAC, Air Conditioner Refrigerant,Food Packaging,Milking, 1/4″ Flare Inlet Port, Blue

NewPosition makes this 3-CFM and 4 CFM single-stage unit.

The ports are the standard 1/4 inch which is common in HVAC.

Of course, low-cost adapters can be used to hook up and pump down most anything.

It is a good pump for the price and part-time HVAC tech or Home DIYer.

VIVOHOME 3.5 CFM Single Stage

VIVOHOME 110V 1/4 HP 3.5 CFM Single Stage Rotary Vane Air Vacuum Pump with Oil Bottle ETL Listed

The VIVOHOME is a 3.5 CFM Single Stage vacuum pump that is also a good DIY budget unit.

As with most low-cost budget units, it is only meant to be used for a part-time HVAC tech or homeowner.
Summary
The above vacuum pumps are some budget units that will work well for the occasional job.
They also can be used as a backup or left running and not worry about it being taken.
There are many good units available with the above pumps simply ones I have used or seen working.
Of course, a more expensive professional pump is ideal but not necessary in many scenarios.