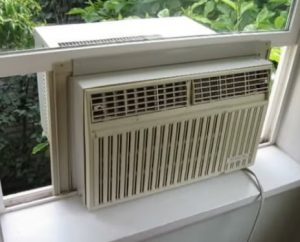 Window air conditioners are low cost quick solutions that many use to cool a room or building.
While they do work, there are often better options, such as an evaporator cooler, mini-split, or even portable cooling units.
Window mounted air conditioners can often be loud and take up space around a window blocking it from use.
They also are not the most efficient way to cool a home.
It can vary on what is the best, with what works for one building might not work for another.
Below are the best options and alternatives to a Window mounted air conditioner.
3 Best Alternatives to a Window Air Conditioner
Mini Split


Mini split units cool the same as a standard big home air conditioner, only in a smaller size.

This makes them much more affordable to buy, but they can be more expensive than a window unit to purchase.

They also need more technical ability to set up many home DIY kits for a handy type person.

They are much quieter than a window unit and cost less to operate.

Once installed, a mini split unit is a big improvement over a window unit.


Evaporative Cooler


Evaporative cooling, sometimes called swamp coolers, are a good way to cool space but they only work in dry climates.

They are cheap to run and are simple to work on.

The only real downside to a swamp cooler is they don't work if the humidity is too high and only work in dry climates such as the American Southwest.


Portable Cooling Units


Portable Air conditioning units work much the same as a window unit, only portable.

They often come with a hose that pumps out hot air and must be located out a door or window to work properly.

Often they make some noise, but since they are portable they don't take up a space in a window and are easy to take with you when moving.

This also makes them much easier to set up since they are basically plugged into an outlet and ready to work.
Summary
There are several alternatives to a window air AC unit, with those above the most used.
If you have a choice, a mini-split unit is by far the best to use.
A swamp cooler is a good option for those living in a dry desert climate.
A portable unit is much like a window unit, only easy to move about and store away when no longer needed.
Of course, a window-mounted AC unit can still be used, with many becoming quieter in recent years and more efficient.