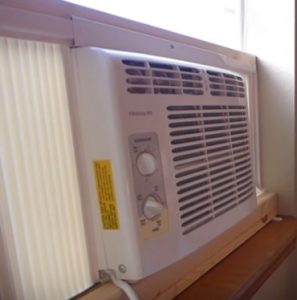 Window mounted air conditioners are low-cost devices that will cool a space when it becomes hot.
They are popular since they cost less compared to most other types of heating and cooling equipment such as standard whole house units.
Like any equipment maintenance and care must be given to a window unit for it operate properly and quietly.
Can a Window Mounted Air Conditioner Be Used When It Rains?
The answer is yes it can.
All HVAC heating and cooling units are designed to work in the rain and other weather.
This means that they will operate fine when it rains as long as there is no problems with the unit.
Lightning strikes can damage an A/C unit like any electrical device so if a huge storm rolls in it may be a good idea to unplug it.
Also, if the power is going On and Off from a storm it could damage the compressor if the unit is running.
If the unit leaks into a home it has not been installed properly and the installation should be redone correctly.
Fixing a leak around a unit should be done immediately as water can damage the internal structure of a home.
Rain can also drip onto a unit making loud dripping noises which can be fixed easily with a low-cost Rain Drip Cushion.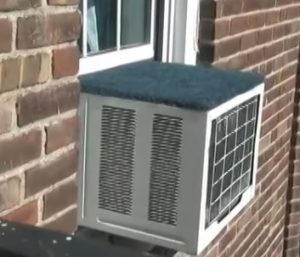 Rain Drip Cushions can also help prevent damage if Hail was to fall, although building a small roof for the unit would be a better option.
Summary
Running a window mounted air conditioner in the rain can be done and they are built to be used this way.
Things such as electrical strikes and power outages need to be considered since they could potentially damage any electrical device.
If the unit is leaking then it should be fixed quickly as water damage can happen quickly to a home with a leaky unit.
Some people build small covers for units to allow them to operate in the shade.
If you feel the rain is too heavy where you live such a small covering may benefit the unit.