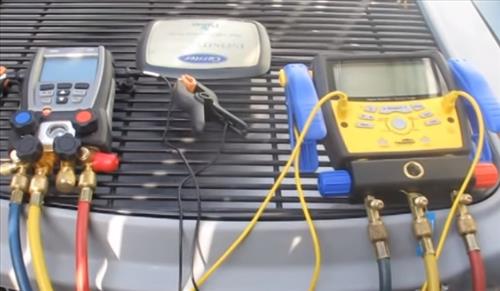 When we think of an HVAC technician manifold gauges are what we imagined in our minds.
It is a very functional tool that we use in every aspect of our job.
There are three different kinds of manifold gauges including analog, digital, and Bluetooth units that work with an app.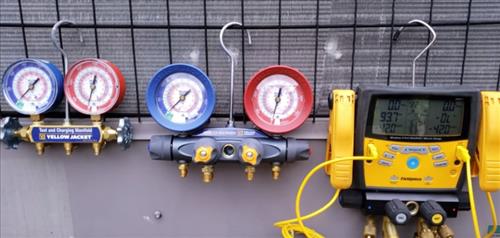 Most technicians have learned with your typical analog gauges and the colors blue, yellow, and red are very familiar.
After analog, a lot of manufacturers came out and started producing the digital gauges. With digital gauges, they simplified the job for the AC technician and made a lot of the calculations techs used to do manually and displayed them on a screen.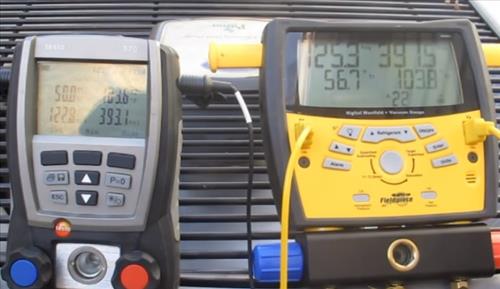 This helped to benefit technicians so that they could be more efficient along with being faster at our jobs.
Then of course, keeping up with technology they came up with Bluetooth gauges that are digital and everything is hooked to a smartphone through an app.
Everybody has a preference as to what they prefer but most people prefer what they learned on.
For example, I learned on a set of analog gauges I feel the most comfortable with those. They are usually my go-to because of the dials and the needles. I can often recognize things that I can't see on the other sets.
However, when you get to your digital gauges these a lot of times come equipped with more than one tool inside of the gauge.
For example, many units are not only a digital manifold but also have a micron gauge built into it.
So instead of having to lug out a whole different tool, we can do microns when pulling a vacuum on that particular set.
What Type of HVAC Manifold Gauges are There?
There are three types of manifold gauges analog, digital, and Bluetooth smartphone app units.
Analog Gauges
Analog gauges are what most think of when they see an HVAC tech. They have been around for many years and the go-to for many technicians.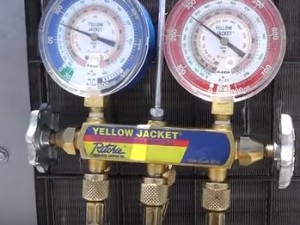 Analog gauges work very well and get the job done.
Digital Gauges
Digital gauges are now the most widely used sets for HVAC techs and can make a tech's life easier.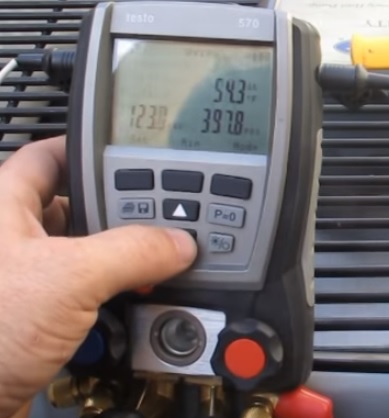 They can do many calculations that used to have to be worked out.
They also have many tools built-in. For example, a micron gauge is often built-in as well as temperature readings.
Smartphone Bluetooth Manifold Gauges
Smartphone units are become more widely used and work wirelessly with an app to give readings.
Most units are stand-alone but can also pair with Bluetooth which can send reports or export information.
So Which Manifold Set is The Best for HVAC?
This is a loaded question which no one will completely agree on. There are entire forum threads dedicated to arguing what the best brand and which set of HVAC gauges are best.
Simple things such as using a single set or multiple sets with different refrigerants can often be contentious.
The best way to answer this question is to look at HVAC compatible gauges on Amazon or elsewhere and then read reviews.
Below are some of our favorite options for HVAC manifold gauges.
As always be sure to read the reviews on Amazon, forums, or elsewhere to be sure a unit is a good fit for you.
*This post contains affiliate links.
Our Picks for Best HVAC Manifold Gauges 2020
Yellow Jacket 42004 Series (Best Analog Manifold Set)

Yellow Jacket Mechanical Manifold Gauge Set, 2-Valve

The Yellow Jacket 42004 is a very nice analog gauge set.

Yellow Jacket is a well-known HVAC tool manufacture that makes many good tools that last.


Fieldpiece SM480V (Best Digital)

Fieldpiece SM480V SMAN Digital Manifold Wireless Data Logging

The Fieldpiece SM480V is a very good digital gauge built for professional use and durability.

It has two pressures, two temperatures, calculates super-heat, sub-cooling, target super-heat, as well as a built-in micron gauge.

The unit also has data logging which can store up to nine jobs which can be exported to Excel.

It is rated for IP4 water resistance which protects the unit from splashing water.

The Fieldpiece SM480V is a very good unit with many features that will help a technician get a job done quickly.


Testo 550 (Best Bluetooth Smartphone Set)

Testo 550 Digital Refrigeration Manifold Kit With Bluetooth 0563 1550

The Testo 550 is a digital set that also has Bluetooth built-in to communicate with a smartphone.

This makes it ideal not only for troubleshooting but making reports and exporting data quickly and easily.

It also works well as a stand-alone unit with no need to send out information unless it is needed.


What is an HVAC Manifold Gauge Set?
An HVAC manifold gauge is a tool built for refrigeration technicians for various readings and tasks.
Tasks include vacuuming, testing, adding refrigerant, and recovery.
A set will have high-pressure and low-pressure gauges and valves that a tech can use to perform a variety of functions.

Summary
A gauge manifold set is one of the most important tools of the HVAC trade.
Some of the current top brands are Yellow Jacket, Digi-cool, Imperial, Fieldpiece, Mastercool with many more manufacturers.
When it comes to HVAC and buying HVAC manifold gauges for most it is never as simple as buying one set and being done with it. Often multiple sets are carried around (or at least two) to be able to work on the different refrigerants in systems and oils used in refrigeration.
There are a few HVAC technicians that carry only one set but most carry more as to not mix the different oils. Also sometimes you will come across an old unit that you just don't want to put new gauges on.
Everyone will have a different opinion on the matter, and what it comes down to is what works for you to get the job done as efficiently as possible.

This means getting to calls and quickly being able to troubleshoot and fix a problem.
Main Refrigerants Used in HVAC
If you carry multiple sets and use them with the correct refrigerant type then you never have to worry about cross-contamination.
If you are just starting-out in the HVAC than you can get by with one HVAC manifold set, simply be sure to get a set that is made for R-22 and R-410a.