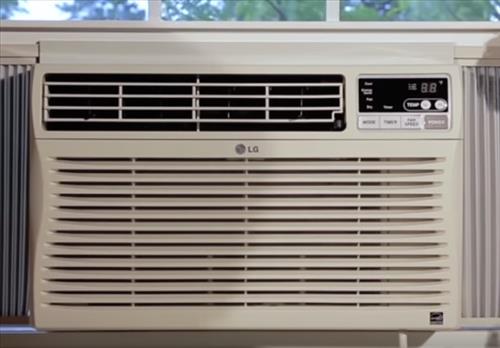 Window mounted air conditioning units are widely used in many scenarios to help cool a space.
There are many available, from small units to quality quiet models; all built to fit a set scenario, such as a large or small room.
How Many BTUs is a Large Window Air Conditioner?
BTU is a measurement of how much cooling capacity a window air conditioner has.
Most window units range from around 6,000 to 25,000 BTU, with a large cooling capacity unit having at least 10,000 BTU.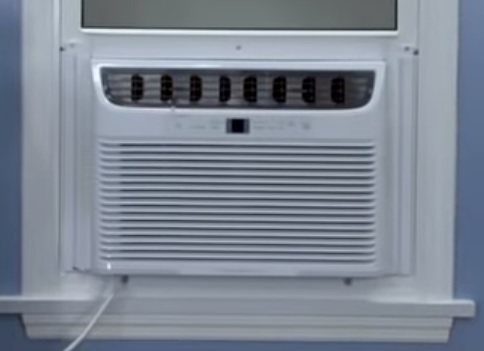 How Many BTU are the largest Window Air Conditioning Units in 2023?
Larger window air conditioners range from 12,000-25,000 BTUs or more.
HVAC systems larger than 10,000-25,000 BTU are large units built to cool large spaces.
115-Volt vs. 230-Volts
One thing to keep in mind when looking for a large window AC unit is most 115-volts systems max out around 12,000 BTU.
Anything larger than 12,000 BTU will usually need a 230-volt outlet which most rooms will not have.
220-240 volts is usually only used by clothes driers, electric stoves, and electric water heaters.
If you need a very large capacity window air conditioner, be sure to have a 220-240 volt outlet ready to plug in the unit.
What is the Biggest Window Air Conditioner Unit You Can Buy?
The biggest window air conditioner unit you can currently buy in 2023 is the Frigidaire FHWC282WB2 .
It is the biggest unit we have found and is rated to cool a space of 1900 square feet.
It weighs roughly 137 pounds and is a 230-volt unit.
Below are our picks for the best large window air conditioning units.
As always, be sure to read the reviews on Amazon or elsewhere to be sure a unit is a good fit for you.
*This post contains affiliate links.
Our Picks for Best Large Window Air Conditioning Units
Frigidaire FHWC282WB2 (28,000 BTU)

Frigidaire Window Air Conditioner with Slide Out Chassis, 28,000 BTU

Frigidaire is a top air conditioner manufacturer that has many units available in all shapes and sizes.

The Frigidaire FHWC282WB2 model is a big unit at 28,000 BTU which is rated to cool a space up to 1,900 square feet.

It will need a 230-volt outlet to work and will not run from a standard 115-volt plug.

Koldfront WAC10002WCO (10,000 BTU)

Koldfront WAC10003WCO 10000 BTU 115V Window Air Conditioner with Dehumidifier and Remote Control

Koldfront makes many Window A/C units from small to large.

The model WAC10002WCO is a 10,000 BTU unit and works from a standard 115-volt outlet.

It is a good standard unit with three speeds, remote control, and many other features.

There are larger units, but most will run from 230 volts.


LG LW1516ER (18,000 BTU)

LG 15,000 BTU 115V Window-Mounted Air Conditioner with Remote Control, White

LG is another well-known air conditioner manufacturer with many units available.

They have sizes ranging from 6,000-18,000 BTU.

The new LG units also come with or without WiFi which is a nice feature.

The LG LW1516ER 15,000 BTU unit is about as big as they come for 115 volts standard home outlet.


Friedrich Chill Series CP24G30B (24,000 BTU)

Friedrich Chill Series CP24G30B Window Air Conditioner, 24,000/23,500 BTU, 230/208v, Energy Star

Friedrich Chill has many window A/C units ranging from 5200-24,000 BTU.

The 24,000 BTU unit is rated to cool a space up to 1400 Square Feet.

It is also well built and one of the quieter window units available.


BLACK + DECKER (14,000 BTU)

BLACK+DECKER 7,700 BTU DOE (14,000 BTU ASHRAE) Portable Air Conditioner with Heat and Remote Control, White

This Black and Decker model is not the typical window unit and is built for portability.

It works by pumping heat out a 5-inch hose, which can be easily placed in a window.

It also can heat in the winter, which is a bonus when it gets cold.

With 14,000 BTUs of cooling power, it is one of the higher-rated A/C units that will run from a 110-120 volt outlet.

The bottom has wheels to roll it around for portability, such as storing away until needed.

This makes it ideal in many scenarios, such as an apartment or any rental when a unit is not permanent.
Large Window Air Conditioning Units Comparison Chart
| Name | BTU's | Voltage |
| --- | --- | --- |
| Frigidaire FHWC282WB2 | 28,000 | 230 Volt |
| Koldfront WAC10002WCO | 10,000 | 115 Volt |
| LG LW1516ER | 15,000 | 115 Volt |
| Friedrich Chill CP24G30B | 24,000 | 230 Volt |
| Black and Decker BPACT14HWT | 14,000 | 115 Volt |
Summary
If you have a large space to cool during the summer, a large window air conditioner can be a good option.
Most 115 volt units will have a max BTU rating of 10,000-12,000 BTU, while larger units will run from 230 volts.
If there is no 230-volt outlet, one can be run by an electrician but will add to the cost.
Also, be sure to measure the window to be sure a unit will fit.
Besides the classic window air conditioner, there are also portable units that work great.
Portable units pump heat out a large hose, usually 5-7 inches wide.
This can make them ideal in many scenarios and easily stored away during cooler temperatures.
Have you found a good large window air conditioning unit? Let us know in the comment below.