If you have a mini split that gives an F0 error code it is a Compressor Overload Current Protection error.
Several things can cause an F0 error code on a mini split and of course the error can be manufacture specific.
The most common fix is to turn the unit off at the breaker for 2-5 minutes resetting both indoor and outdoor condensers.
Steps To Fix a Mini Split F0 Error Code
Power Off the Unit
Turn Power Off at the Breaker for 2-5 minutes Resetting the Unit
Turn the power On and see if the error goes away
Resetting the whole system is the first step and often solves the problem.
If the error comes back below is more advanced things that can cause the error.
Causes of F0 Error Code
Improper Wiring
Loose Wiring Connections
Power Supply
System Blockage
Fan Malfunction
Faulty Main PCB
Compressor Malfunction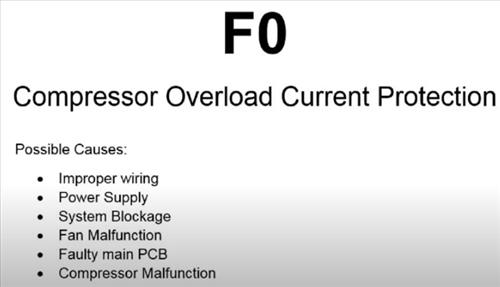 Components to Test with F0 Error Code
Check Power Supply

The first step is to be sure the power supply is getting the correct voltage.

Using a multi-meter check the input volt and verify they are correct.

The correct input voltage will be in the manual and on the outside condensing unit tag.

Check the Outside Fan and Condenser

Check the outside fan is working which should kick on and off intermittently.

Also, check the condensing fins for blockage from dirt or other debris.

Check the Wiring between the Indoor and Outdoor Unit

Check the wiring for any loose connections which can cause a bad signal.

Both the inside and outdoor units plugs can be checked to see if any wires have become loose.

Check the Amps on the Power Supply is Correct

Using an amp-clamp or similar check the amp and be sure they are correct.


Test the Compressor

Test the compressor wiring for any shorts and voltages are correct.

Test the Main PCB Board

The PCB boards can also cause an F0 error and may need testing.

Video on F0 error Code at Minute 1:36