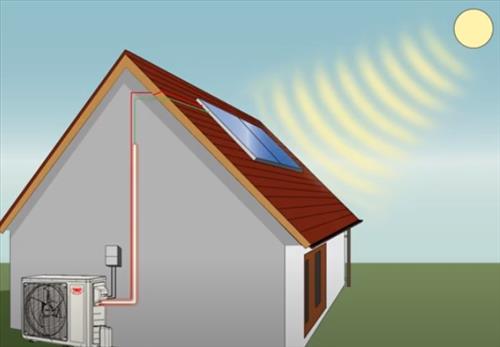 Mini split units are ideal for an HVAC systems that can work with solar panels.
They are widely used with home additions, garages, sheds and many other locations.
While mainly residential they can also be used with RVs, campers, and trailers.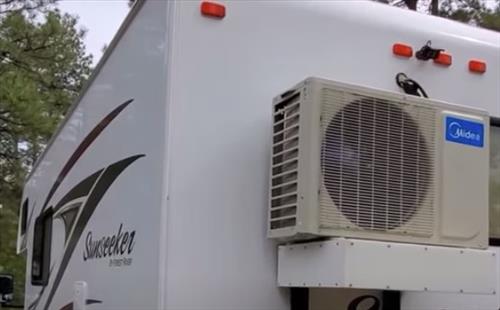 They are very efficient units that have a low-power usage and are built to last many years.
Mini split units are also the best HVAC systems to use with solar panels.
Why Is a Mini Split Ideal for Solar Panels?
Very efficient units with less power usage.
Small and compact compared to traditional HVAC units.
DIY installation kits.
Mini split units draw less power to start and operate compared to a traditional HVAC system.
Since they use less power to operate they are much easier to operate from solar panels and batteries.
A system can also be installed by a DIY type person with many different kits available.
What to Look for in a Mini Split Solar Panel Combination?
Besides the build of a system, the main thing to look for with solar and mini split units is the SEER rating.
Units can vary how efficient they are and rated by a SEER rating.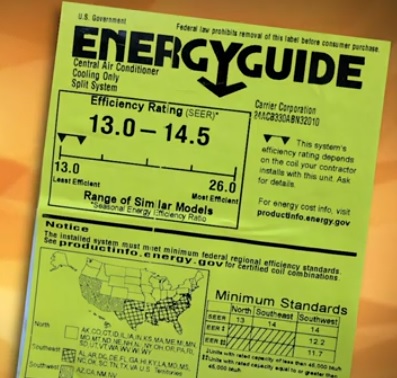 The higher the SEER rating the less power a unit will need to run.
It is best to get a minimum of a 23 SEER rating for a mini split and solar panels but of course higher the better.
There are high SEER rated units up to 25-35 SEER.
Heat Pump vs Air Conditioner Only
A heat pump mini split can heat in the winter and cool in the summer which is ideal in most scenarios.
Most mini split units are heat pumps but be sure to check since some only run in air conditioner mode.
Heat pump unit have what is called a reversing valve that will let it heat or cool.
How To Install a Mini Split with Solar Panels
A mini split has three main parts the inside wall unit, outside condenser, and line-set.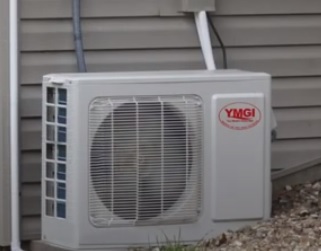 The outside condenser is located outside and dissipates hot or cold air away.
The inside wall unit mounts on a wall and blows air into a room.
A line-set is two cooper lines that transfers refrigerant between the two units which transfer hot or cold air.
The outside condenser needs to be placed on a solid surface.
Electrical will also need to be run to the unit which will vary on the systems power requirements.
Every install will be different and need to fit the scenario.
How Many Solar Panels are Needed to Run a Mini Split?
This will vary on the unit bought since every units power requirements will be different.
Many high-efficiency mini split unit needs 550 to 1000 Watts to operate.
A mini split will have a peak power consumption rating which will need to be supplied.
For example, if a unit has a peak power requirement of 990 Watts this will need to be supplied.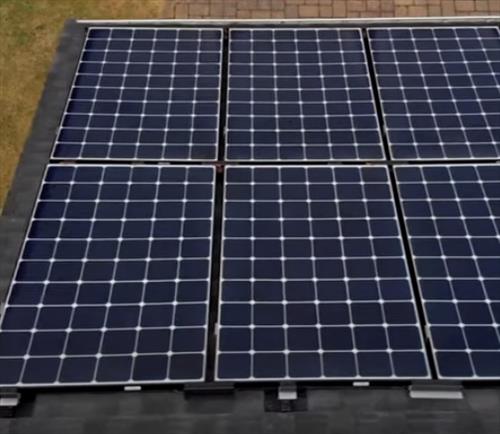 In this example, five 200 Watt solar panels can be used with a 2000 Watt inverter and a battery to supply power.
There are many solar panels, inverters, and battery combinations.
So What is the Best Solar Powered Mini Split?
There is no single best set up with many different opinions.
There are many units available that can be used in combination with solar panels, power inverters, and batteries.
There are a few systems that are set up to work with solar panels and use DC voltage.
Many people use a standard mini split unit and use an inverter to supply the AC voltage needed.
There are many good units available with some of our favorite picks below.
As always be sure to read the reviews on Amazon, forums, here, or elsewhere to be sure a unit is a good fit for you.
*This post contains affiliate links.
Our Picks for Best Solar Powered Mini Split Heat Pump
YMGI 12000 BTU Solar Assist Ductless Mini Split

YMGI has several option available including this solar panel assist unit.

Solar panel assist options still require power from a city supply but offset it with solar energy.

This helps to reduce running costs since the panel will output a lot of energy on a very sunny hot day.

It can operate from 220-volt power source or has a dedicated solar panel input.

Even though these types of units are sold to lower utility costs like any unit they can be modified to work with solar only.

HotSpot Energy ACDC12C

The HotSpot ACDC12C unit is set up to operate directly from solar panels without an inverter.

It can pull extra power from grid power if necessary but is mainly built to be used with solar power.

It has both 220 Volts AC hookup (Left) and dedicated Solar hookup (Right).

The ACDC12C can get power from three 300W solar panels, or six 300W panels for running when the sun is not at full strength.

It is a hybrid system that can also be connected to a 208-240 AC power source.

It can also be used with DC, AC, or AC-DC setups making it highly versatile.


Innovair Inverter Heat Pump 24.5 SEER Mini Split System

Innovair is a very good builder of mini split systems including this 24.5 SEER unit.

24.5 SEER is a very good rating making it one of the more efficient units currently available.

It is also a heat pump making it able to heat in the winter and cool in the summer.

Highly efficient mini split units mean less power consumption which makes them ideal for a solar panel set up.

The Innovair 24.5 SEER unit would be once such system that would be a good fit in a solar set up.
Summery
Setting up a mini split with solar panels is ideal for many reasons most of all for lower energy costs.
While mainly for used for lower running cost they also can be installed in RVs, campers, and trailers.
Many installs use 4-6 solar panels on a roof to supply power.
More or less panels can be used in combination with batteries and inverter if necessary.
Have you installed a mini split system with solar panels? Let us know your thought below.