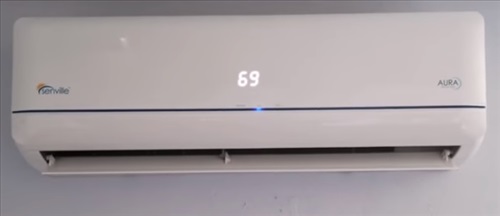 Tiny homes have become very popular for many reasons, from low-cost and saving money to less impact on the environment.
Heating and cooling a tiny home can be done in a variety of ways, with perhaps the best option to use a Ductless Mini Split Heat Pump.
Using a ductless mini split on a tiny home is ideal as they are cheap to buy, install, and operate.
What is a Mini Split Heat Pump?
A Mini split is a scaled-down smaller HVAC system often used in big homes.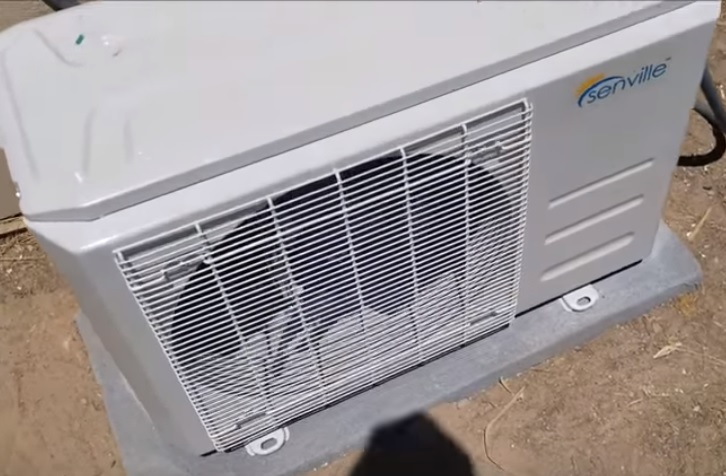 They work basically the same as a large unit, only smaller and cheaper to buy and run.
They are also perfect for a small home and are often installed on home add-ons, garages, work sheds, and more.
What is a Heat Pump?
A heat pump is an HVAC system that both heats and cools.
Heat pump have a reversing valve that goes into air conditioner mode or heat mode depending in the setting.
Air conditioner-only units pumps out heat from a living space, while a heat pump unit has a reversing valve to pump heat in either direction.
This makes them ideal for heating and cooling.
The one downside to a heat pump is if the temperature drops too low during the winter, it will have problems pulling heat.
Most new units can heat well down to 10-15 degrees Fahrenheit, but if the temperate drops much more, they will start to struggle.
If you live in a location that has very cold winters, it will be best to have an extra heat source for very cold nights.
How Much Does a Mini Split Cost?
Units can be bought from $600-$3000 dollars depending on the brand and size of the unit.
Installation costs will also need to be considered.
There are many DIY kits for the handy type of person who has no problems using power tools, along with basic wiring and construction skills.
Of course, an HVAC company can also be called for a bid to install a unit.
Bids to install a mini split can vary greatly with pricing for an install in the $1000-$3000 range.
What Size Unit Does a Tiny House Need?
Sizing a mini split is done by measuring the square feet a home has.
Measuring length and width and multiplying the two numbers will give the square feet of a room.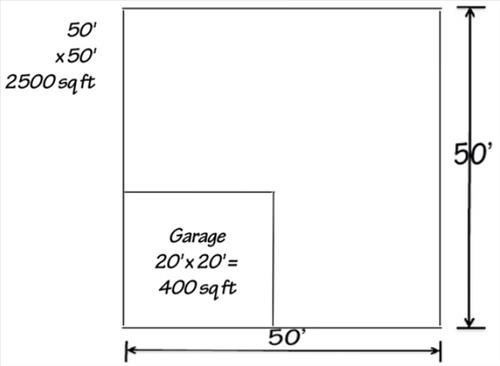 This should be done in each room including closets and all added together for total square footage.
After the square footage is known, next use a mini split sizing chart for the right size for your home.
BTU Sizing Chart for Mini Split
| Area Size Sq Ft | BTU's Needed |
| --- | --- |
| 150 to 250 Sq Ft | 6,000 BTUs |
| 250 to 300 Sq Ft | 7,000 BTUs |
| 300 to 350 | 8,000 BTUs |
| 350 to 400 Sq Ft | 9,000 BTUs |
| 400 to 450 Sq Ft | 10,000 BTUs |
| 450 to 550 Sq Ft | 12,000 BTUs |
| 550 to 700 Sq Ft | 14,000 BTUs |
| 700 to 1,000 Sq Ft | 18,000 BTUs |
| 1,000 to 1,200 Sq Ft | 21,000 BTUs |
| 1,200 to 1,400 Sq Ft | 23,000 BTUs |
| 1,500 Sq Ft | 24,000 BTUs |
What is a SEER Rating?
The more efficient a unit is, the better the SEER rating is. This means lower electricity costs to operate.
There are two different SEER ratings for any heat pump, one for cooling and one for heating.
The higher the number, the better. For example, 19 SEER is better than 17 SEER.
The lowest SEER Rating to consider is 16 SEER for cooling and 9 SEER for Heating but the higher, the better.
There are many good units available, with some of our favorite picks below.
As always, be sure to read the reviews on Amazon, forums, here, or elsewhere to be sure a unit is a good fit for you.
*This post contains affiliate links.
Our Picks for Best Mini Split Heat Pump for a Tiny House
Pioneer

Pioneer units are very popular with the DIY (Do-It-Yourself) crowd since they come with everything needed to install it except the electrical wiring.

The outside condenser comes pre-charged with refrigerant that is released into the system after installing it.

I installed a Pioneer 230-volt model on a small home two years ago, and it works very well.

Pioneer sizes range from 9000 BTU to 3600 BTU and have both 110 volt and 230 volt systems.

Read Here for How I installed a Pioneer Mini Split


Senville

Senville is another popular DIY Mini split system that comes in different sizes and voltages.

Like most DIY mini split kits, it has everything needed except the electrical wiring.

The SEER rating on the new models ranges from 20-25, which makes them very efficient units with some of the highest SEER ratings available.

I installed a 220-volt 22.5 SEER unit on a small room add-on, and it works very well heating and cooling.

Read Here for How I installed a Senville Mini Split


MRCOOL

MRCOOL makes the easiest units to install since they have no need to be vacuumed down with an HVAC pump and gauges.

Using a vacuum pump and gauges to vacuum down a mini split is not hard, and I have made some videos of how it is done.

The reason for the vacuum is the two copper lines called a line-set that runs between the inside unit and outside unit.

Before the refrigerant is released, the line-set needs to be in a vacuum.

MRCOOL comes with the lines already sealed in a vacuum that is broken when bolted onto the outside unit.

It also runs from 115 volts AC which is the standard wall outlet power everyone is familiar with.

I installed a unit on a garage, and it is working very nicely with no problems so far.
Summary
Using a ductless mini split on a tiny home is very popular since the cost is much lower compared to a standard large packaged HVAC system.
There are many DIY kits, or an HVAC company can be hired to install the unit.
Installing a split system is not difficult if you have some basic construction experience.
Be sure to read tutorials and watch YouTube videos to see if installing one yourself is possible.
If in doubt, be sure to call an HVAC professional installer.
Have you installed a mini split in a tiny home? Let us know your experience below in the comments.