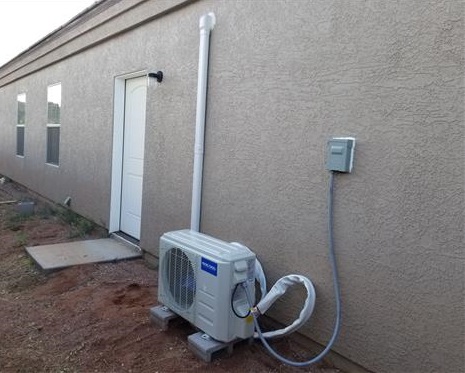 Do-It-Yourself mini-split heat pumps have become very popular since they work very well and are perfect for the Do-It-Yourself type person.
They save money since no HVAC company is needed and work very well at heating and cooling room additions, garages, or most any place heating and cooling is needed.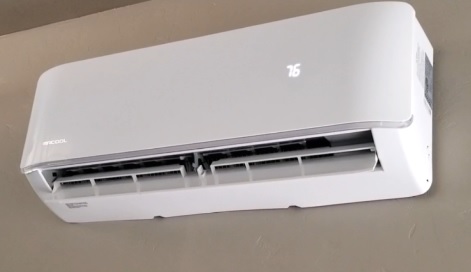 MRCOOL is one such mini split manufacture that makes it easy for a DIY mini-split project.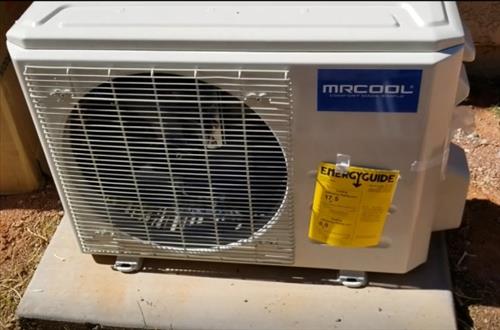 Recently one was sent to me which I made a video of installing along with this post.
The video is at the bottom of the page for a visual walk-through.
One of the things that makes MRCOOL units different from other mini split kits is there is no need to vacuum down the lines.
Most units need a vacuum pump and gauges to pump the line-set down before releasing the refrigerant.
MRCOOL line-sets are already in a vacuum and have a seal that is broken when bolted onto the outside condenser.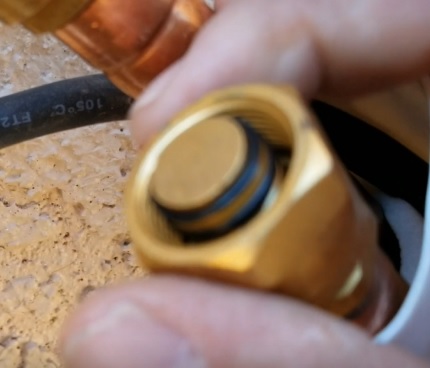 They have a seal that opens once the line-set is tightened on the outside condensing unit.
This makes it much easier to install since there is no need to vacuum / pump down the system.
All the parts come in three boxes except for the AC electrical which needs to be bought separate.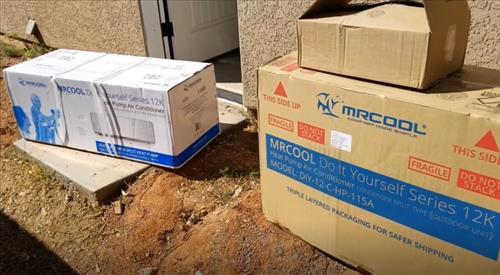 The boxes come with everything needed for the setup including the inside wall unit, outside condenser, line set, wrenches, and hole saw.
Things not included is electrical, mounting pad, and line-set cover which need to be bought separately if needed.
*This post contains affiliate links.
MRCOOL Mini Split Availability
Available Here on Amazon
Available Here on eBay

Electrical Not Included
Like all mini-split kits, the electrical is not included and needs to be bought separately.
Every electrical setup will be different since the location of the unit and power always changes.
If you have no idea how to wire the unit be sure to call a professional.
The unit will need 115 Volts with a 20 Amp breaker.
This is a common voltage/amps for rooms and garages.
Of course, running its own breaker to a panel is ideal and the best option when possible.
I decided to tie into the existing wiring in the garage I install the unit in which has a 20 Amp breaker.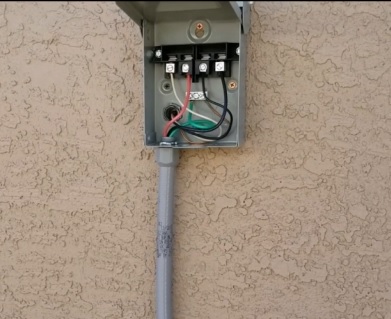 I installed a disconnect to run power to the unit.
I also have 240-volt outlet in my garage so wont need to pull much of any more amperage from the 115 outlets.
Of course, I can always run a dedicated line later if there is a problem.
Electrical Parts I Used From Amazon
1… Siemens WN2060U Non-Fused AC Disconnect

2… Diversitech Conduit Whip, 1/2-Inch x 6-Feet
The steps below are how I installed a MRCOOL Mini Split. Be sure to follow the instructions that come with your unit.
How To Install MRCOOL DIY Ductless Mini-Split Heat Pump
Summary
Installing the MRCOOL DIY Ductless Mini-Split is not hard for a handy person and a great way to save money.

It is a great way to add heating and cooling to a garage, room addition, trailer or any place it is needed.

Of course, if you have any doubts be sure to call a HVAC tech.

I was able to install the unit within 4-5 hours but I have installed many mini-split units.

It would be best to plan the install over 2 days along with a helper if possible.

Testing the unit it is working very well both heating and cooling. I am sure it will work very well in the garage.

It also has WiFi built-in which I haven't tried out yet but plan to do so soon and will write a post on it when I do.

I covered the line-set with a cover kit to clean it up and make it look good.

While tape can be used to hold it all together line-set cover kits are low-cost items that make it look professional and what I use.

Here is the line-set cover kit on Amazon I used
Decorative PVC Line Cover Kit for Mini Split Air Conditioners and Heat Pumps

I am still testing the unit so far with good results and will update if anything changes.

As always be sure to read the reviews on Amazon, forums, or elsewhere to be sure a unit is a good fit for you.

*This post contains affiliate links.
Read More About The MRCOOL Mini Split Here on Amazon or eBay
Available Here on Amazon