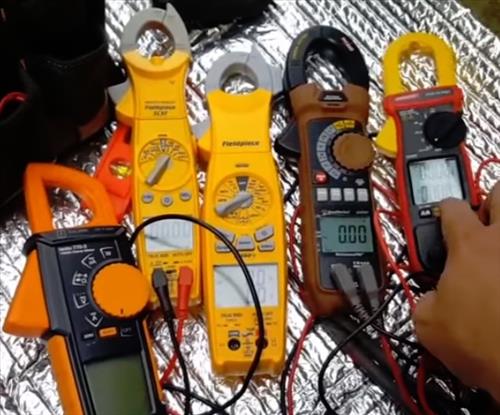 Having a good multimeter when working in the HVAC field is a must-have tool.
Basic meters can read AC and DC voltages with a few other features but an HVAC meter needs to do much more.
For example, an Amp Clamp to quickly read amps that are being pulled by a motor or compressor is a must-have feature. At least in my opinion.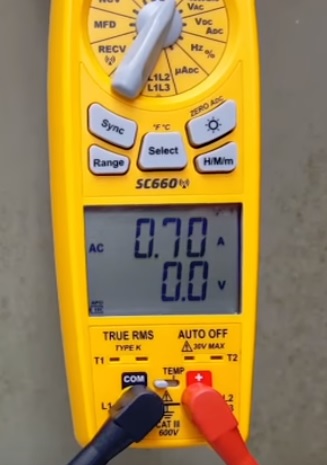 There are many meters to choose from, with those below simply our favorite picks.
Be sure to read the reviews on Amazon, forums, or elsewhere to be sure a unit is a good fit for you.
*This post contains affiliate links.
Our Picks for Best HVAC Multimeter
Fieldpiece HS36

Fieldpiece HS36 Expandable Autoranging True RMS Stick Multimeter w/Backlight

The Fieldpiece HS36 has been available for a while now and is still one of my favorite models.

Even though it has been available for many years, it is still one of the more widely used meters in HVAC.

It is not only good for a new tech but even a seasoned professional.

It has a simple layout and LCD display along with attachments that can expand its ability.

The best attachment is the Amp clamp which quickly shows an amp load by clamping on the hot wire.

Having an Amp clamp can be invaluable such as checking if a condensing fan motor is over amping.


Amprobe ACD-14-PRO

Amprobe ACD-14-PRO Digital Clamp Multimeter

The Amprobe ACD-14-PRO is another good meter that also has an Amp Clamp.

The layout is nice and simple, with the Amp clamp built-in.

One nice feature is it can show both the amp load and voltage at the same time with two readouts.



Testo 770-2

Testo 0590 7702 770-2 Clamp Meter, 43 Mm Height, 96 Mm Width, 243 Mm Length

The Testo 770-2 is another popular unit with a built-in amp clamp.

It has auto-ranging and is, and like most all modern HVAC meters, is a True-RMS unit.


Fieldpiece SC660

Fieldpiece SC660 Wireless Swivel Clamp

The Fieldpiece SC660 is a very nice unit that is much like the HS36 but updated.

It has a lot of nice features and options, and like the Amprobe, it can show two reading at the same time.

Both the Amp load and voltage can be displayed at the same time.


Southwire 23070T

Southwire Tools & Equipment 23070T MaintenancePRO 1000A TrueRMS AC/DC Clamp Meter, Multimeter with 11 Measuring Functions

The Southwire 23070T is also a good meter that has 11 features built-in, including an amp clamp.

It works well, but the screen can be difficult to read at times and must be looked at straight on.
Summary
When it comes to a good HVAC multimeter, often one is not enough, with most techs having two or more.
If you are just starting out and looking for a good basic budget unit, it is hard to go wrong with the Fieldpiece HS36.
It has all the features needed for an HVAC tech to get a unit running.
If you have more money to spend, the Fieldpiece SC660 is a very nice unit with many added features.
Of course, any of the above units will be good for the HVAC field and give the reading needed to troubleshoot and fix HVAC problems.
Do you have a favorite HVAC meter? Let us know in the comments below.