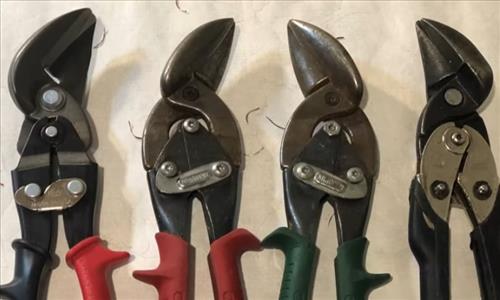 Tin snips, also called aviation snips (though they are different), are the best hand tools available for cutting sheet metal.
What is the Difference Between Yellow, Red, and Green Tin Snips?
Red handle cuts left
Green cuts right
Yellow cuts straight
The handles on tin snips are red, yellow, or green, which is not for cosmetic reasons but indicates which direction they will cut.
A red handle cuts left, while green cuts right, and yellow is center or straight.
Since snips are commonly used in HVAC to cut and to help fabricate sheet metal, a good set is very beneficial.
Many manufacturers make tin snips, with some more popular than others.
Which is best is no doubt debatable as everyone will have had their own experience
With that said, below are the tin snips most commonly considered to be the best.
Which do you consider the best? Let us know in the comments below.
Our Picks for Best Tin Snips for HVAC
Midwest

Midwest tin snips are some of the most popular among HVAC techs.

The company started manufacturing metal cutting snips in Michigan in 1945 with the tools still made in the USA.

The snips are often compared with Malco for which is the best available.

Midwest are very good units and will last an owner a long time even with heavy use.

Malco

Malco is a company founded in 1950 by a sheet metal salesman who saw a need for specialty sheet metal fabrication tools.

They are now an employee-owned USA company that makes high-quality tools.

The tins snips they manufacture are known to be very good, with many HVAC techs using them for many years.

Bessey

Bessey tin snips are made in Germany and are considered a top brand in quality.

When using Bessey snips, they work very well but do seem to weigh slightly more compared to other brands.

Bessey units are very durable and cut very well, making them a top brand in cutting tools.

Wiss

Wiss is a well-known name for tin snips and had been previously made in the USA but now are manufactured elsewhere.

They are sold at many home improvement stores such Home Depot and True Value.

The costs is less compared to Malco and Midwest, so they would be good for anyone looking for a low-cost set.

Milwaukee

Milwaukee is a low-cost brand that would be good for a homeowner looking for DIY projects or as a second backup pair.

Having a low-cost pair of tin snips can be ideal if someone asks to borrow a set.
Summary
Getting a good pair of tin snips is ideal for an HVAC technician since they need to last a long while and be durable.
While most HVAC techs will not be doing big sheet metal fabrication jobs, there will be times when small fabrication jobs are necessary.
Using a bad set of snips makes the job much harder than it needs to be with a good set worthwhile.
The most popular brands of tin snips used in HVAC are Midwest, Malco, and Bessey.
I have used a set of Midwest for many years with no issues and would buy again.
With that said, other techs use both Malco and Bessey, claiming they are the more ideal sets to use.
Wiss and Milwaukee also have their place but less s compared to the other brands.
Which brand is best is, of course, only an opinion that can vary greatly.
Which brand do you prefer and think is the best? Let us know in the comments below.