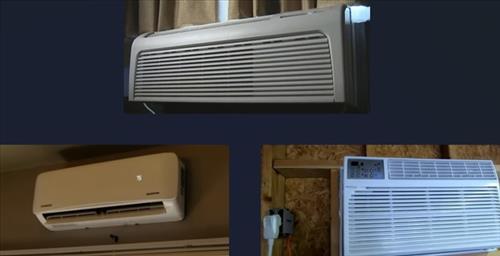 HVAC units come in all shapes and sizes and can be packaged in a variety of ways, such as ceiling mount, floor mount, and wall-mounted units.
Many HVAC units only heat or cool, but some HVAC systems can both heat and cool, which can be beneficial in many scenarios.
A unit size or BTU output should also match the size of the space it is cooling and heating.
When choosing any HVAC system, be sure to match the square feet it will be placed in to be sure it is sized correctly.
What HVAC Units Both Heat and Cools?
Heat Pump Systems
Supplemental Heat Systems
There are two main types of HVAC units that can heat and cool heat pumps and supplemental heat.
Units can be packaged differently, but how the unit produces heat or cold falls into these two categories.
A heat pump works like any air conditioner unit; it only has what is called a reversing valve to pump heat into or away from a building.
Heat pump units are the best to get, if possible, since they cost less to operate and last many years.
The second option is supplemental heat, which is basically an air conditioner with heating elements built in.
Heater elements are used in space heaters to heat up a space and are also installed in some window AC units.
While units with heater elements are low-cost to buy, they cost much more to operate compared to a heat pump.
Heat pump units cost more to buy, while supplemental heat units usually cost less to purchase but cost more in electricity to run.
Types of Air Conditioner and Heater Combo Units
Mini Split Heat Pump


Mini split heat pump units are mounted on a wall and both heat and cool a space.

Some mini-split packages are air conditioners only, so if you are looking to purchase one, be sure it is listed as a heat pump.

They are very popular with the DIY crowd since there are many kits that come for a homeowner to install themselves.

An HVAC company can also install a mini split unit, which is likely best if you are not a handy type of person.

Mini split units heat pump units are a very good option when it comes to heating and cooling a building.

PTAC Through the Wall Units


There are also PTAC through-the-wall heat pump units that come packaged all together in one big unit.

These types of units are very common in motel rooms and work very well at heating and cooling a space.

A through-the-wall PTAC heat pump works the same as a mini-split, only all packed together with no need to assemble it.

This is an advantage to those who don't want to install a mini split since they can be involved in installing it for some individuals.

Window AC Unit With Supplemental Heat


Window air conditioners with supplemental heat are also available and widely used.

The air conditioner cools in the summer while the supplemental heat strip helps to warm when it is cold.

These types of units can cost less to buy but will cost more to operate.

Using heating elements to heat a space is very inefficient and costs more in electricity compared to a heat pump.

While costing more to run, they are still an option and are used by many people to heat in the winter and cool when it is hot.