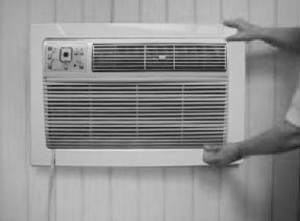 Heat pumps are a great way to heat or cool a home with only electricity. No gas is required for a heat pump to work.
Heat pumps work the same way a regular air conditioner works, only reversing itself in the winter to heat a home instead of cooling.
They use a reversing valve that reverses the way it operates.
This means they can both heat in the winter and cool a space in the summer, making them ideal in many scenarios.
Unfortunately, there are not many through-the-wall heat pumps available as there are in other packages such as mini split units.
With that said, there are some available, with those listed below some of our favorite options.
As always, be sure to read reviews on Amazon, here, or elsewhere to be sure a unit is the right pick for you.
*This post contains affiliate links.
Our Picks for Best Through the Wall Heat Pumps
AMANA PTAC 15,000 BTU Heat Pump

This unit from Amana is a motel-style heat pump that heats in the winter and cools in the summer.

It has a 9.7 EER rating and is a 15,000 BTU unit.

15,000 BTUs is rated to heat and cool a space of roughly 800 square feet.

The unit fits into a wall and usually uses a sleeve to fit into, which is bought separately.

It also uses 220 volts, so a dedicated plug will be needed to run the unit.

Amana PBH093G35CB

This unit, also from Amana, is another nice heat pump that comes ready to run and slide into a wall.

It is a 115-volt unit, so it will be able to plug into almost any outlet.

The cooling capacity is 9,000 BTU, and the heating output at 8,500 BTU.

YMGI PTAC Packaged Terminal Air Conditioner Heat Pump


Available Here on Amazon
The YMGI is a 12,000 BTU unit rated to cool a space of roughly 450 to 550 Sq Ft.

The unit runs from a 220-volt outlet and can output and will need a dedicated breaker.

Like most all packaged units, it comes charged with refrigerant ready to run.

It runs surprisingly quiet for a package unit but does make some noise.

The YMGI PTAC is a good unit that makes installing a heat pump easy and quick.
Summary
Currently, there are only a few heat pump through-the-wall units, with those above being the best units we have found.
There are units that have supplemental or resistance heating, which come with big heat strips like a space heater.
Supplemental units are not the same as heat pumps and use more electricity to heat a space.
Heat pumps work on the same principles as air conditioners, only reversing to put out heat during the winter.
Every heat pump does have a low temperature; it can work in the winter and still pull heat from the air. Most newer models easily work efficiently down to 20 degrees or less.
If the temperature drops below its rated working temperature, it will still work, but once the outside coils freeze, they will go into air conditioning mode for a short while to melt the ice off that can build up on the outside coils.
Through-the-wall heat pumps are popular since they are easy to install compared to the standard large home unit or a mini split system.
Through the wall, heat pumps come packaged with all the components located inside the packaged unit.
They simply need the correct size hole cut into a wall so the outside coil can expel heat or cold when desired.
This still requires some construction knowledge and care needs to be taken not to cut into electrical lines or pipes that may run through a wall.
It is much easier if an existing unit is being replaced by simply getting the correct sized dimensions of the old unit and transferring them to the new unit.
One last thing to keep in mind is the electrical where the unit plans to be installed. 220-volt units work more efficiently than 120-volt units, but most outlets are not wired for 220 usually; only a clothes drier or electric water heater has 220-volt outlets.
Be sure what voltage is located where the unit is to be placed. Having a 220-volt line installed can be done but will only add to the cost. 220-volt units do run more efficiently and are usually lower cost units to run which is why most heat pumps are 220/230 Volt units.
Everyone will have a different experience and requirements for their home, from cost to size, so be sure to read the reviews on Amazon, forums, or elsewhere to be sure a unit is a good fit for you.