Quit often when working on a furnace there is a need to eliminate the thermostat and thermostat wiring as a possible problem. Also many digital thermostat have a time delay that can cause annoying wait-times when troubleshooting, or you simply want to turn on and off the furnace without bothering with the thermostat.

This is quite easy to do on common furnaces, by simply jumping the R terminal with the W1 terminal. Here is a picture showing it being done.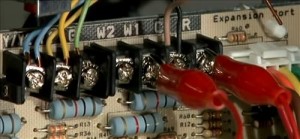 It is a good idea to disconnect the thermostat wiring from the terminals before jumpering them, as to not confuse the furnace with different signals.

Here is all the furnace terminal letters their propose on most furnaces. Below are listed other terminals that some units have.

Terminals

C———This is the common wire from one side of the transformer which is 24 Volts AC.
R———The other side of the transformer also 24 Volts AC. This is the hot side of the transformer.
G———Turns the fan on.
W——–Call to turn on heat.
Y———Call for cooling.


Other possible terminals often not used.

V——-Used instead of R on some furnaces
Rh——Call for heat dedicated
Rc——Call for cooling dedicated
W2—–Second stage heating
Y2——Second stage cooling
E——-Auxiliary heating with heat pumps(Heat strips)
0——-Reversing valve

If the furnace starts after jumpering it but wont with the thermostat then keep in mind it could also be the wiring although this is not common it does happen. The wiring connections can go bad for any number of reason but eliminate the thermostat first by changing the battery and making sure it is on the right setting (heat) and temperature to activate the call for heat to the unit. Swap out the thermostat as the last option after checking everything else.