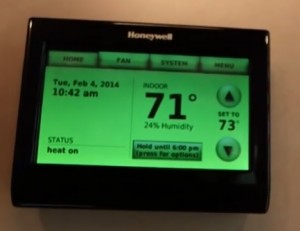 Thermostats with adjustable cycle rates are something any home owner can install to lower power cost and help an HVAC system last longer.
What is a Adjustable Cycle Rate Differential Thermostat?
All thermostats have a set temperature that will turn on and off a heating and cooling system.
The temperature difference that a thermostat turns on and off a HVAC unit is called Differential.
For example, a thermostat with a +-1 degree differential that is set at 70 degrees will turn an air conditioner on at 71 degrees and off at 69 degrees.
It is also sometimes referred to as the cycle rate since it is the cycle that a unit such as an air conditioner turns off and on.
When HVAC units are turned on and off constantly it takes a toll on the equipment leading to parts wearing out and needing to be replaced.
A unit that cycles often can also lead to larger electric bills.

Why is there Higher Electricity Cost?
When an air conditioner first turns on is when it has the biggest power consumption.
This is mainly due to the compressor which needs a large draw of power to start running.
After a compressor has been running for a few minutes the power draw drops.
This is the reason that short cycles can run up a power bill.






Wear on Equipment
When an HVAC unit first powers on is the hardest time on parts.
A units that cycles frequently causes wear and tear on parts which leads to a shorter life span.
For example, an air conditioner must pump refrigerant through a cooling system which takes more work at the start then it does after it has been running.

How to Get a HVAC Unit to Have Longer Cycles
Using a differential thermostat that has an adjustable cycle rate is a quick and easy way to solve this problem.
Your current thermostat may be capable of changing the cycle rate which can be seen in its manual.

Buying a Differential Thermostat
Most thermostats have a built in differential of +-1 degree, while others will have a +-3 degree differential.
For example, a thermostat with a +-1 degree differential that is set at 70 degrees will turn an air conditioner on at 71 degrees and off at 69 degrees.
With a +-3 degree differential it would turn on at 72 degrees and off at 67 degrees.
Most thermostats are rated for +-1 degree differential.
Thermostats that have "Adjustable Temperature Differential" or "Adjustable Cycles" in their product description will usually have a +-3 degree differential.
*This post contains affiliate links.
Adjustable Cycle Rate Differential Thermostats
Robertshaw RS5110

Robertshaw RS5110 1 Heat/1 Cool Digital 5-2 Day Programmable Thermostat Heat Pump, Single Stage

The Robertshaw RS5110 thermostat has set-point differential feature that prevents an HVAC system from short cycling.

It can be set from 1 degree too as much as 3 degrees in half-degree steps. It also has a 5-minute minimum compressor off-time which is great when power is interrupted as too not damage the compressor.


Ecobee4 Smart Thermostat

ecobee4 Smart Thermostat with Built-In Alexa, Room Sensor Included

The Ecobee 4 will go up to 3 degree differential. For example, an A/C unit set at 78 would turn on at 82 and off at 75.

It is a smart thermostat that also can be setup with zones or sensors in multiple rooms.

Having multiple sensors is good for temperature balancing in many homes.


Lux Products TX9600TS

Lux Products TX9600TS Programmable Large Touchscreen Heating Cooling Thermostat, White

The Lux Products TX9600TS thermostat is listed has having an adjustable temperature differential (swing).