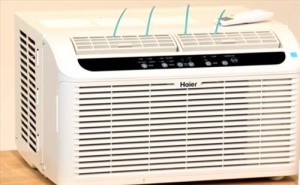 Having a quiet window mounted air conditioner can make a lot of difference in having a comfortable living space.

Loud noisy A/C units can wake you up at night and have you constantly adjusting the TV volume.

Windows air conditioning units are not the best when it comes to noise levels. This is because the main components such as compressor, fan, and condenser are all packaged together in the same small unit.

Traditional A/C units such as packaged units are placed on a roof or the side of a home which gives layers of noise blocking materiel from the walls and insulation.

Split system units separate the noisy components with long copper lines that transfers refrigerant to and from a home which transfer heat or cold from one location to another. The problem as many know is that large traditional cooling units are expensive to install and maintain.

Small window units on the other hand are low cost and easy to install.

This gives many a option to cool a space that otherwise would cost significantly more than with a traditional HVAC unit.

But as previously stated small windows units are more noisy than their traditional counter parts.

So What is the Best Quiet Window Air Conditioner?
The unit we found to be the quietest is the Haier ESAQ406P Serenity Series


Haier has gone through this unit and added many noise reducing features to the design and building of it.

The first noise reduction feature is a noise suppression blanket that covers the compressor. The compressor is what kicks on intermediately and can make a loud buzzing noise as it pumps refrigerant though a unit.

Noise compressor sound blanket wraps are not new to HVAC and are used in large units that are placed close to bedrooms, living rooms, or any space a loud unit can be a bother.

Using a compressor sound blanket wrap in a window unit is a new feature that currently we could only find Haier installing in their units.

Other manufactures may follow and other may soon also have compressor wraps. If you find another unit that has this feature please let us know in the comments below.

The second noise reduction feature is what is called cross flow fan technology to keep fan noise levels low.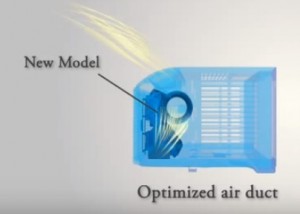 For controls it has 3 cool and 3 Fan Speeds. A built-in thermostat control can be set to let the unit turn on and off automatically.

All air conditioners are humidifiers since they pull moister from the air as they work. The Haier Serenity Series uses dehumidify modes to help control the comfort levels.

Other settings include fan only, energy saving mode, along with a 24 hour sleep mode timer.



The Haier Serenity Series comes in different sizes including the 8000 BTU and 6050 BTU units.

The size needed will depend on the room size that needs to be cooled along with how well it is insulated.

A 6000 BTU unit is rated to cool a room up-to 250 square feet.
A 8000 BTU unit is rated to cool a room up-to 350 square feet.

Both unit use 115 Volts for power. This means that power should be easily available from a standard wall outlet.

When using a wall outlet it is always a good idea to know how many other appliances are on the same breaker. Many breakers can run 2-3 outlets and lights depending on how a room was wired.

A easy way to see which lights and outlets are on a breaker is to turn the breaker off and go to each wall outlet with a electrical device such as a lamp and see which one no longer have power.

It is always best to run minimal amount of electrical appliances on one breaker with a window air conditioning unit.

The size of the Haier ESAQ408P is (W) 21.25 x (D) 9 x (H)12.44 so a window opening should be larger to allow for a good fit.

Read More Reviews Here On Amazon
Haier ESAQ406P Serenity Series 6050 BTU 115V Window Air Conditioner with LED Remote Control


Summary
A quiet low noise level window air conditioning unit can make a huge difference in a person life. From getting a good nights sleep to having a conversation nothing is more annoying than a loud A/C unit.

Thankfully the engineers at Haier have taken this into account and have built in multiple design features to help suppress noise levels.

Window AC units will always be more noisy than their traditional counter parts due to all the components packaged together but some units are built better than others which can help lower the sound levels they make.

Keep in mind to get a truly quite HVAC unit there are other options such as Mini Split Ductless units. Mini splits while more expensive than a window unit are less costly than a large home HVAC package. They work by separating the noisy components of a A/C unit.

This works by having the compressor and condensing fan separated away from a room and connected by copper tubes called a line set. A line-set carries refrigerant in and out of a room cooling it as it does. The inside part of a mini split ductless unit is mounted on a wall and will have only a fan to blow cool air into a home.

A ductless unit does require more work to install than a window unit and does cost more for the initial cost. While they do cost more they are cheaper than a big HVAC units used to cool an entire home.

Mini splits like window units also only cool the space or room they are located in and not an entire home. While this does limit a mini split they are widely used in hotel/motels which only have a single room space that need cooled.

Of course since cost is always a factor and a large unit not needed for a small space or room finding a good quiet window are conditioner unit is best in many cases.

We are constantly on the look out for feedback or your experience with air conditioning units. If you have found a unit that is quite compared to other models than please let us know in the comments below.