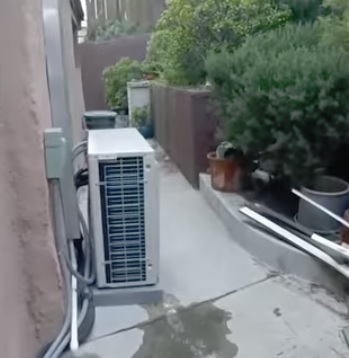 Tri-Zoned mini split systems are ideal when heating and cooling multiple rooms, but there is a lack of outside space.
Single Zone units heat and cool one room, while tri-zone units heat and cool three rooms.
What Is a Tri-Zone Mini Split?
A Tri-Zone mini split heats and cools three rooms using only one outside condenser.
It will have only one outside unit but will have three inside air handlers that can be placed at different locations.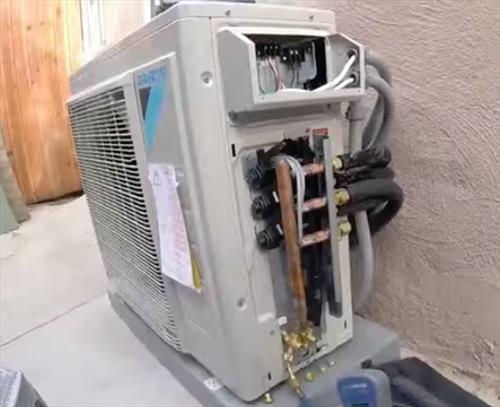 The outside condenser will have three copper line-sets to connect to.
A single zoned system would have 1, while a dual zoned system will have 2 copper line-sets.
Each inside unit works separately from the other with its own remote control and temperature settings.
While the inside units work individually, they all use the same outside condenser to heat or cool a space.
This has many benefits in many scenarios, such as limited outside space or simply wanting fewer outside condensers.
Many good Tri-Zoned systems are available, with some of our favorite picks below.
As always, be sure to read the reviews on Amazon, forums, here, or elsewhere to be sure a unit is a good fit for you.
*This post contains affiliate links.
Our Picks for the Best Tri-Zone Mini Split Systems
PIONEER 3 Zone

PIONEER Air Conditioner WYS030GMHI22M3 Multi Split System, Trio (3 Zone)

Pioneer is a well-known mini split manufacturer that many home DIY individuals can install.

They have a huge variety of sizes and multiple zoned systems, including a 3 zone system.

Their 3 zone system comes with a 22 SEER rating which is a very good efficiency rating.

A nice thing about Pioneer is they include the copper line-set along with control wires in the kit.

Of course, be sure to read the listing for how far the line-set will reach, as some large homes will need a longer line-set.

Things not included would be electrical wiring for the 240 volts AC and tools.


Senville SENA-36HF/T

Senville SENA-36HF/T Tri Zone Mini Split Air Conditioner Cold-Climate Heat Pump, 36000 BTU, White

Senville is a company very similar to Pioneer, which also has many different sized units along with multiple zones.

They have a 22.5 SEER unit that, since it is a heat pump, that will cool in the summer and heat in the winter.

Most all mini split units are heat pumps, but be sure to read the listing.

Heat pumps work in reverse during the winter to send heat into a home and make for ideal HVAC systems.

The Senville kit comes with 3-indoor 12,000 BTU units along with 1- outside 36,000 BTU condenser.

Each inside unit works separately, heating and cooling along with its own remote control.


YMGI Tri Zone – 36000 BTU

YMGI Tri Zone – 54000 BTU (18K +18K+18K) Wall Mounted Ductless Mini Split Air Conditioner with Heat Pump for Home, Office, Apartment with Lineset Installation Kits

YMGI Tri Zone is a very good system that comes in smaller or bigger packages.

One of the big differences with YMGI systems is ceiling cassettes instead of wall units.

While most mini splits use inside wall units, YMGI has roof-mounted inside cassettes.

This is a great option for those who don't like the look of a big wall-mounted HVAC system and want an indoor ceiling air handler.

Of course, the ceiling must be big enough to install the cassettes and run the refrigeration line-set.

Most ceilings will not have any problems, but it is something to keep in mind for non-traditionally built homes.

The ceiling cassettes have a nice out-of-the-way look that makes for a nice setup.


Gree MULTI30CVIR301

Gree MULTI30CVIR301-30,000 BTU Multi21+ Tri-Zone Wall Mount Mini Split Air Conditioner Heat Pump 208-230V (9-9-12)

Gree builds this 3-zoned system that can output a total of 30,000 BTU's.

The kit does not include the line-set, so one would need to be bought separately.

Copper line-set often need to be bought as the included ones sometimes don't reach far enough, especially for big homes with a long reach.

A line-set is two small copper lines that transfer refrigerant between the inside units and outside condenser.

Gree multi-zone mini split systems are widely used on many homes.
Summary
Installing a three-zoned mini split system is ideal when a large home needs a low-cost HVAC system installed.
Standard HVAC systems require ductwork and a single big unit blowing air into rooms.
Ductless mini split systems require no duct-work, which works very well in many scenarios.
When buying a mini split it is usually best to get heat pump systems since they both heat and cool.
Often they are used in 2-3 story homes where traditional heating and cooling systems have problems maintaining the temperature.
For example, if you have three story home with one of the floors cooler or hotter compared to the other floors, a multi-zoned mini split system may be good for you.
Of course, this is only one scenario and shows how versatile a ductless mini split heat pumps can be.
They also cost less and are very efficient, making them cost less to operate.
Of course, every home will need to be thought out for the best HVAC system.
Have you installed a 3-zoned mini split system? Let us know your thoughts in the comments below.