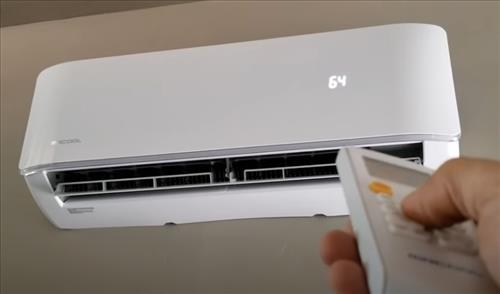 Mini split units come in all sizes, from small units to large 2 Ton 24,000 BTU units.
Large units are not as common as smaller 6,000 BTU to 12,000 BTU units, but large units can also be installed.
How many BTU is a 2 TON Mini Split?
A 2 Ton mini split is equal to 24,000 BTU of cooling and heating capacity.
Mini split packages are usually labeled with the BTU (British Thermal Unit) instead of the American TON measurement.
Either HVAC capacity measurement can be used with 24,000 BTU equal to 2 TON.
How Many Sq Ft Will a 2 Ton Mini Split Cool and Heat?
A 2 Ton mini split will have the cooling capacity to cool and heat roughly 1,500 to 17,000 square feet.
How well the building is insulated, along with how extreme the weather is, should all also be considered.
Our Picks for the Best 2 Ton Mini Split
MRCOOL DIY 24k BTU 20 SEER

MRCOOL is one of the easier mini split kits to install and is very popular with the DIY crowd.

The units come with the line set already in a vacuum, which means there is no need for a vacuum pump and HVAC gauges.

The line set is also braided, which means it does not kink like many copper-only line sets.

MRCOOL units can cost more, but they can be worth the extra money since they are easier to install.

Pioneer WYS024G-20

Pioneer units are very popular with the DIY crowd and come with everything needed to install the unit except wiring.

The system is a 230 Volts 18 SEER, which is a good rating.

The unit will require a vacuum pump and HVAC gauges to pump the system down.

Pumping down an HVAC system is not difficult, with many YouTube videos showing the steps.

Pioneer units work very well when installed properly and cost less compared to many other DIY kits.

Senville LETO Series

Senvile manufactures many mini split units, including the LETO Series 24,000 BTU unit.

It uses 230 volts and has a SEER rating of 17.

A 17 SEER rating, while good, is not the best currently available, but it is still a good rating.
What Happens if You Oversize a Mini Split?
An oversized mini split will quickly cool a room and then shut down.
HVAC systems use the most power when they first start, and then the power usage drops.
Since a mini split usually runs constantly with low power usage, this can cause more electrical usage.
It also can prematurely wear out components since most wear happens when an HVAC system first starts.
It is always best to size the mini split to the rated square feet it is rated for.
How Much Does it Cost to Install a 2 TON Mini Split?
The cost to install a 2 TON Mini Split is between $1500-$5000.
It can vary depending if the unit is installed by a professional HVAC company, or a DIY homeowner.
A DIY unit will come with everything needed except the wiring and cost roughly $1500-$2400, depending on the unit bought.
The electrical to the panel will need to be bought, such as a breaker, disconnect, and wires.
HVAC companies charge differently, which can vary depending on location, time of year, and availability.
The only way to know for sure what a professional HVAC company will charge is to call around in your area and get bids.