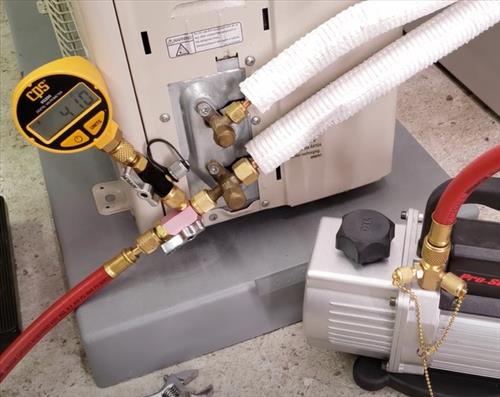 Pulling a vacuum on an HVAC system is a necessary part of installing, fixing, and repairing HVAC units.
When a vacuum is pulled, there is two ways to measure it with either a manifold gauge and micron gauge.
Manifold gauges are the original equipment used to measure air pressure and see how much of a vacuum was in a system.
Micron gauges are a modern digital way to measure air pressure and much more precise.
Both units will work to measure a vacuum with most technicians these days using micron gauges.
There are many good units available with some of our favorite picks below.
As always be sure to read the reviews on Amazon or elsewhere to be sure a unit is a good fit for you.
*This post contains affiliate links.
Our Picks for the Best Micron Gauge for HVAC
Appion AV760

Appion AV760 Full Range Digital Vacuum Gauge


The Appion AV760 is a very good micron gauge that I tested for a month pumping down commercial rooftop units.

It has two layers of filter protection for the sensor which is a nice feature.

Bluetooth is built in and works with an app that can be installed on a smartphone with many added options such as record.

The Bluetooth range is roughly 20-30 feet but can go farther at times.

CPS Vacuum Gauge

CPS VG200: Vacuum Gauge with Digital LCD Display


The CPS Vacuum Gauge is a good mid-range unit that works very well when pulling a vacuum.

I used one while installing a mini split and it had no problems displaying a vacuum under 500 Microns.

There is some comments online about it leaking along with the battery compartment hard to access but I had no issues.

NAVAC NMV1

NAVAC NMV1 Micron Vacuum Gauge

NAVAC is a company that makes many types HVAC equipment including the NMV1 micron gauge.

It has buttons for power, unit, set, and save/calibrate.

The unit is not fancy but quick and easy to use and a good basic micron gauge.
Summary
Buying any HVAC equipment can be expensive and should be researched to get the best fit for your scenario.
A busy HVAC tech will often have 2-3 different micron gauges, a digital manifold gauge, as well as an old fashion manifold gauge.
A part time tech will only need one good unit and likely a manifold gauge.
If you are a home do-it-yourself type person doing repairs or installs a low-cost budget unit will likely be best.
Do you have a favorite micron gauge unit? Let us know in the comments below.