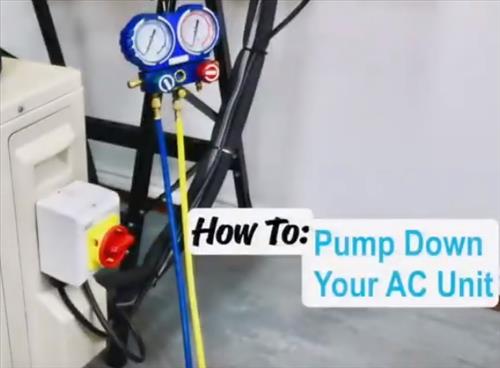 Pumping down an HVAC system is routinely done for many reasons such as moving a unit, replacing the line-set, or general repairs.
Some basic HVAC tools will be needed.
What Is Pumping Down an HVAC System?
When a HVAC unit is pumped down all the refrigerant is pulled into the outside condenser for storage.
Most all mini split systems come with the refrigerant stored in the outside condenser and released into the system after being vacuumed down.
Pumping down a unit is placing the unit back into an original state of storage.
Tools Needed
HVAC Guages
Alen Key
Screw driver
Crescent Wrench
HVAC gauges will be need to watch the pressure on the low side gauge.
An Allen key is also needed to shut off the high and low pressure valves to lock the refrigerant inside.
A screw driver will be needed to remove the cover and wrench to remove the caps protecting the valves.
Read Here for a full List of Tools for Working on a Mini Split Unit.






Steps To Pump Down a Mini Split HVAC System
Remove the cover on the outside condenser.

Remove the service valve caps for the high and low pressure lines.

Attach HVAC gauges to the Low side (Big Line) service valve.

The Pressure on the Gauges Low side (Blue) will rise.

Power On the Mini Split Unit and put it in Cooling Mode.

Watch the HVAC Gauges Low Side (Blue) the pressure will begin to drop.

Use an Allen Key to shut the High Pressure line off.

The pressure on the Gauges should continue to drop.

Use an Allen Key to shut the Low Pressure line off.

The unit should now be pumped down with all the refrigerant in the outside condenser.