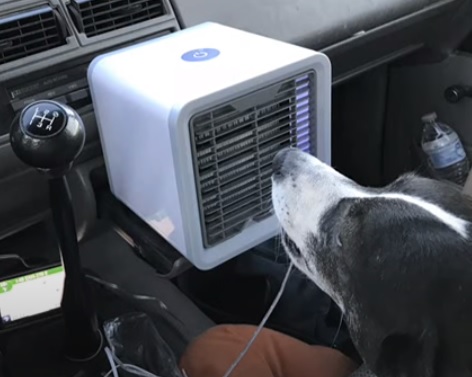 There is no doubt that when there is no air-conditioning it can become uncomfortably hot when you are traveling or camping.
The good news is it doesn't have to be this way. There are many products on the market that will cool down a space using 12-volts DC.
These units work by using batteries and can be very efficient. There is a variety of ways in which they work. Some work by using ice put in a large container and using a fan to simply blow cool air from the unit.
There are the more expensive units that are standard air conditioner that work by using a 12-Volt DC compressor and can push out cold air like any other A/C unit would but with a battery.
A third option is to use a swamp cooler system which works very well in dry climates where humidity is not high.
Evaporator units work by using water that is pumped up and dripped over pads that air is blown through with a fan and will cool down an area greatly. These are very common in the Southwest where it is a dry climate.
So let's take a look at some of these different types of 12-volt cooling units that are currently available.
As always be sure to read the reviews on Amazon, forums, or elsewhere to be sure a unit is a good fit for you.
Our Picks for Best 12 Volt Battery Powered Air Conditioners 2020
Zero Breeze Z19-Y

Zero Breeze Z19-Y Portable Air Conditioner for Camping, 5-in-1 Multi Functions, Suitable for 1-4 Person Tent, RV, Van, Truck and Outdoors, Without Battery (Yellow)

The Zero Breeze Z19-Y is the best 12-volt cooling unit but unfortunately also cost the most.

It is a small portable air conditioner that has a rated 1100 BTU of output.

1100 BTU can cool a space roughly 50 feet which makes it ideal for small spaces such as tents.

It also has USB charging ports, Bluetooth music player, and LED lights.

The Zero Breeze Z19-Y uses 12-volts 12.5 amps to operate.

For someone serious about cooling a mobile space Zero Breeze Z19-Y is worth a look.


5-Gallon Bucket Air Conditioner

5 Gallon Bucket Air Conditioner – Ice Model (Black)

Five-gallon bucket air conditioners have become very popular with many YouTube videos for how to build one.

They are simple units with a a bag of ice placed inside and a 12-volt DC fan that blows out cold air.

They do require ice to work but do wok until the ice melts.

If you are a handy type of person and have a spare 5-gallon bucket and 12-volt DC fan they are easy to build.


Personal Evaporative Air Cooler

Personal Air Conditioner, Portable Air Cooler, Mini USB Evaporative Air Circulator Humidifier, 3 Wind Speed Adjustable, Desktop Cooling Fan for Home Office Outdoor Travel, 7 Colors LED Ambient Light

There are many evaporative air coolers with some that work from 12-volts DC.

Evaporative air coolers work very well when the air is dry but not so well in humid climates.

They work from the effect water has cooling a surface when it evaporates.

If you live in a climate such as the American southwest an evaporative cooler will work very well.

If you live in a humid climate another option will be better,

Fenebort

SmartDevil Small Personal USB Desk Fan,3 Speeds Portable Desktop Table Cooling Fan Powered by USB,Strong Wind,Quiet Operation,for Home Office Car Outdoor Travel (Navy Blue)

Small cooling fans can also be bought which can help cool a personal space down.

They are not the most ideal units since they only blow air but are very low-cost and better than nothing.


Autocool Solar

This is a small low-cost simple unit that has a fan that is solar-powered.

It constantly circulates air out a window which it hangs on via a hook.

This is a unit that helps circulate air which can help cool a vehicle.


WoneNice

WoneNice Portable Small Fan & Mini-air Conditioner, Runs On Batteries Or USB-Blue

The WoneNice is a small and low-cost evaporator cooler system that uses water to cool.

It can be run on batteries or even a USB port with a small fan blowing out cool air.

Evaporative units do not cool well in humid environments but work very well in dry climates.

https://www.youtube.com/watch?v=ab1ui0PpE-Q