Hard start kits are used on air conditioners and heat pumps to help a compressor start easier.
They can be installed for many reasons and can help to solve multiple issues.
Installing a hard start kit is not difficult and done by many DIY individuals, but there is high voltage, so care has to be taken.
As always, if in doubt, call a professional.
What is a Hard Start Kit?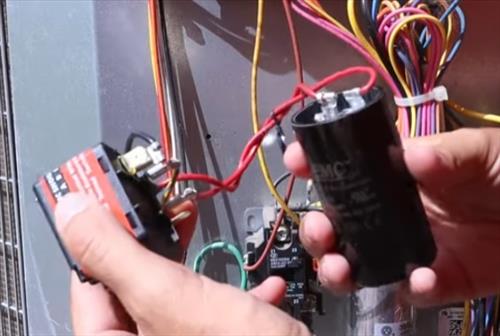 A hard start kit is an additional capacitor that helps supply power when the compressor starts and then is disconnected.
When a compressor first powers on, is when it uses the most power, which can be 4-8 times more than when operating.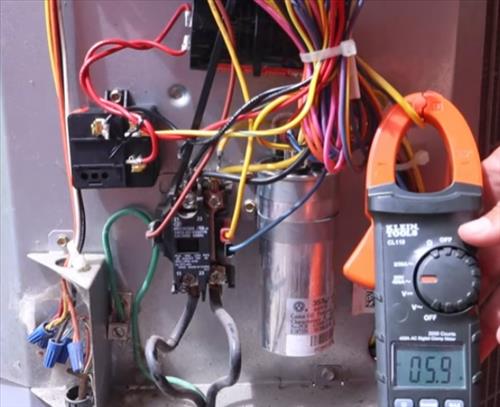 When a hard start kit is installed the max in-rush amps will be lower while the operating amps will stay the same.
Many older air conditioners already have hard start kits installed, but it was done away with for cost reasons and better designs.
If you have a very old AC system, be sure to check if a hard start kit is already installed.
A hard start kit will have a capacitor that is disconnected by a relay after initial startup.
Air conditioners and heat pumps will already have a start/run capacitor, with a hard start kit an added capacitor for the compressor.
Compressor motors that are PSC (Permanent Split Capacitor) are low starting torque motors.
Usually, there is no voltage drop in an HVAC system, but if there is a hard start kit can give the extra boost when needed.
It will allow the motor to give out more torque during the startup.
Why Install a Hard Start Kit?
Can Help an Old Air Conditioner System
Off-Grid Power System
Grid Voltages Fluctuate
Easier for Compressor Start
Long Line Set
Air Conditioner Trips Breaker even though Sized Correctly
Lights Flickering When Unit Starts.
Long Power Line to Unit
There are several good reasons to install a hard kit on your air conditioner or heat pump.
The main reason is when there is a voltage supply problem.
For example, if there is a long power run to an HVAC unit and every time it starts, the light in the house dims, a kit can help to reduce the problem.
A kit would also be a benefit in a home that is off the grid with power that fluctuates.
Power from a grid can also fluctuate in some areas and often have a kit installed in some scenarios.
Types of Hard Start Kits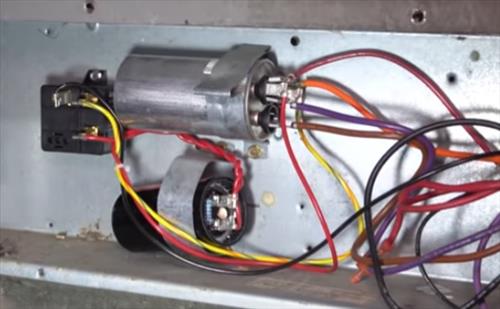 There are two main types of hard start kits, one with 3-wires and an external relay and one 2-wire with the relay built-in.
They are rated to be within a universal range from 1-3 tons and 4-5 ton units and should be labeled.
For example, the CSR-U1 is a 3-wire kit, that has an external relay and is rated for a 1-3 ton air conditioner unit.
Most homes HVAC packages are 2-3 tons, but if you have a large home, be sure to check.
The 3-wire kit will go to the capacitor common lead, and HERM (Compressor), and the third wire will go to the common side of a conctacter.
A 2-wire kit will only connect to the capacitor common lead and HERM (Compressor).
Both are not difficult to install, but care has to be taken since there is high voltage along with a capacitor that can hold a charge even with no power.
Example Hard Start Kit With Relay on Amazon
Ultra Durable 5-2-1 CSR-U1 Compressor Saver Hard Start Capacitor by Blue Stars – Compatible for 1 to 3 Ton Units

Example Hard Start Kit Without Relay on Amazon
AMI PARTS SPP5 Hard Start Capacitor Relay 1/2 Thru 10 H.P. Increases Compressor Torque 300%, 115-288V AC

Always follow the instructions that come with your kit. Below is a basic overview of how many are installed.
How To Install a Hard Start Kit (3-Wire)
Turn the power off to the unit at the breaker or disconnect.

Remove the panel on the outside condensing unit.

The kit will need to be mounted inside the panel.

The capacitor will have a zip tie to hold it in place, while the relay will need to be bolted.

After mounting it there will be 3-wires, Yellow, Black, and Red.

The black wire goes to the common side of the contactor.

The Red wire goes the Run capacitor common side labeled C.

The Yellow wire goes to a Run capacitor lead labeled HERM.
When Should a Hard Start Kit Be Installed?
A hard start kit can be installed when there are issues with the power source.
When the power source fluctuates, or has low-voltage at certain times, a hard start kit can help.
For example, if the light dims when your air conditioner starts, a kit may help reduce the dimming.
Another example is an off-grid system with power that may fluctuate.
There are many scenarios when a hard start kit is beneficial.
Will a Hard Start Kit Shorten the Life or Damage the Compressor
A correctly installed hard start kit will not damage the compressor and can be a benefit to it.
Often hard start kits are installed on an old failing motor to help it last longer, which could fail at any time.
Because of this quick fix to add extra life to an already failing compressor, some homeowners may think this is the cause when it is not.
In scenarios where the power is fluctuating and is low at times, If anything, a hard start kit only helps a motor last longer.
Summary
A hard start kit may benefit an HVAC system that has power supply issues.
They are low-cost items commonly installed to help the compressor start easier.
Since the compressor uses the most power draw when starting, an extra boost can, in many scenarios, be a very real benefit.
Installing a kit is often done by a home DIY type person who has knowledge of how to safely work with high voltages by turning the power off.
Have you installed a hard start kit on your air conditioner or heat pump system? Let us know your thoughts below.