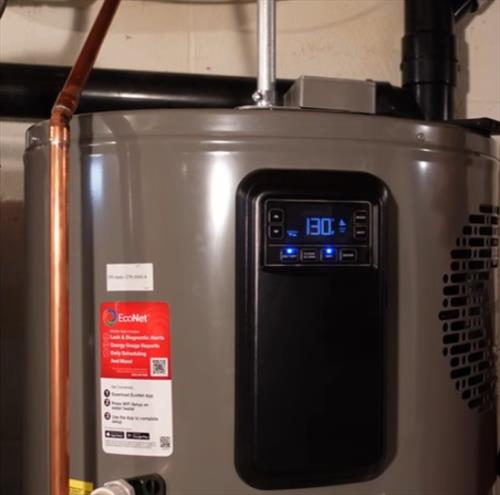 Heat pumps have become very popular since they are very efficient, which means they use less energy and lower operating cost.
The amount of savings while operating a heat pump water heater can vary depending on the unit, but most units can reduce power costs by roughly a third.
This can add up to big saving over time since heating is one of the biggest energy uses in a home.
There are many DIY individuals who install their own unit, with an installation similar to older electric and gas heaters with a few differences.
Of course, if in doubt be sire to call a professional.
Things to Consider Before a Heat Pump Water Heater Installation
Space
Air Flow
Condensation Line
Electrical Requirements
Heat pump units need more space to operate compared to traditional water heaters.
Since heat pumps pull heat from the air, a small closet would make it difficult for the unit to work consistently.
A basement or larger closet is a much better location for the unit.
Good airflow is also needed, with most units needing to be at least roughly 6-12 inches away from any walls.
A condensation line will need to be installed to let moisture drip away.
The correct voltage the unit requires will also need to be installed.
Electric vs. Gas vs. Heat Pump Water Heater Installation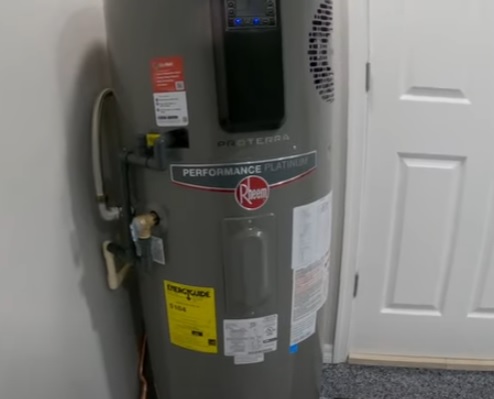 The biggest difference is the electrical requirements, and a heat pump water heater will drip water and needs a condensation line going to a drain.
The condensation line can also be sent outside to drip water.
A heat pump is an HVAC system that is basically an air conditioner working in reverse.
Instead of blowing away heat, it uses the heat and blows away the cold.
All HVAC systems can drip water condensation that builds up on the refrigerant lines.
The more humid it is, the more water that will drip from the lines.
Heat Pump Water Heater Electrical Requirements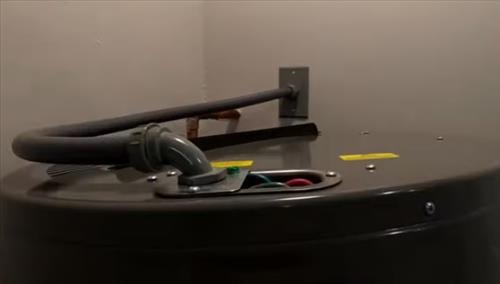 Each unit will have different voltage and amp requirements, but most units use 240 volts.
230/240 volts operates motors more efficiently compared to 120 volts which is why it is the more common voltage.
There are some newer units that can use 120 volts which have only recently become available.
Since 120 volt units would make it much easier to replace an electric water heater, there are several companies working towards 120 volt units.
For most heat pump water heater installations, a 240 volt 30 Amp electrical outlet will be needed.
Of course, be sure to see the specifications for the unit being bought and install the right volts and amps.
How To Install a Heat Pump Water Heater
Turn off power to the old water heater at the breaker
Turn off water to the old water heater

Drain water from the old water heater using a hose attachment

Disconnect the water lines

Disconnect the electrical and any gas line

Remove the old unit
Prep the space for the new water connections
Install the new water heater and connect the water connections

Connect the condensation line
Turn on the water to the unit
Run the hot water at a faucet to remove any air from the system

Connect the electrical to the unit

Power on the unit and test it
Summary
Installing a heat pump water heater is a good way to save on energy costs.
There are many good units that will last many years and work very well.
Before installing a unit, be sure to look at the specification as to what will be needed, mainly the voltage and amps.
240 volt 30 amp outlet is commonly used by many heat pumps.
If there is no outlet, one will need to be installed.
Adding a dedicated breaker and wiring to an outlet is usually done by an electrician before an installation.
Have you installed a heat pump water heater? Let us know your thoughts below.