When a mini split unit displays an E0 or F4 Error code, it indicates there is an EEPROM error.
The main chip of the indoor or outdoor PCB cannot receive feedback from the EEPROM chip.
This includes Pioneer, Ductless Aire units and more but be sure to check the error codes for your specific unit.
An EO error code on a Mini Split is an Indoor EEPROM Error.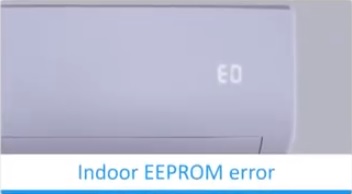 An F4 error code on a Mini Split is an Outdoor EEPROM Error.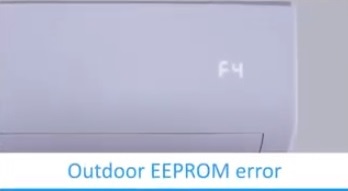 There can be a difference in errors depending on a manufacturer and model, so always verify your mini split error code with the manual for the unit.
EEPROM stands for Electrically Erasable Programmable Read-Only Memory and is a small storage space that contains the code for a mini split to operate.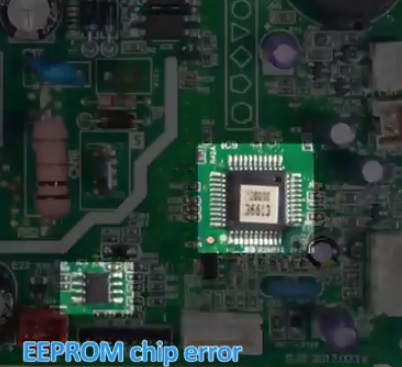 Much like a hard drive on a PC, the EEPROM is a small computer chip that has code written for instructions on how a mini split should operate.
A mini split has two main computer boards called PCBs, both in the outside unit and inside unit.
The EO code is for the indoor unit while the F4 code is for the outdoor unit.
How To Fix an E0 or F4 Mini Split Error Code
Power off the unit and turn off the breaker or disconnect.
Wait 4-5 minutes and power the unit back on.
If the error code comes back, the indoor or outdoor PCB may need to be replaced.
Wiring can sometimes come loose or have a bad connection. Re-seating all the wires on a PCB board can sometimes clear the error.
Summary
An E0 or F4 Mini Split error codes are similar, with both pointing to an EEPROM error.
An E0 error is the indoor unit, while an F4 code is an outside unit.
Often, resetting both units by removing the power at the breaker and waiting a few minutes before powering them back on will clear the errors.
If the error returns, the wiring should be checked to see if there are any loose or open connections.
In some cases, a PCB board may be bad ad need to be replaced.