A mini split unit with an E4, E5, E6, F1, F2, or F3 error codes, are similar to each other and is usually a bad sensor or a wiring issue.
This includes Pioneer, Ductless Aire, Carrier units and more but be sure to check the error codes for your specific unit.
There can be a difference in errors depending on a manufacturer and model, so always verify your mini split error code with the manual for the unit.
E4, E5, E6, F1, F2, F3 Error Codes Definitions
E4: Indoor room temperature sensor T1 open circuit or short circuit
E5: Evaporator coil temperature sensor T2 open circuit or short circuit
E6: Indoor Unit EEPROM Parameter Error
F1: Outdoor ambient temperature sensor T4 open circuit or short circuit
F2: Condenser coil temperature sensor T3 open circuit or short circuit
F3: Compressor discharge temperature sensor TP open circuit or short circuit
How To Clear an E4, E5, E6, F1, F2, F3 Error Codes on a Mini Split
Power off the unit and turn off the breaker or disconnect.
Wait 4-5 minutes and power the unit back on.
If a component has failed, the error will likely return.
Possible Causes of E4, E5, E6, F1, F2, F3 Errors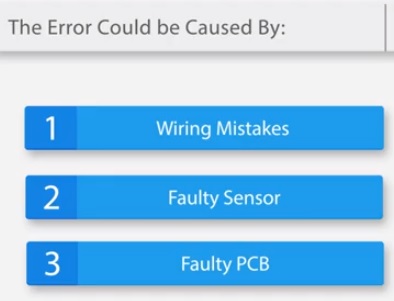 Wiring Mistake or Problem
Bad Sensor
Bad PCB Board
The PCB computer board that controls the mini split is having a problem seeing the correct voltage from the sensors it uses for feedback.
The wiring and many sensors need to be checked to see if they are malfunctioning.
Example Mini Split Sensor Locations
T1 Indoor Room Temperature Sensor

T2 Evaporator Temperature Sensor

T3 Condenser Temperature Sensor

T4 Outdoor Ambient Temperature Sensor

T5 Compressor Discharge Temperature Sensor
How To Troubleshoot E4, E5, E6, F1, F2, F3 Error Codes
Check each sensor wiring for open or short.
Test each sensor resistance.
To troubleshoot a unit, the location of the many sensors will need to be known.
This information can be found in the manual for the unit and, depending on the manufacturer, may be available from their website.
It is also possible that the PCB board has gone bad.
If, after testing all the sensors and wiring and they show good, this usually points to a bad PCB board.
A unit that is wired wrong or wiring that has a short or open can also cause problems.
Most often, these errors require a technician and will be outside the average home DIY job.
If You Have a mini split E6 Error Code, Read Here for How To Troubleshoot and Fix It.