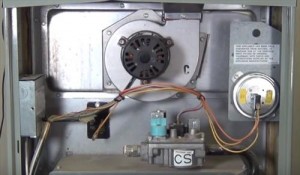 A gas furnace is made of many parts that can be broken down into their individual components.
Each component will have a specific task, or the furnace will not operate correctly.
Below are the main basic components for almost any gas furnace.
Gas Furnace Components and Parts Explained
Heat Exchanger


When gas burns, it gives off toxic fumes, including carbon monoxide, which is dangerous when breathed in. A heat exchanger is used to keep the toxic gases separate from the air that is blown through a home.

A heat exchanger is simply long metal tubes that are S-shaped. Gas flames burn inside the tubes, and the toxic gases vent out of the home through the roof. The blower motor forces air past the outside of the tubes, heating the air as it does. This keeps the toxic flames separate from the clean air that is blown into a home.

The heat exchanger should be examined on a regular basis because any cracks or damage to the heat exchanger can allow toxic gases into a home. Carbon monoxide detectors should always be used in a home to help and spot any problem that may occur if there is a leak in the heat exchanger.

Igniter and Pilot lights


Gas furnaces need a way to light the gas to start a flame. Older furnaces use a pilot light that burns constantly, lighting the gas when it comes on. Modern furnaces use a hot surface igniter (HSI) that will glow red hot and ignite the gas.

Burners


A burner is where gas and air are combined, creating a flame that becomes the heat source.

Gas Valve


Natural gas is piped throughout the Country into cities and into homes. As it is piped from one stage to another, it is set at different pressures.

At the point it comes into a home, the pressure is usually between 8-12 inches of Water Column. It goes through a gas valve and is stepped down the correct pressure for the furnace, usually 3-5 inches of Water Column.

Inches of Water Column is is used to measure gas pressure.

The gas valve controls the gas going into a furnace, including shutting the gas off when a safety switch fails.

Thermocouple


A Thermocouple is used with a pilot light to sense whether the pilot light is lit.

It uses two small metal wires inside of a tube that, when heated, conduct electricity sending a 24-Volt signal to the gas valve allowing gas to flow. If a thermocouple is bad or does not sense any heat, then it will shut the gas off.

Flame Sensor


A flame sensor works as a safety to detect heat when a Hot Surface Igniter is used. If it does not detect heat, it will shut off the gas.

Draft Inducer Motor


Since gas, when burned, gives off toxic fumes, it is necessary to vent the fumes from home through a vent. A draft inducer motor turns on before the gas is allowed to burn. This creates a small vacuum that pushes air out the vent pipe.

Pressure Switch


A furnace pressure switch is used to make sure the draft inducer motor has turned on and is pushing gases out the vent pipe. It does this by using a small diaphragm that pulls in when the inducer motor is on, creating a vacuum. If there is a vacuum and the diaphragm pulls in, it activates a switch which allows the gas to begin to flow. If it does not sense a vacuum, then no gas will be allowed into the system.

Blower Motor


A blower motor is what is used to blow air into a home through vents.

The blower motor blows air in a home by pulling in air from a Return Air filter, past the heat exchanger, and blowing it out the vents.

Blower Motor Capacitor


A blower motor capacitor is used to help start a blower motor and in some cases help it to run at a steady rate of speed.

Furnace Limit Switch


If a furnace becomes too hot, then a limit switch is used to turn off the gas as a safety. For example, if a blower motor stops working and no air circulated, temperatures will rise inside of a furnace. If this happens, a limit switch will shut off the gas to the furnace until the problem is fixed.

Return Air Filter


A furnace air filter is necessary to keep out dust and other debris from entering a unit. A dirty air filter will cause a furnace to not work properly and should be replaced frequently.