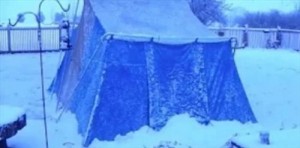 Staying warm in a tent while camping is important especially when the temperature drops in into freezing territory.
More important than staying warm is having heating equipment that is safe to use.
The most common type of tent heaters are propane heaters since they can put out a lot of heat, dont require any external power, and are very portable.
One of the problems with a gas heater is Carbon Monoxide which can build up in a closed space and can be dangerous.
Old camping heaters were prone to this problem but new ones have built-in Carbon Monoxide detectors that will shut the unit down when a air reaches unsafe levels.
They also will have built-in tip over safety which shut the unit down it is tipped over.

Our Picks for Best Safety Tent Camping Heaters

Mr. Heater F232000 MH9BX Buddy 4,000-9,000-BTU Indoor-Safe Portable Radiant Heater

The Mr. Heater Portable Buddy system is a very popular unit with campers.

It can detect low oxygen levels and will shut the unit down when it does. It also comes with a tip over safety that will shut the unit off if tipped over.

It uses small disposable LP tanks that last around 3 hours on high heat and 6 hours on low. If more heat is need be sure to buy more disposable LP canisters which can be bought at most any hardware store.


…….
Camco 57331 Olympian Wave-3 3000 BTU LP Gas Catalytic Heater

The Camco Olympian Wave is another popular heating system for camping and has been around since 2005.

The unit uses a Catalytic LP gas burning technology that puts out low levels of harmful gas. Even though it is sold as putting out low levels of CO2 it is best to have some ventilation if used.

The Camco Olympian Wave uses standard LP tanks but can use other type of tanks by getting the right fittings. It is meant for long term use as compared to the Mr Buddy which is meant to be portable and has less heating time.



Summary
Even though modern heaters listed with safety features are good, always be safe with any heater when camping. Keep the unit far from any flammable materials. Also be sure to keep a tent ventilated.

As always read the reviews on Amazon or elsewhere to be sure it is a good fit for your setup.