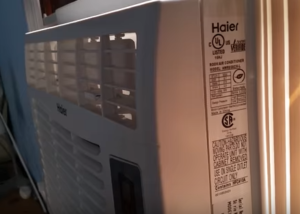 The Haier 5000 BTU HWR05XCR-L is a budget window air conditioner that has some nice features such as a digital display.

It runs from a standard wall power outlet at 110/120 volts AC.

A room up-to 150 square feet can be cooled, although this will depend on how hot it is outside and how well the room is insulated.

It comes with a remote control or the buttons can be used with Fan, Energy Saving, Cool, Timer, Temperature set and more.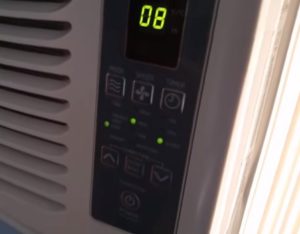 The 11.0 CEER rating is average for a window unit. Most whole house HVAC systems are around 14-18 SEER depending on the system.

Window units are not the most efficient units so a rating with 13 is normal for such unit.

Installation is easy enough and it comes with all the components needed to mount it in a average window.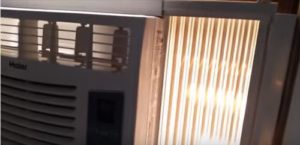 The sides have a easy stretch according insulation that fills any gaps on the side of the window.

The weight is around 50 pounds so be sure to get help lifting it if necessary.

The operation is smooth and easy enough. The sound is quiet for a window unit which Haier is known to make quiet A/C units.

The temperature is not extremely hot yet while it was being tested but the cold air blows out nice as one would expect.

Read More Reviews Here On Amazon
Haier ESA405R 5000 BTU Room Air Conditioner


Summary
The Haier 5,000 BTUs HWR05XCR-L window air conditioner is meant to be a low cost unit to cool a small space and saving the cost of having a HVAC company installing a full size unit.

Window units have a life span of 3-5 years depending on how hard they are used and can be a good way to fill a gap in a existing under performing system or cool a room with no A/C.

While window units are not meant to be permanent solution, they do work well when taken care of.

For example the filter on such units should be cleaned regularly. Also the out side portion of a unit should have the small fins cleaned regularly also so air can pass through.

All A/C units need air flow to cool a space and will stop cooling when there is no air flow to blow cold air in and heat away.

There are bigger units that the HWR05XCR-L which might be better for a larger room or temperatures that are extremely hot.

How well the room is insulated is very important to how well any unit can cool down a space.

A busy area where the door is open and shut constantly can also effect how good a unit works.

If you do have gaps in insulated spaces such as openings around doors or windows getting these sealed can greatly improve how good a unit works.

As always be sure to read the reviews on Amazon or elsewhere to be sure a unit is a good fit for you.